This article describes how you can refer a colleague to Coviu and both parties receive a credit on their Coviu accounts.
Last Updated: Mar 2021


How does Coviu referral program work?
Do you want to invite a colleague to use Coviu?
Did someone refer you to Coviu?
Here's how our referral program works.
Coviu users can get a $40 credit for each new account they refer to Coviu that goes on to become a paying Coviu customer.
This can be redeemed up to 10 times, giving you up to $400 in Coviu credit.
New Coviu accounts that are referred get $40 off their first purchase (plus any free trial that their account is eligible for).
This percentage discount means the new accounts will save even more on annual plans with multiple users. Click here for our pricing plan options.
How does the referral process work?
You refer a friend or colleague to Coviu with your referral code
They sign up and start a free trial using your referral code
At the end of their trial period, if they sign up as paying user they get a $40 discount and you are credited $40 to your Coviu account (this can be seen by the account owner, if you are a user you can contact your account owner)
Where do I find my referral code?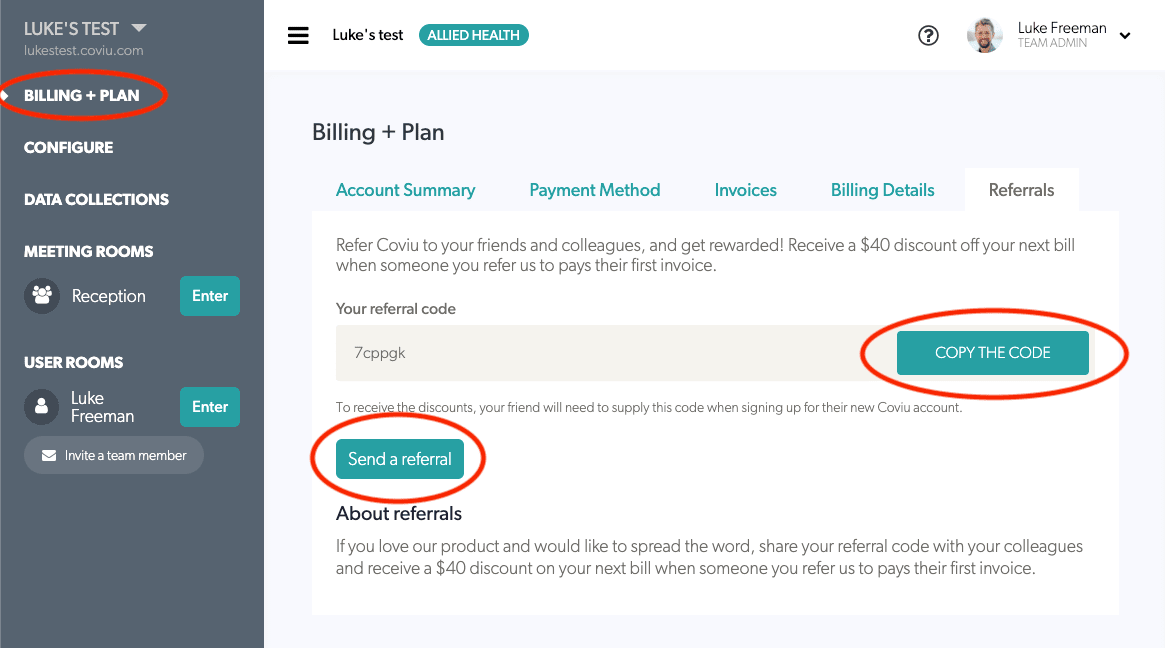 Go to the "Billing + Plan" page in your Coviu dashboard
Click on the "Referrals" tab
Click "Copy the code" to send it via email to your colleague or, click "Send a referral" to send it via Coviu.
Note: The "Billing + Plan" page is only viewable by Coviu account administrators. If you are a Coviu account user you will need to contact your account admin.