Removing users from your account and managing admin rights
When you sign up for a Coviu account and invite new users, they are all added as normal users with restricted capabilities. For example, they cannot access the list of users, can't see billing information, and can't configure the account.
As the account administrator you have the following capabilities:
To manage team members, sign in and click on the "Configure" heading in the application menu on the left.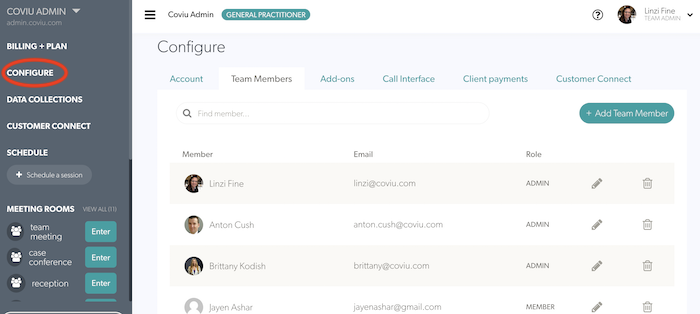 Removing Users
You can remove users that have left your team by clicking on the little rubbish bin symbol to the right of their name.
This will reduce your monthly charges, so it's good to keep your member list up to date.
The system will automatically amend the charges and you will get reimbursed for the days that the deleted persons are not signed up in the next month.
Please make sure to keep one administrator around!
Elevate to admin status

You can elevate users to administrator status by clicking on the little pencil symbol.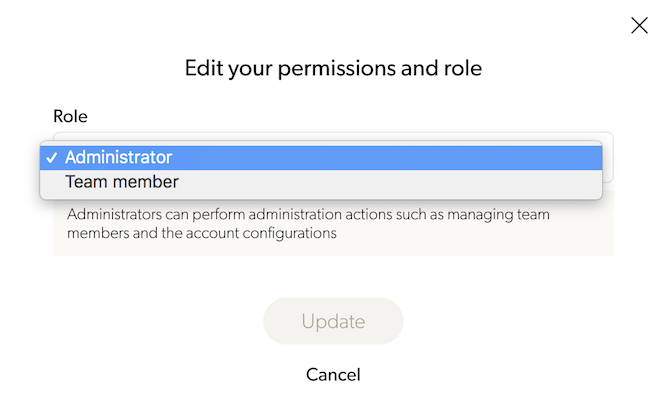 A user with Admin rights will be able to do all the things you can do in the account, including:
seeing the billing details and when the next payment will take place
changing the payment method
changing the plan
configure the name of your account as well as the subdomain
configure the custom branding of your video rooms, including logo and colors
and configure any add-ons, including the client portal, bookings etc.