If you need to hide the tools so you can present something without anyone accidentally interacting with it, this is how. Read below to find out how to use the hidden menu feature.
The in-call tools in Coviu are a fantastic way to interact with your client or patient. Tools such as the Share an image or PDF, Add a whiteboard and Add a video allow you to connect by giving all participants the ability to interact with the tool(s) as they need to.

Sometimes, however, you might need to just present something without showing any tools.

For this we have included the ability to toggle the toolbar from your guests as needed.

The setting can be seen in the tools menu which can be opened by clicking on the green Tools+ button in the upper right hand corner which will open the menu.

Clicking on this Tools+ will open the menu. This will appear as a grey column and will contain all your available tools.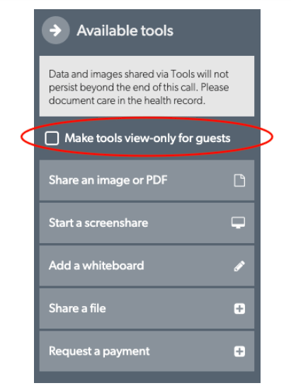 From here you can tick the 'Make tools view-only for guests' box.

Doing so will hide all tools from your guest. They will not be able to start tools themselves or annotate tools you've placed in the presentation space.

Below is an image comparing the host's window which is presenting a blank whiteboard with the guest's window. Notice the lack of tool bar (circled in red).

If you run into any issues with this feature, please contact us at support@coviu.com or click on the Live chat feature on the bottom right hand corner at coviu.com as seen below or click on this Live chat at the bottom right hand corner of this help article.