This article describes the extended appointment duration issue for Scheduled Sessions.
Last Updated: March 2023
Note:
This issue may only affect Coviu customers using Scheduled Sessions to manage their online consultations.
This does not impact session start times and the session links will still be accessible for all call participants for the true duration that is meant by a Coviu user.
On this page:
---
What is the issue?
It has come to our attention that some valued customers and their call participants may experience an unexpected error with Scheduled Sessions due to the session duration value being communicated to all participants incorrectly for an extended time, which does not meet the true duration value as intended by the Coviu user.
See an example of the issue in the screenshots below:

Session duration for a session within Coivu - 30 minutes.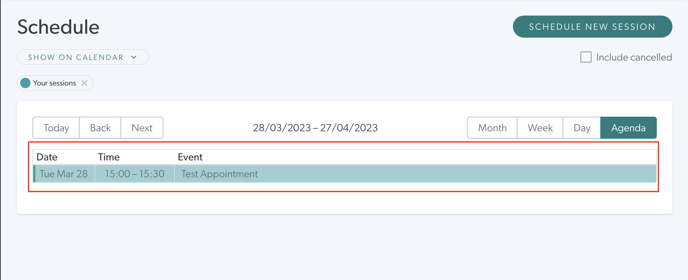 Email - Invitation for the same session - 90 minutes.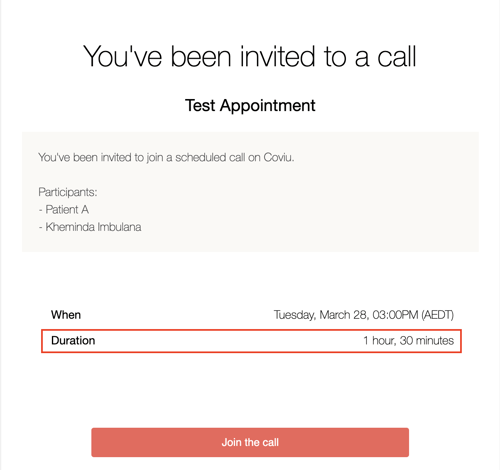 ---
Who is impacted by the issue?
Call participants may be impacted by this issue when accessing or reviewing invitation confirmations for scheduled sessions received either via email (including the associated email inbox calendar event) or sms, and they may find that the suggested session duration for call participants can be longer than the true duration value that is meant for their session.
---
What is the workaround?
As a temporary workaround, customers impacted by this issue can utilize their User Room workflow to manage their online consultations. You can also learn about the User Room workflow here.
---
What is being done about the issue?
We sincerely appreciate your patience and understanding as our team is actively working to resolve this issue for our valued customers as soon as possible.
If you have reached out to us already, we will alert you directly via our Live Chat or email (support@coviu.com) to share any progress around the issue.
---
More support options
You have completed another Coviu help article. You now know the workaround to the extended appointment duration issue for Scheduled Sessions.
If this is not what you were looking for, explore our knowledge base and search for another article from here.
If you still require any assistance, please do not hesitate to get in touch with our friendly Customer Success team using any of the contact methods available here.