This article runs through the consent process for a client, guest or patient when joining a call.
Last Updated: December 2022
NOTE:
This consent form does not keep a record of the consents that have been given. Rather, it relies on a principle of implicit consent - if this App has been activated and the guest has arrived in the call, then it is presumed that they have consented.
---
On this page:


---
How does the General Telehealth Consent work on Coviu?
Coviu has a built-in consent form to ensure each client, guest or patient is made aware that the video consultation that they are about to enter will be different from an in-person consultation so they can choose to provide consent and proceed. This form will be presented as part of the call entry flow.
---
How to find and install the General Telehealth Consent form
Log in to your Coviu account as you normally would. If you do not have a Coviu account, you can sign up here.
Click Apps on the left side menu of the Dashboard (if you can't see the Apps menu, then you are not the Administrator for your account).
Click Find Apps near the top right corner of your screen. This will take you to Coviu's App Marketplace.
Once in the App Marketplace, scroll down to find the Consent Form - General Telehealth App and click it. Follow the prompts to install it.
Return to your Coviu account (you may need to reload the page).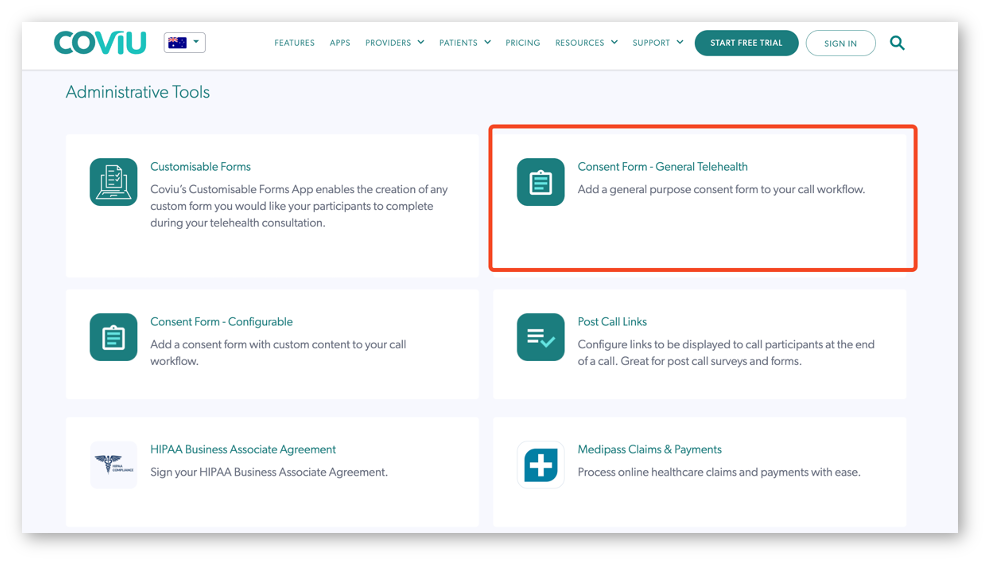 ---
What is included in the General Telehealth Consent form?
The default text that is available in the General Consent form is shown below: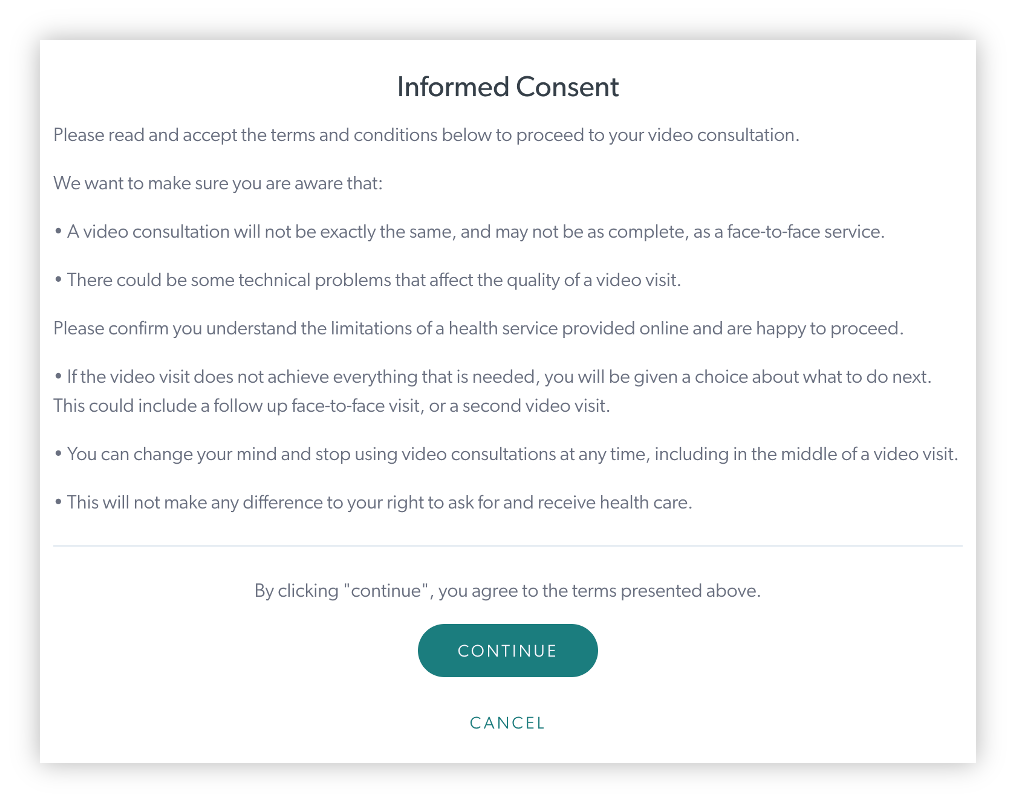 A client, guest or patient can click Continue to agree to the terms stated to then be placed in the waiting queue to be accepted by their provider or host, as part of entering their consultation.
---
Can I have my own text included as part of the consent form?

Yes, if you wish to have your own terms and conditions included as part of the text in the consent form you can do so using the Consent Form-Configurable App as seen here. This App comes bundled with our Professional and Clinic Plans.
---

More support options
You have completed another Coviu help article. You now know how the consent works on Coviu.
If this is not what you were looking for, explore our knowledge base and search for another article from here.
If you still require any assistance, please do not hesitate to get in touch with our friendly Customer Success team using any of the contact methods available here

Author: KB