This article outlines the Waiting Area Alert options and how to set them up.
Last Updated: June 2022
Note: Waiting Area Alerts apply to those plans which have a Waiting Area (i.e. our Premium and Enterprise plans). Click here to learn which plan you are on.
On this page:
---
Where do I find the Alert options?
There are 3 options you can use to ensure you are alerted when a patient arrives or has been waiting for a while, in your Coviu clinic Waiting Area.
Note that these alerts are set for your account only and do not apply to other users (your colleagues) of that clinic.
Log into Coviu as you normally would.
Enter the Waiting Area dashboard of the clinic you want to set notifications for.
Select Alerts on the bottom right side of the screen.
---
What are the Alert options?
You will see the three options: SMS alerts, Email alerts and Desktop alerts. You will also be able to see which ones are currently enabled or disabled.
SMS alerts

- Receive an SMS message alert once the caller has waited a set amount of time. For example, you can set it to alert you as soon as your client or patient enters the Waiting Area or 10 minutes after they enter. The SMS will include a link for the practitioner or admin staff to click on, bringing them to the Waiting Area.

Email alerts

- The process is the same as above, except the alert is sent to the selected email address.

Desktop alerts

- You will receive an alert on your desktop once the patient has entered the Waiting Area. You will also hear a sound alert in case you are not looking at the screen.
If you have more than one clinic, you can enable desktop notifications for all clinics. Simply go back to the My clinics page and select Enable Desktop Notifications on the upper left side of the page. (You would need to have Organisation Administrator permissions to perform this task).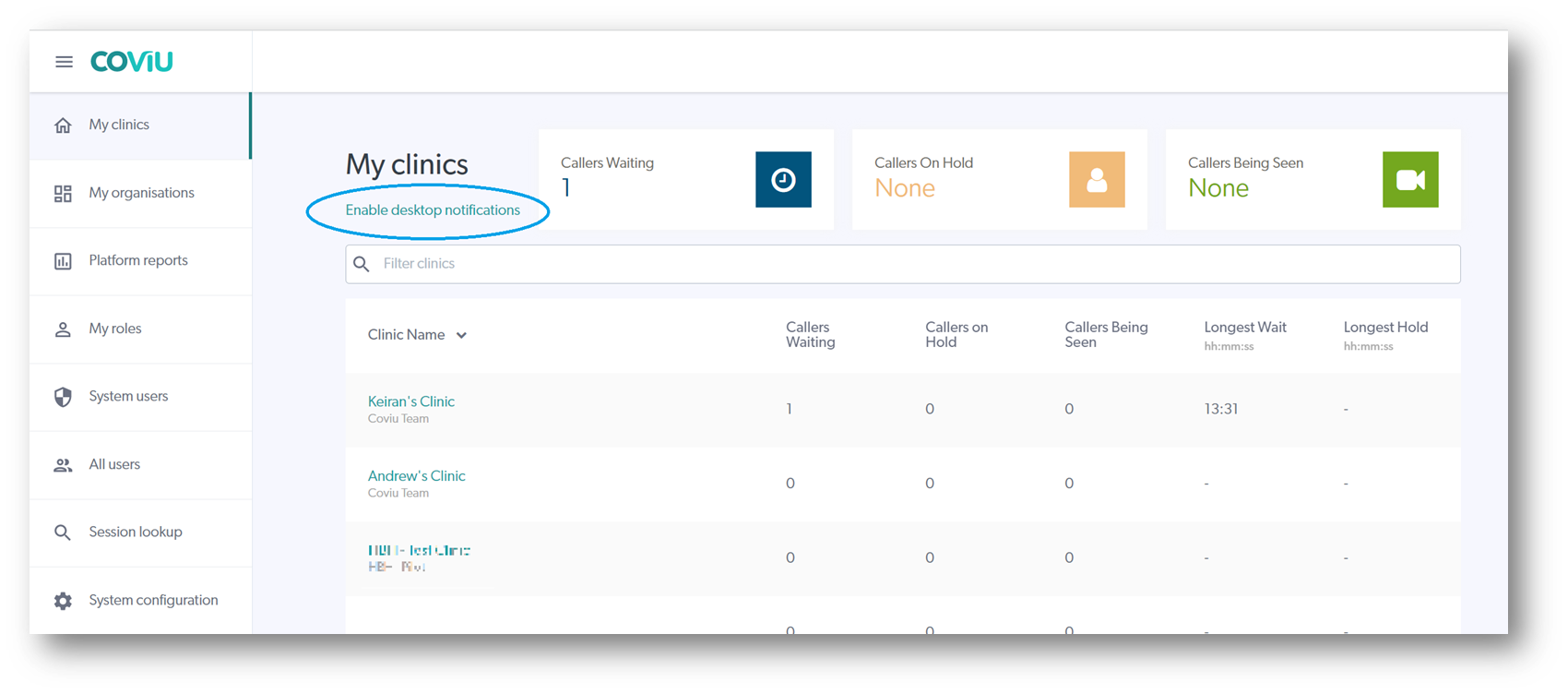 ---
More support options
You have completed another Coviu help article. You now know how to set Waiting Area Notifications for your clinic.
If this is not what you were looking for, explore our knowledge base and search for another article from here.
If you still require any assistance, please do not hesitate to get in touch with our friendly Customer Success team using any of the contact methods available here.