This article describes our Group Rooms feature, where you can hold group sessions of up to 20 people.
Last Updated: July 2022
Note:
The Group Rooms feature is available to customers who are on the following plans:

Not sure what plan you are on? Click here to find out.
If you are on a custom Enterprise plan, please speak to your organisation's Telehealth Coordinator or your Coviu account representative about having this feature set up.
On this page:
---
What is a Group Telehealth Room?
A Coviu Group Telehealth Room is a great way to connect with larger groups of people. This could be a group therapy session, counselling or, a yoga session. The way in which you use your Group Telehealth Room is only limited by your imagination.
Like our other workflows, you can still invite your clients or patients to join you in the room for a session. Invitations can be sent via email from your Coviu account, or you can copy the room link into an email or calendar invitation.
---
How may people can I have in a Group Telehealth Room?
There is a hard limit of 20 people. That includes you as the clinician or host. You could have a combination of 2 hosts and 18 guests, or other variations.
The quality of a call is based on all participants having access to a good internet connection. The more people you have in the call, the higher the load on the internet connection.
---
How to create a Group Room
To start a group call, you need to have a Group Room. If there is no number beside the Group rooms label on the left side menu, then there are no existing Group Rooms in your account and you have to create one.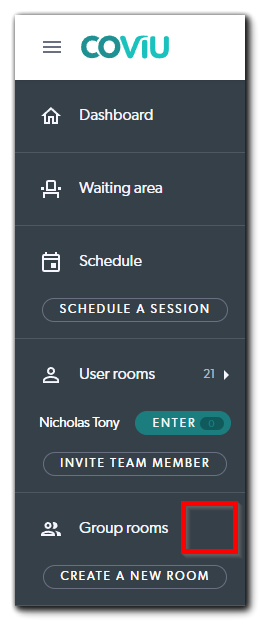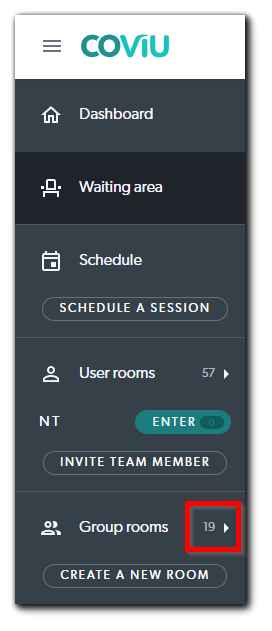 You need to be the account Owner or Administrator to create new Group Rooms.
Log in to your Coviu account as you normally would.
Under Group rooms on the left side menu of the Dashboard, click Create A New Room.

Enter a name for your new Group Room.

Click Add a group room and you are done!
---
How to start a group call
The process is the same as if you are starting a call in your User Room or Meeting Room, but you can have up to 20 people (i.e. 1 host + 19 other participants) in the room.
Log in to your Coviu account as you normally would.
Click Group rooms on the left side menu of the Dashboard.

Click the room name that you wish to use.

Send invitations to your clients or patients if you have not done so. You can learn more about sending invitations here.

When it is time for your call, enter the Group Room by clicking Enter Group Room. You can learn more about accepting your clients or patients into the Group Room here.

---
More support options
You have completed another Coviu help article. You now know how to start a group call.
If this is not what you were looking for, explore our knowledge base and search for another article from here.
If you still require any assistance, please do not hesitate to get in touch with our friendly Customer Success team using any of the contact methods available here.