This article describes how to apply a blurred or virtual background to your video feed for added privacy.
Last Updated: May 2023
Note:
This App is available and installable on all Coviu plans.
To add this App to your Coviu account, you must be a Coviu account Owner or Administrator.
If you are on a custom Enterprise plan, please speak to your organisation's telehealth coordinator or your Coviu account representative about having this App added to your account.
Not sure what plan you are on? Click here to find out.
Note:
Performance can vary with older devices; you may see a noticeable frame rate loss or lag in your own video feed. However, this should only affect what you see of yourself, not what your client or patient sees (in other words, your client or patient should be able to see you normally).
This feature can impact calls made where participants have low bandwidth.
This capability is not supported on mobile devices such as Android devices, iPads or iPhones.
On this page:
---
What is the Virtual Backgrounds App?
The Virtual Backgrounds App allows you to apply a blur effect or select from a number of pre-populated virtual backgrounds to the background of your video feed. This is useful in obscuring your physical location to provide greater visual privacy while you are on a video call.
Effectively, to your client or patient, everything but your face will be blurred or hidden in your video feed as shown below.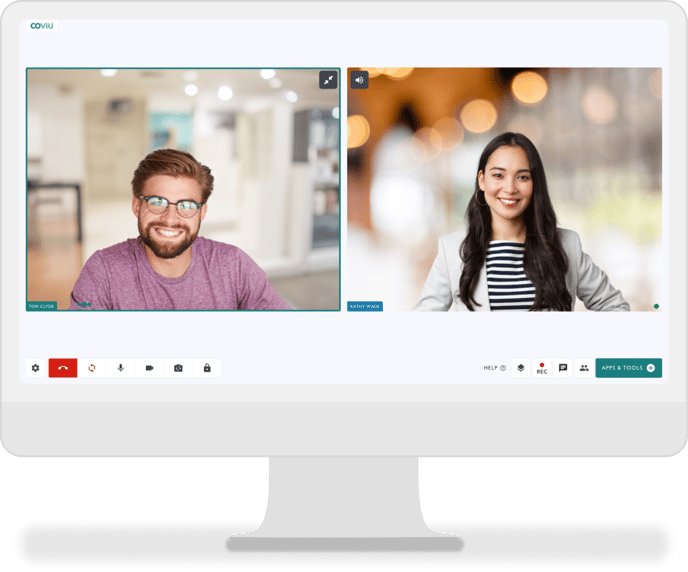 ---
How to install the Virtual Backgrounds App
Log in to your Coviu account as you normally would. If you do not have a Coviu account, you can sign up here.
Click Apps on the left side menu of the Dashboard (if you can't see the Apps menu, then you are not the Administrator for your account).
Click Find Apps near the top right corner of your screen. This will take you to Coviu's App Marketplace.
Once in the App Marketplace, scroll down to find the Virtual Backgrounds App and click it. Follow the prompts to install it.

Once installed, return back to your Coviu account.
---
How to use the Virtual Backgrounds App
Once installed, you can turn on Virtual Backgrounds at any time during your video call. You can also preview the effects when you are not connected to a call. To enable this feature, follow the instructions below.
Log in to your Coviu account as you normally would.
Enter your User Room by clicking Enter beside your name on the left side menu of the Dashboard.

If you do not have a User Room, then you may need to do it the next time you are in a Waiting Area call. You could also do a test call with a colleague to set it up prior to meeting with a client or patient.

Click the Settings button on the bottom left corner of the call interface.

Scroll down and click Select background.
From the background options, you can choose between 7 options:

Light blur
Medium blur
Heavy blur
Solid Background 1
Solid Background 2
Solid Background 3
Solid Background 4
Solid Background 5
Solid Background 6
Solid Background 7

Once you have made a selection, click the Settings button again to exit the menu.
You should now have Virtual Backgrounds enabled

. Your selection will be saved and carried across to any consultation you join.
---
How to uninstall an App
Click here to learn how to uninstall an App from your Coviu account.
---
More support options
You have completed another Coviu help article. You now know how to install and use the Virtual Backgrounds App.
If this is not what you were looking for, explore our knowledge base and search for another article from here.
If you still require any assistance, please do not hesitate to get in touch with our friendly Customer Success team using any of the contact methods available here.