This article will explain how to set the time zone of your Waiting Area to reflect the local time for your virtual practice.
Last Updated: Jan 2022

NOTE:
Only a Coviu account owner or administrator can make changes to the Waiting Area time zone.
This feature applies to the virtual Waiting Area feature which is available on these plans:


Premium
Older Clinic plans
Enterprise plans.
It is also available during your free, two-week trial.

Not sure which plan you are on? Click here to find out.
---
On this page:
---
Why set up a time zone for my Waiting Area?

The Waiting Area allows you to set up a virtual front door to your practice to connect with callers. You can also learn more about the Waiting Area from here.

This Waiting Area can also be configured to match the timezone that you are residing in to ensure that your callers can connect during your actual operating hours.
---
How to set the time zone for my Waiting Area?
Sign into Coviu as you normally would.
Click Configure on the left-side menu.





Click the Waiting Area tab.
A list of all your configuration options will be shown.
Select General Configuration.


Select Time Zone using the dropdown box select the relevant time for your clinic.
Click Save once you have selected your preference to save your changes.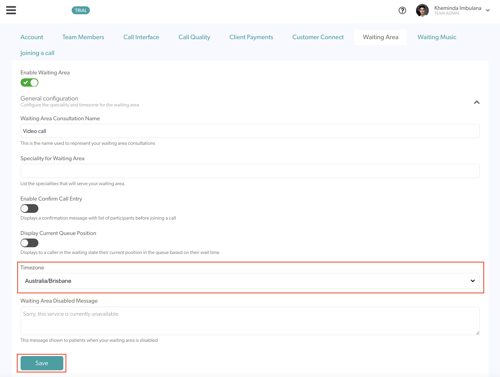 ---
More support options
You have completed another Coviu help article. You now know how to set your Waiting Area time zone.
If this is not what you were looking for, explore our knowledge base and search for another article from here.
If you still require any assistance, please do not hesitate to get in touch with our friendly Customer Success team using any of the contact methods available here.
Author: KI