USA, Pearson Assessment Release: CELF Preschool-3
Pearson's Clinical Evaluation of Language Fundamentals Preschool-3 is now available to install on Coviu! The CELF Preschool-3 assesses aspects of language necessary for preschool children to meet the language demands of the classroom.
The CELF Preschool-3 is part of the Speech-Language Pathology Battery. If you already have this installed, the CELF Preschool-3 will automatically be added to your account. To install this Pearson Battery on your account, get in touch! For Enterprise accounts, please get in touch with your Coviu Account Representative.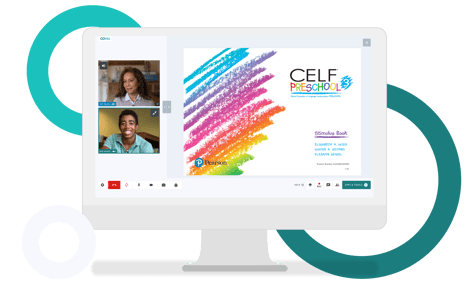 The CELF Preschool-3 Digital Stimulus Book is embedded within the Coviu call, allowing you to display the stimuli without leaving your call window. Each stimulus book is enhanced with additional security features that help prevent screenshots of stimuli from being released online.
Annotations
You and your client can see each other's cursor movements over the stimulus book, enabling you to direct the client's attention. When the client selects a response, an annotation with numbers indicates the order of responses. We call these 'click-markers'.

Standardized Environments
The App modifies the client's interface to standardize the environment and reduce the risk of distraction. The client's view, the client's toolbar, and the video are hidden from their view, so they can only see the stimulus book and clinician's video. This ensures you can achieve accurate and reliable test results.
Learn more
• Pearson Clinical's Terms and Conditions
• How to Install and Use Pearson Assessments in Coviu
Please contact support@coviu.com for any questions.
Updated 22/08/23