Coviu has partnered with Pearson Clinical, to provide a fully integrated digital WISC-V A&NZ stimulus book, on our telehealth platform
Last updated: May 2021
1. To get started, sign in to your Coviu account. If you do not yet have an account, you can sign up here.
2. Once logged in to your account, go to CONFIGURE > ADD-ONS > Find add-ons. This will take you to Coviu's add-on marketplace. Alternatively, you can click here to be taken directly to the add-on.

3. Once in the marketplace, find the WISC-V A&NZ add-on and click through to install it.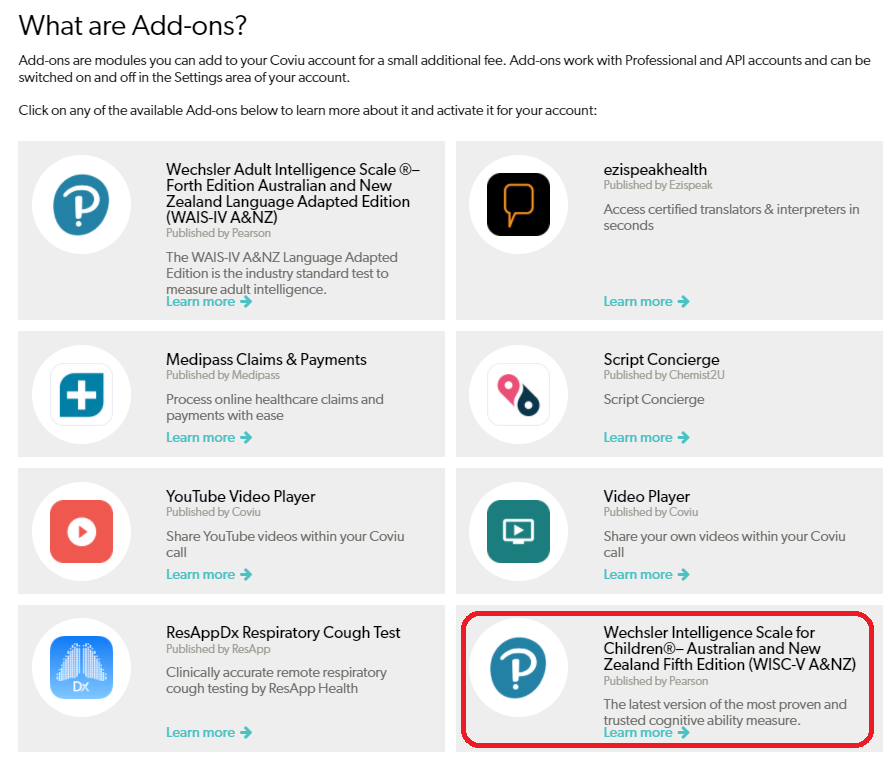 Return to your Coviu account.
4. To finish setting up, you will need to enter your Pearson Member ID to activate the add-on. Go to CONFIGURE > ADD-ONS, then scroll down under your installed add-ons to see the WISC-V A&NZ.
Click 'Configure' and enter your Pearson Member ID here.

There are three ways where you can find your Pearson Member ID.
1. You would have received a recent email from Pearson which includes your Pearson Member ID
2. Reach out to Pearson on Live-chat ('Chat with an expert pop-up box' ) located on the bottom right-hand side of their website www.pearsonclinical.com.au/
3. Contact Pearson Clinical Assessments client services. Australia: 1300 4 PEARSON (1300 473 277) New Zealand: +64 9886 9536

5. Before saving, you will see 2 check boxes asking for:
Consent for Pearson to view your Pearson customer number + Coviu account details in order to confirm your eligibility to deliver Pearson tests.
Consent for Pearson to potentially contact you to ask about your experience with Pearson tests on Coviu.
We kindly ask you select both.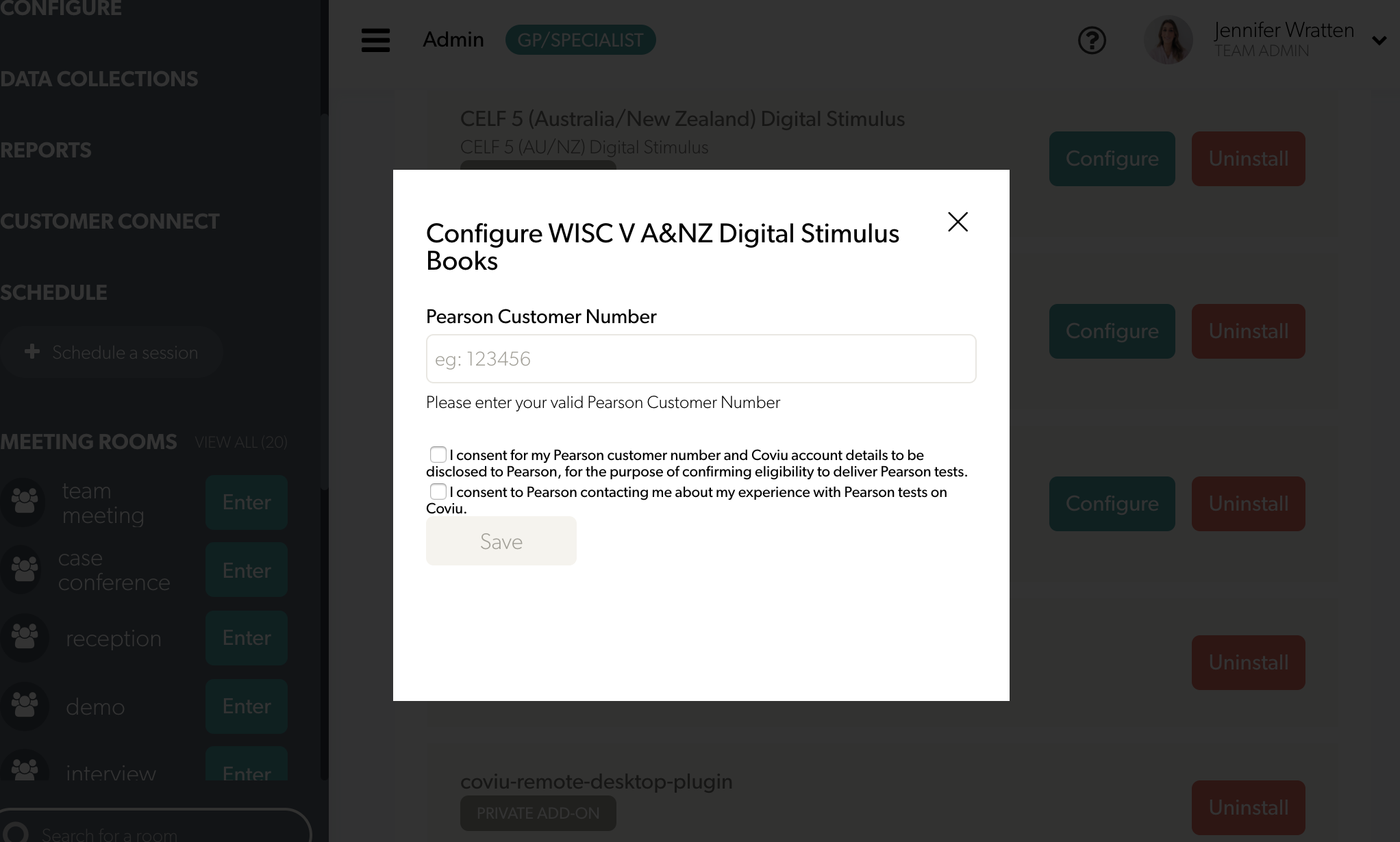 6. To use the WISC-V A&NZ in a call, please either book a session via Coviu and enter the unique room link, or enter your Coviu user room at the time of your arranged appointment.
7. Once in the call, click the 'Tools+' button on the top right part of the screen. Scroll down and click on the WISC-V A&NZ Standardised Assessment. It will open immediately.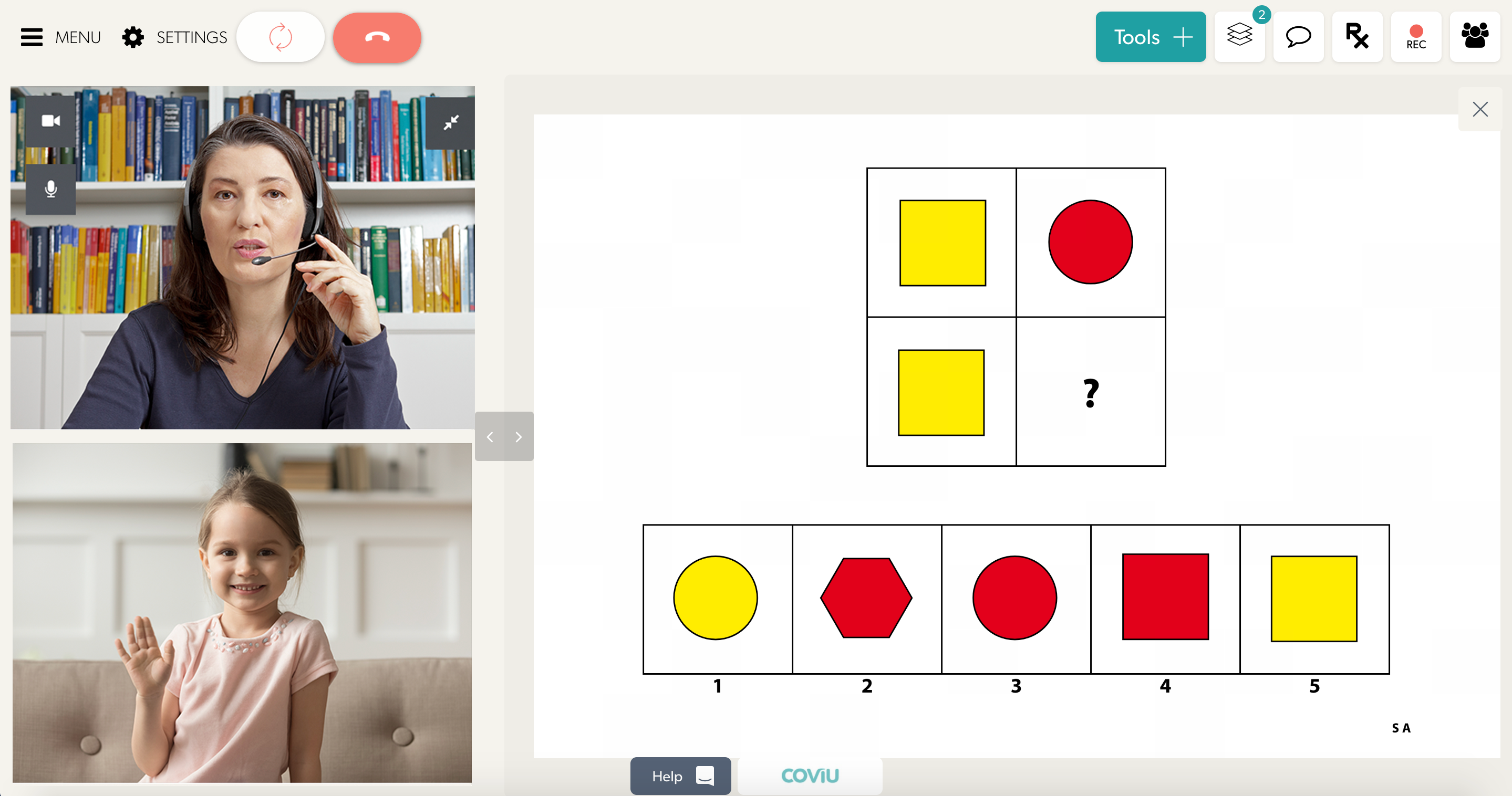 You can now begin your assessment.
To navigate between pages, select the section you want to display from the dropdown menu, or click the arrows in the tool bar to change the page number.
When the assessed child clicks items on the page, you will see the numbered, tracked markers to review their interactions.
To clear the child's markers, click the icon with a person outline and an 'x' displayed.

NOTE: You must use an original WISC-VA&NZ Record Form for every assessment undertaken via Coviu. If you have a trained facilitator and are therefore administering subtests that require a Response Booklet during the assessment you must also use original WISC-VA&NZ Response Booklets.
FAQ: Is there a timer option for picture span in the WISC-V Add-on in Coviu?
ANSWER: There are NO timer options in the Pearson Add-ons.