This help article describes how to choose your Coviu Practice Name and create your Unique domain.
Last updated: October 2021
Note: You must be an Account owner or Administrator to make these changes.

When registering a Coviu user account, you will be prompted to enter a few details; your name, email address, a password and finally a unique Practice name/domain.
This Practice name is essentially a unique domain for your account, that is used to identify your personal Coviu rooms, such as:

Note: Please do not enter your website details here. You only need to write the name you would like to use and we will do the rest.

Choosing a Practice Name/Unique domain
It must be unique - you can't use an alias that is already used by another Coviu user (only letter and numbers are allowed with no spaces)
Under Configure on your Coviu Dashboard go to Account.
Here, the Unique domain must only contain letters, numbers, hyphens and underscores, then click Save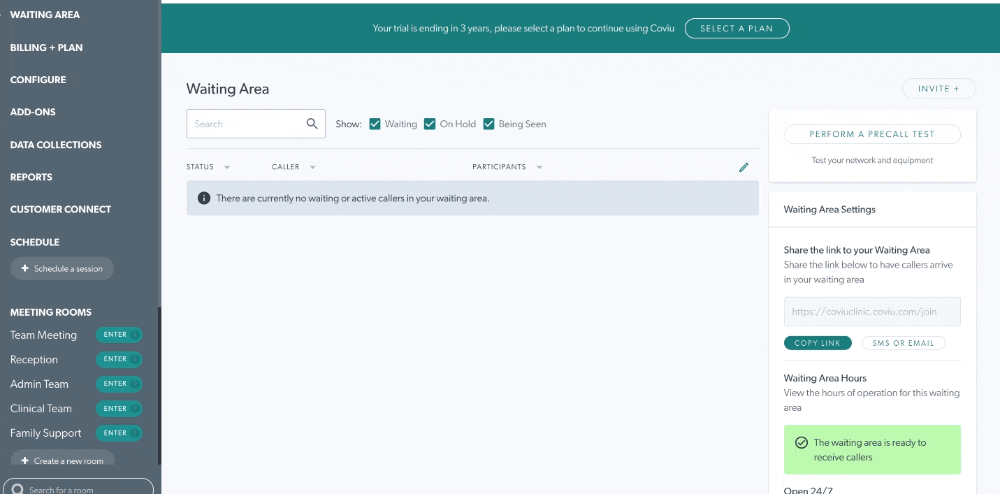 The following generated web address is what will be sent out from a specific User.

To find out how to create and register Usernames [@username] click here.
Changing your Practice Name
If you would like to change your Practice Name, the Administrator can do this at any time via Configure and then Account.
Important note: When updating your Practice Name, the Unique domain andy User Rooms and any Meeting Rooms on the account will be updated to reflect your new Practice Name.
What if I still need help?
Use the Help chat bubble on this page to get in touch.

Check out our other Contact options on this page.
Related articles
How to Choose and Register a Username
Author: DP