This article describes how to choose or change your Coviu Account name and create your unique domain.
Last Updated: May 2022
NOTE: you must be an account owner or administrator to make these changes.
---
On this page:
---
Choosing your Coviu Account name (Virtual Clinic Name)
When you sign up for a free trial, you will need to choose and register a Coviu Account name. The Account name will become your Virtual Clinic Name. You will also be prompted to enter a few details, such as;
Your Name
Email Address
Password
Unique Account name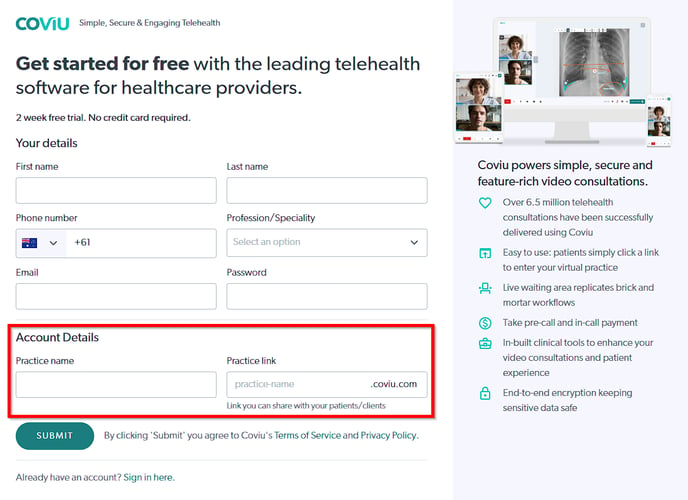 Your Account name might reflect your business name and is essentially a unique name for your account. It will also form the basis for the web link (or URL) used to invite your clients or patients to a consultation in your telehealth clinic. Some examples of the what the links look like are:
A Premium plan Waiting Area link: https://mycompanyname.coviu.com/join
A User Room link: https://mycompanyname.coviu.com/room/@joebloggs
NOTE: please do not enter your website details here. You only need to write the name you would like to use and we will do the rest.
---
Coviu Account name requirements
It must be unique - you can't use a name (or word) that is already used by another Coviu customer.

If a name is already in use, the system will advise that it can't be used and you will need to choose another name.

Only letters and numbers are allowed with no spaces.
We recommend keeping it short (i.e. don't use something like "thebestphysiotherapybusinessintheworld...")
---
Changing your Coviu Account name
If you would like to change your Account name, your account Administrator can do this at any time using the below instructions. However, there are consequences in doing so:
NOTE: when updating your Coviu Account name, the Unique Domain and User Rooms and any Meeting Rooms on the account will be updated to reflect your new Account name. This means any links you have been providing to clients or patients will change. If you have connected Coviu to your PMS, this may also need updating.
If you still wish to change your Coviu Account name, follow these steps or watch the GIF below:
Log into Coviu as you normally would.
Click Configure in the left side menu (if you can't see Configure, then you are not the Administrator for your account).
Click the Account tab.
Enter your new name into the Account name field.
Copy the new account name into the Unique Domain field but without spaces.
Add your Clinic Specialty while you are there (optional).
Click Save and you are done!
Watch the GIF:

---
More support options
You have completed another Coviu help article. You now know how to choose or change your account name.
If this is not what you were looking for, explore our knowledge base and search for another article from here.
If you still require any assistance, please do not hesitate to get in touch with our friendly Customer Success team using any of the contact methods available here.