In-Call Features and Abilities
Enterprise - Inviting Additional Guests Into a Call
For all roles
Last Updated: March 2022
There are many instances when an additional person may want or need to join a video consultation. For example, the patient may have family members in a different location or the patient needs their interpreter, carer or specific health professional to help discuss their case with the hosting practitioner.
Currently, each video call can host up to 6 participants.
There are two ways to invite a new participant to a video call.
1. Add a user from the Waiting Area
If the caller already knows how to access the Waiting Area, they will be waiting there to join the call. Simply minimise the window or move the active call screen and find your Waiting Area tab. Click Join and they will be brought into your current video call.
2. Invite a new participant via email or SMS
From your active call screen, click on the Call Manager icon, then click Invite participant.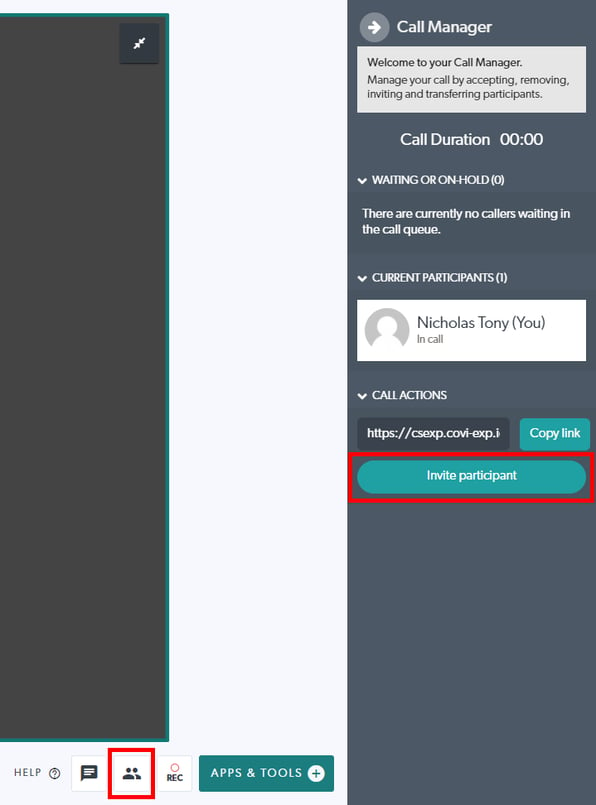 You will then be given the option to Send email invitation or Send SMS invitation to the participant you want to add. They will receive a link that joins them directly to the video call after clicking.


---
You have completed another Coviu help article. You now know how to invite additional guests into a call.
If this is not what you were looking for, explore our knowledge base and search for another article from here.
If you still require any assistance, please do not hesitate to get in touch with our friendly Customer Success team using any of the contact methods available here.