Preparing for your First Call
How to Change Your In-Call Settings
This article describes how to change your in-call settings including the camera, microphone, speakers, call video quality and language.
Last Updated: August 2023
On this page:
---
How to change your in-call settings
When you are on a video call, click the Settings cog at the bottom left corner of the Call Interface screen to access the in-call settings.

Once you click the
Settings
cog, you will see the following in-call settings options:
Select camera
Select microphone
Select speaker
Select video quality
Select layout
Select background
Change language
Change audio behaviours

Click on each one to change the settings of your device or call interface. You will have the choice to choose between your default device settings or external hardware that you may have connected to your device, such as an external webcam, microphone, speaker, etc.
If you connect external hardware to your computer, but it is not functioning as it should be, you may need to access the in-call settings and make sure they are selected to be used correctly.
The example below shows that the default computer microphone has been selected: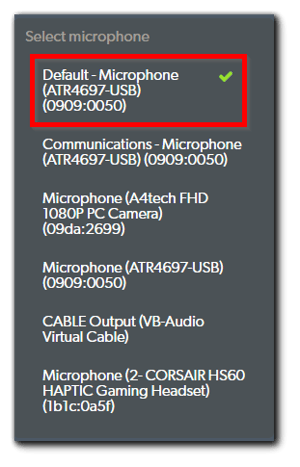 ---
More support options
You have completed another Coviu help article. You now know how to change your in-call settings.
If this is not what you were looking for, explore our knowledge base and search for another article from here.
If you still require any assistance, please do not hesitate to get in touch with our friendly Customer Success team using any of the contact methods available here.