This article describes how to access, install, configure and uninstall Apps in your Coviu account.
Last Updated: July 2022
Note: changes to the Apps in your Coviu account can only be undertaken by the account Owner or Administrator.
On this page:
---
What are Apps?
Apps are modules that you can add to your account that extend the functionality and workflow capabilities of your clinic. We offer a wide range of Apps that can make your consultations with your client or patient even more effective and seamless.
---
How can I access my installed Apps?
To access your existing Apps and to browse more, click the Apps section on the left-side menu. The Apps listed here are already installed in your account.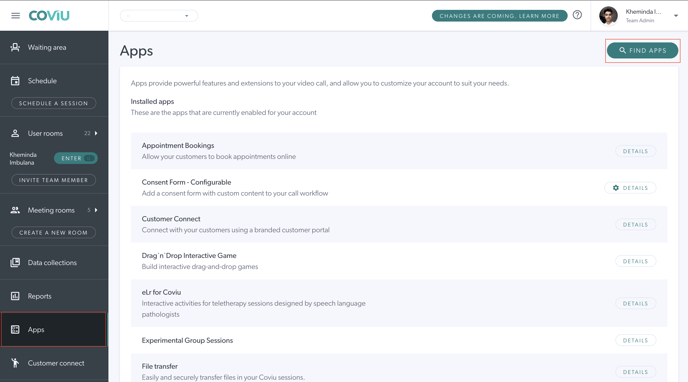 ---

How can I access the Coviu App Marketplace?
To view the range of our ever-growing library of Apps, you can directly visit the Coviu App Marketplace.
Alternatively, if you are already viewing the Apps section in your account, you can click the Find Apps button to go to the Coviu App Marketplace.
Within the Marketplace page, you may either see your existing Apps or install new ones. They have been also categorised for ease of access.
---

How can I install an App?
Once you have found the App that you are interested to use, you first need to install it by clicking on the listed App and then clicking the Install button. Once an App has been installed, you will see them listed under the same Apps section under your account.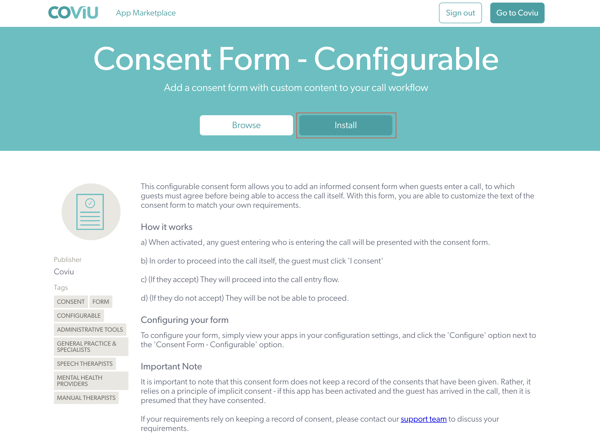 ---
Where can I get more information about an App?
Our Help Centre is the go-to place for all help articles and training resources. All of our Apps will have a corresponding help article describing how to install, configure and use the App.
Visit the Help Centre and type in a keyword to find the article you are after. For example, if you want to find the Pearson WAIS-IV help article, type in "wais" and choose the most relevant article.
---
How can I manage or uninstall an App?
Follow these steps to manage or uninstall an App:
Log into Coviu as you normally would.

Click Apps on the left menu of the Dashboard (if you cannot see the Apps menu, then you are not the Administrator of your Coviu account).

Scroll down to the App you wish to manage or uninstall.

Click

Details on the right side

to view additional options that may allow you to

Configure

or

Uninstall the App, see the example screenshots below:

Click the Uninstall button to uninstall or click the Configure tab to make changes.
---
More support options
You have completed another Coviu help article. You now know how to install, manage and uninstall Apps in your Coviu account.
If this is not what you were looking for, explore our knowledge base and search for another article from here.
If you still require any assistance, please do not hesitate to get in touch with our friendly Customer Success team using any of the contact methods available here.