This article describes the Dashboard Announcement Carousel feature and how to configure it.
Last Updated: June 2023
Which plans can use this feature?

Customers on a customisable Enterprise plan have access to this feature.
Click here to learn which plan you are on.

Who is this article aimed at?

This article covers tasks that need to be performed by your Platform Administrator.

Quick tips:

If you plan to include images in your announcement, gather those first! See below for recommended image sizes:

Ideal size ranges from 300px by 300px to a max of 600px by 600px, no larger than 1MB.

The Announcement Carousel replaces the static image of the couch on the clinic Dashboard.
The announcements are set at the Platform Level, so the change will be applied to all Clinics on your platform.
At this stage, you cannot set the announcements at the individual Clinic-level or the Organisation-level.
On this page:
---
What is the Dashboard Announcement Carousel?
The Dashboard Announcement Carousel (the Carousel) is a handy feature that you can use to advertise virtually anything! Your announcements don't have to be specific to Coviu or your usage of Coviu, they could be to advertise a new service or a new product that your organisation is delivering. Perhaps you want to advertise your end-of-year party?
The Carousel replaces the static image of the couch in each of your clinics. It is important to note that the Carousel is configured by your Platform Administrator at the top level of the platform, this means that whatever announcement is configured, it will show on the Dashboard of all your clinics, so make sure your announcement is relevant to everyone in your organisation.
The Carousel can house up to three separate announcements and will rotate through them after a few seconds on each.
The Carousel is only viewable by your staff, it is not viewable by your patients or clients.
---
How do I configure it?
Only your Platform Administrator(s) can configure this feature, so if you have an idea for an announcement, approach your Administrator to get it set up.
Administrators should follow these steps:
Log into the platform as you normally would. You should arrive at the Platform Dashboard.
Click on System configuration in the left hand menu (if you cannot see the System Configuration menu, then you are not the Platform Administrator).
Click on the Announcements tab.
Click on the ADD ANOUNCEMENT button.
Build your announcement in the interface that opens by:

Choosing a theme (different pre-loaded colour schemes)
Adding a title
Adding a subtitle
Add a URL if relevant. This can link off to any website that might contain further information about your announcement
Add an image if desired
Click the toggle to publish your announcement

Click Create to save it.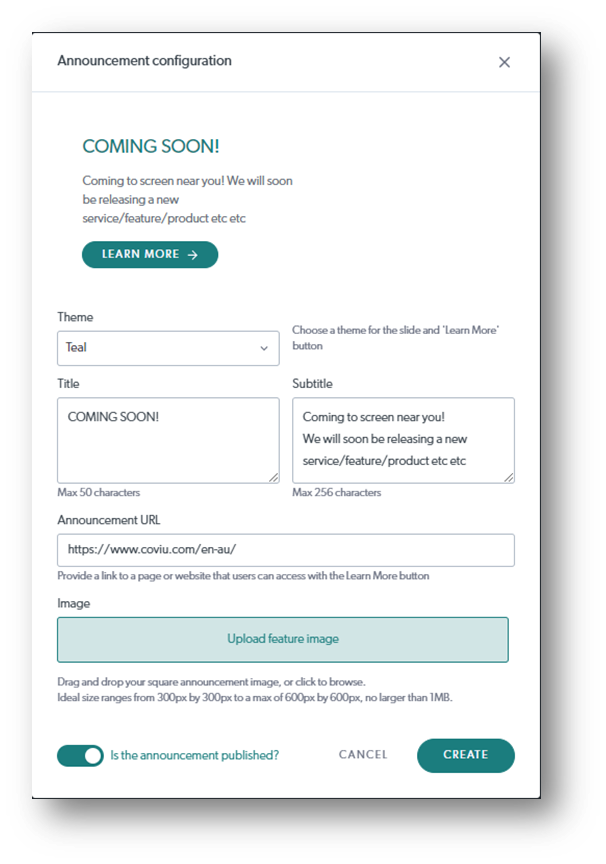 The announcement will now appear on ALL clinic Dashboards, replacing the couch image.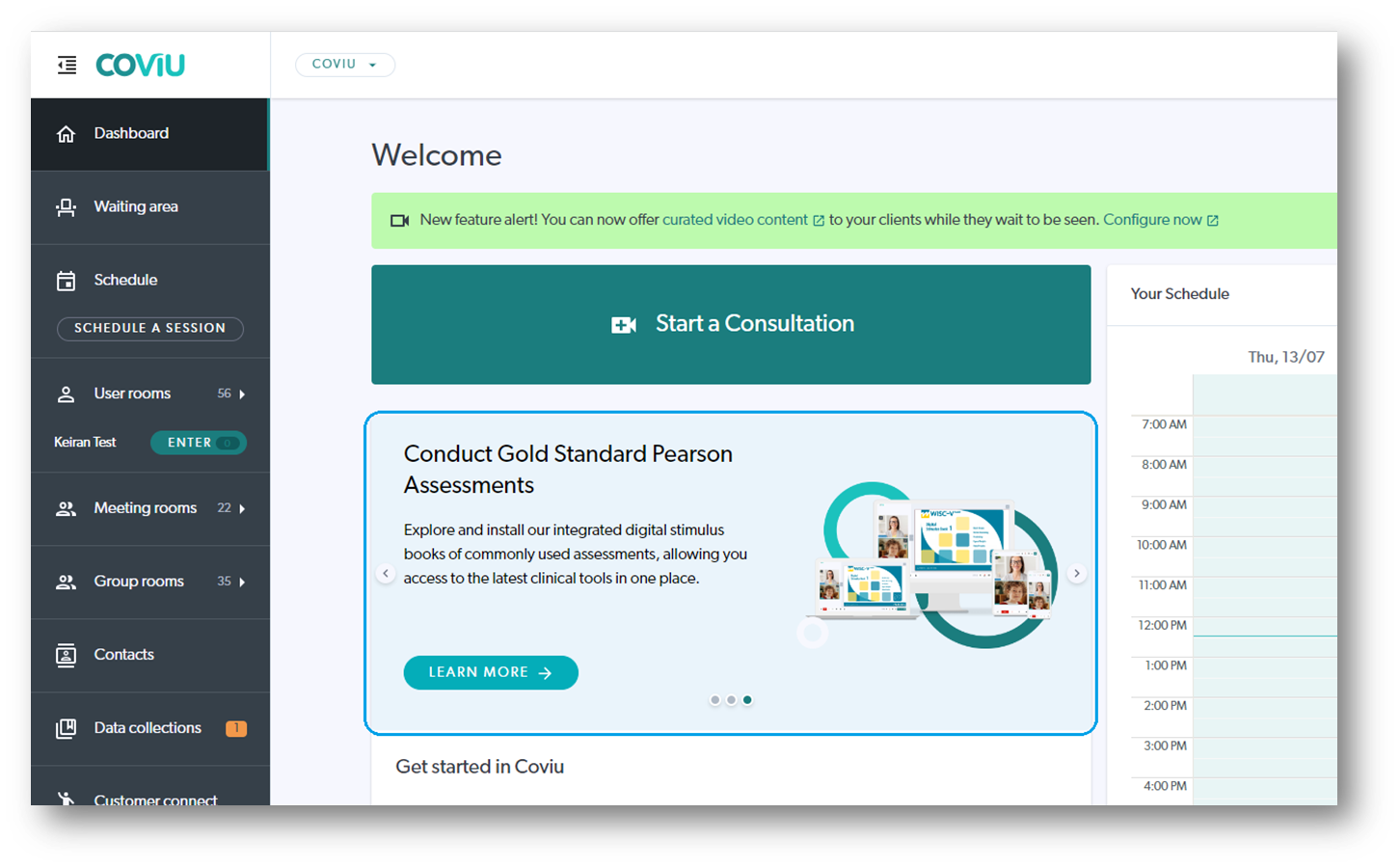 ---
More Support Options.
You have completed another Coviu help article. You now know how to manage your Dashboard Announcement Carousel on your Enterprise platform.
If this is not what you were looking for, explore our knowledge base and search for another article from here.
If you still require any assistance, please do not hesitate to get in touch with our friendly Customer Success team using any of the contact methods available here.