This article is written for clients or patients and covers everything you need to know about your first telehealth session.
Last Updated: August 2022
Note: Before we get started, it's important to note that Coviu is NOT your healthcare provider. We do not know when or who is conducting your video telehealth session nor do we set pricing or availability. Coviu is simply the technology powering your telehealth session.
On this page:
---
How to join your consultation
Firstly, you do NOT need to sign up for Coviu. Your healthcare provider will send you an email or SMS with a link to your telehealth session.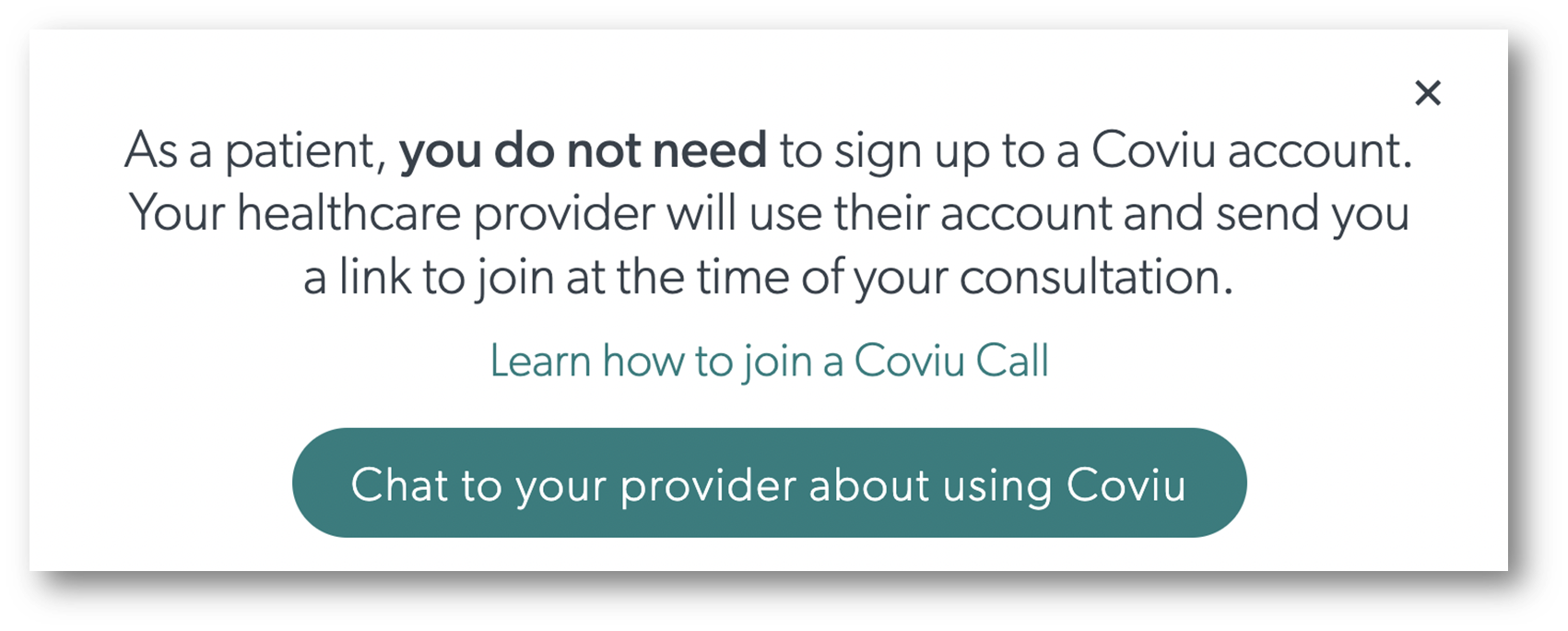 At the time of your appointment, click the Join the call button in the email or the link in the SMS to join the session.
If you receive your invitation by email, it is recommend that you add it to your calendar if you use one. Generally, Google and Outlook calendars will recognise emails with invitations in them but here are some handy links explaining how to turn the email into a calendar event.
---
An example SMS invitation
The SMS invitation that you might receive will look similar to the one shown below: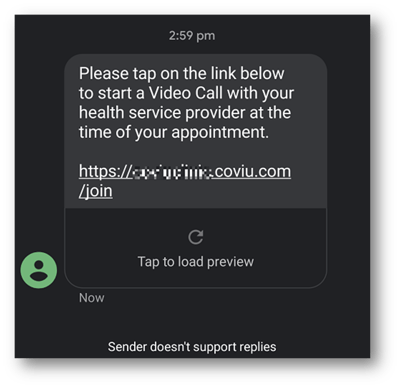 ---
An example email invitation
The email invitation that you might receive will look similar to the one shown below. Note that the email will come from invitations@coviu.com or from the email address of your healthcare provider.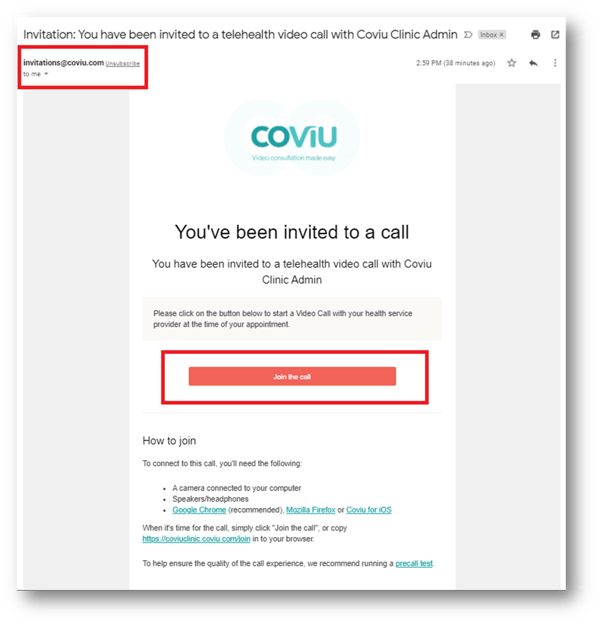 Once you click on the Join the call button or the link shown in the SMS, you may be asked to take a photo of yourself for identification as well as fill in your first and last name. These questions depend on how your healthcare provider has configured their account and so your healthcare provider can identify you for security purposes. The photo and personal details are NOT stored anywhere on the Coviu system.
You will also be prompted by your browser to enable your camera and microphone on the upper left hand corner. Please click Allow to enable. Do NOT click on the Restart Camera button.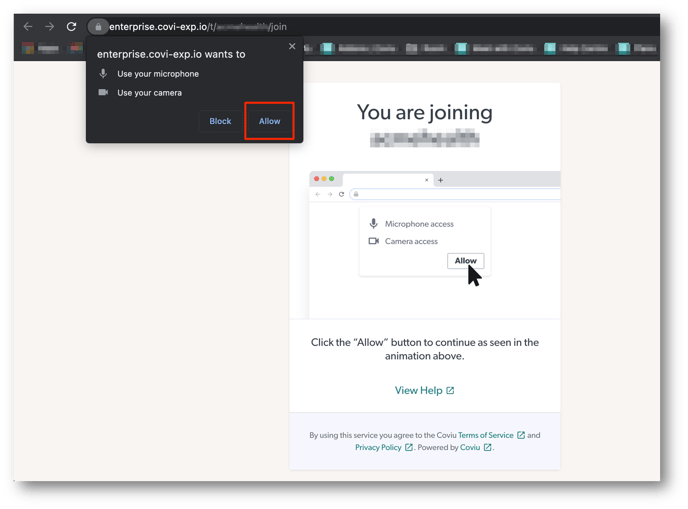 Please read through the Informed Consent information and click Continue to proceed to the call.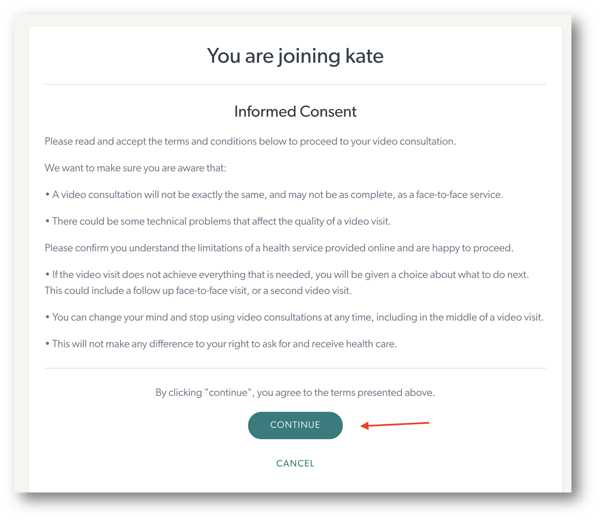 You will arrive in a virtual Waiting Room, ready for your healthcare provider to let you in and start the session. Enjoy the range of on-hold music options while you wait.
---
How to prepare for your session
There are a few steps you can undertake prior to your session to ensure it will run smoothly.
Are you connected to the internet?

You will need to be connected to the internet for the duration of your Telehealth session. A connection to your home WiFi is great and we don't recommend anything less than a strong 4G connection if connecting from a mobile device.

Close all other apps, programs, or streaming services you are running

Streaming services such as Netflix, Disney, etc. or online gaming may slow down your internet speed and affect the quality of your session. We recommend turning off those services for the duration of your session.

Check your device or computer

Coviu has been designed to run on all modern devices, both computers and smart devices, such as phones and tablets. Devices which have a camera, microphone and speakers built in are great for holding telehealth sessions.
Most laptops built from 2010 or later will have a built in camera, speaker, and microphone. If your laptop is from before 2010, you may need to investigate your hardware. To test if your device is Coviu ready, simply click here.

Check your web browser

We recommend using Google Chrome or Microsoft Edge on all devices except iPhone and iPad, where we recommend using Apple Safari. We have found that Mozilla's Firefox also works, but will restrict Screen sharing abilities.

Run a speed test to test your internet connectivity

Lastly, you can run a speed test to check your internet connectivity. You will need a minimum of 1 Mbps (1,000 Kbps) for both upload and download to hold a call on Coviu. The speed test will tell you where your bandwidth is sitting. Please click here to run the speed test.
For further support and queries, please check in with your practice in the first instance or visit our Coviu

homepage to engage the Live Chat feature in the bottom right corner or the

Contact Us

link for phone and email support.
---
More support options
You have completed another Coviu help article. You now know how to prepare for a telehealth call.
If this is not what you were looking for, explore our knowledge base and search for another article from here.
If you still require any assistance, please do not hesitate to get in touch with our friendly Customer Success team using any of the contact methods available here.