How Do I Share a File during My Coviu Call?
This help article will provide information on how to share and save documents during a call.
Last Updated: April 2022
On this page:
---
How to share a file
Coviu allows for files (images or PDFs only) to be shared within a Coviu call.
To access the Share a file tool in a call, you'll need to go to the bottom right corner of your Coviu call interface - you will see an Apps & Tools+ button.

Click on Apps & Tools+ - you'll be shown a list of available tools to be used in call.
Next, click on Share a file, choose the file that you want to share and click Open.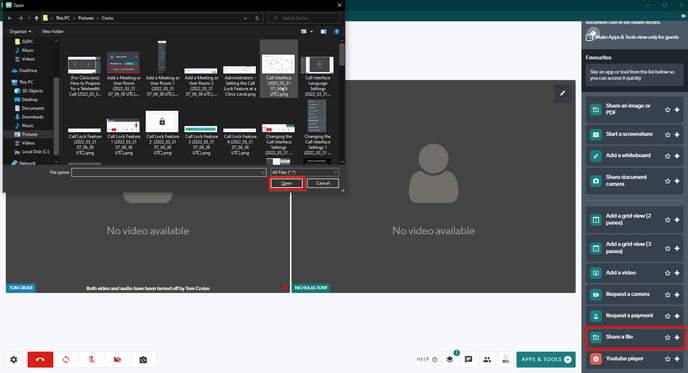 Your client will see the screen below, and will be able to download the file that you have shared by clicking Download.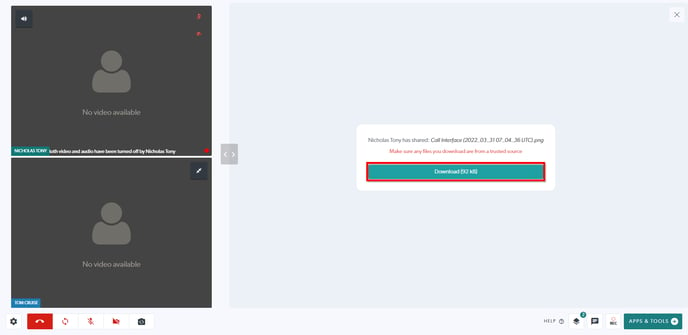 NOTE: Any data shared in a Coviu call will not be stored automatically, you will need to download and save this PRIOR to ending you Coviu Call. If you end the call before downloading or saving the data will be lost and un-recoverable.
---
More support options
You have completed another Coviu help article. You now knowhow to share a file during a Coviu call.
If this is not what you were looking for, explore our knowledge base and search for another article from here.
If you still require any assistance, please do not hesitate to get in touch with our friendly Customer Success team using any of the contact methods available here.