This article describes several reasons your browser may not be able to access your camera or microphone
Last Updated: May 2022
Note: this help article applies to any person accessing Coviu whether they are delivering a consultation or participating in one.
On this page:
---
Why do I need to give permission for access to my camera and microphone?
When you first enter into a Coviu call, your web browser will ask if Coviu can have access to your camera and microphone. This is a built in security feature to make sure no one is trying to use your camera or microphone without your permission. The default is always to block these items from switching on, unless you click Allow when prompted by your browser.
---
How do allow permissions?
Click the link your healthcare provider has sent you. This could be an email or an SMS.
Once your browser opens, click the Start Video Call button as shown in the screen capture below.

You will be prompted to select

Allow

in your microphone and camera settings. This is located on the left-hand side of your screen. The below image shows what that looks like in Google Chrome - Edge, Safari and other browsers have similar ways of managing access to the camera and microphone (as shown in the image below).

If you accidentally click Block, the browser disallows camera and microphone access and you will not be able to use Coviu. At the very least, Coviu needs access to your microphone to conduct some level of a call.

After clicking on

Allow in your microphone and camera settings, you will then be able to enter in your details before joining the call (as shown in the image below).
Once you have entered your details, click on Continue

to gain access to the call.
---
How do I manually provide permission?
Below is an image depicting how to manually check and provide access in Google Chrome. Other browsers such as Edge, Firefox and Safari will have similar methods. Click here to view troubleshooting options for other browser.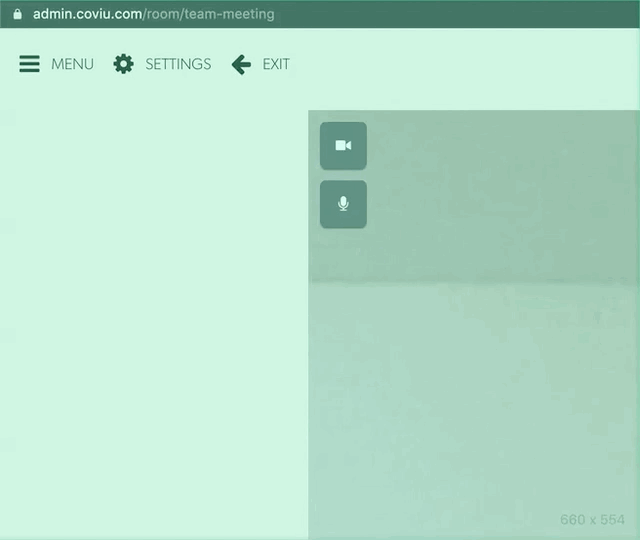 ---
More support options
You have completed another Coviu help article. You now know how to Allow microphone and camera settings before a Coviu call.
If this is not what you were looking for, explore our knowledge base and search for another article from here.
If you still require any assistance, please do not hesitate to get in touch with our friendly Customer Success team using any of the contact methods available here.