This article describes the Customer Connect portal
Last Updated: March 2022
Please note: The Customer Connect is currently being reviewed and undergoing changes. We kindly ask that you do not rely on this feature at this stage until further notice. Thank you.
---
On this page:
---
What is the Customer Connect portal?
Customer Connect enables a branded and customisable portal for your Coviu account. The portal allows your clients or patients to access your consultation rooms and providers and with further Apps, enables online bookings.
When Customer Connect is enabled, a public-facing customer portal will be available for you on the web e.g. https://yourclinicname.coviu.com/app. This portal forms an entry point for your customers to access the services offered by you, and can be customised using some simple theming options to reflect your company brand. You can link the portal off your own website or send your clients or patients directly to it.
TIP: I recommend you have a page dedicated to Telehealth on your website. You can advise your clients or patients about:
the services you offer via telehealth
any specific days or hours you offer telehealth services
what they can do to prepare for a telehealth consult
how they can access their telehealth consult
Then, add a button or link to take them to your Customer Connect portal.
---
What does the Customer Connect portal look like?
Customer Connect has a number of configurable options to make it better suit your workflows. With all options configured, it may look like this: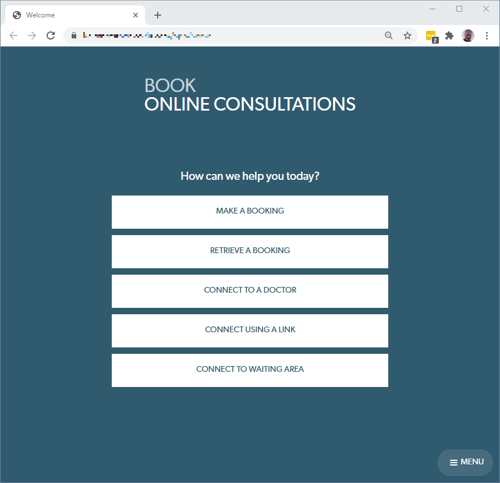 ---
Where can I find my Customer Connect Portal?
Once you have configured your Customer Connect portal, you can view it from the View application button in the Customer Connect menu.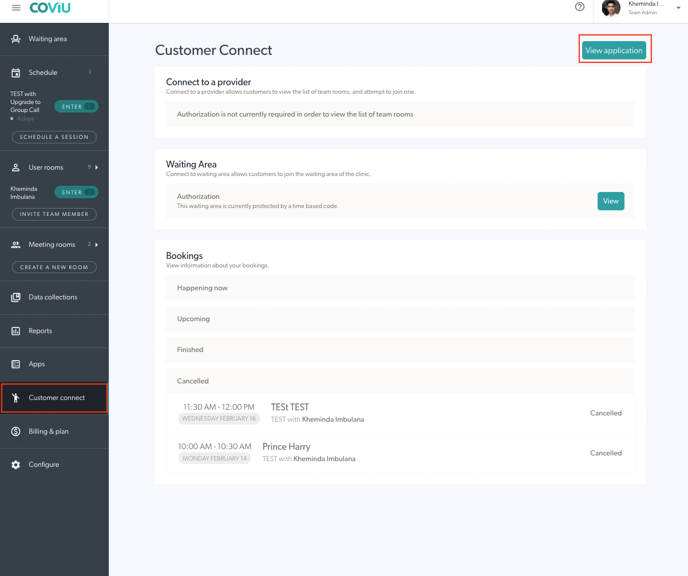 ---
What are the options?
Connect to a Provider (Doctor)

You can allow your client or patient to call into your account rooms using this feature. You can configure what rooms are available (for instance, making a 'Reception' room public while keeping your practitioner rooms private), or hide your available rooms using access controls.

Connect using a link

The option provides your client or patient with a unique, temporary link to connect with you.

Connect to the Waiting Area

This option allows your client or patient to call directly into your clinic Waiting Area.

Extendible

The Customer Connect portal forms the basis of other Apps - such as Appointment Bookings - allowing your client or patient to make and manage bookings via the portal.
---
More Support Options
You have completed another Coviu help article and now know about our Customer Connect portal.
If this is not what you were looking for, explore our knowledge base and search for another article from here.
If you still require any assistance, please do not hesitate to get in touch with our friendly Customer Success team using any of the contact methods available here.