This article describes how to set up your Customer Connect portal.
Last Updated: July 2022
Please note: Customer Connect is currently being reviewed and is undergoing changes. We kindly ask that you do not rely on this feature at this stage until further notice. Thank you.
Note:
To undertake these activities, you will need to be a Coviu Administrator on your account.
Customer Connect is available on our Standard, Premium and Enterprise plans.
The implementation of some modules mentioned below may have an impact on the chosen client/patient workflow for your clinic or practice. Read through the instructions first and decide with your clinical colleagues which modules are suitable for your practice. A module can easily be deactivated at the touch of a button.
On this page:
---
What is Customer Connect?
Customer Connect is an online portal (website) that your clients or patients can use to interact with you in various ways. This includes making and cancelling appointments, and connecting to your clinic's Waiting Area or a consult room.
Click here to learn more about Customer Connect and how it can help you interact with your clients or, read on to learn how to configure it for your practice:
When you configure Customer Connect and the optional features, you will be able to offer the following to your clients:
Online appointment bookings
Access to your clinic Waiting Area and rooms of a clinician
Access to their appointment through a specific link they have been provided
Below is an example of what the portal can look like.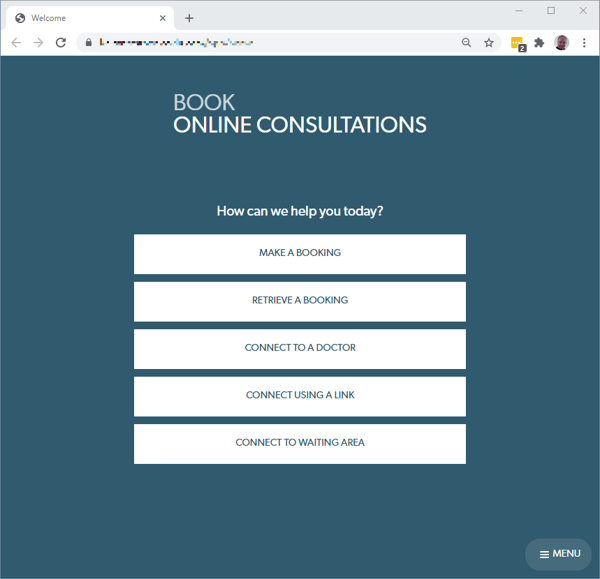 Something to keep in mind is that the options you choose to make available in your portal should align with the client or patient workflow of your clinic. If you have chosen to use a workflow where your clients or patients enter using the Waiting Area (your virtual front door), then you might not want to enable the third button shown in the screen capture above. Similarly, if your clients or patients connect directly with their provider, then you may not want to enable the fifth button. What do the buttons do?:
The first two buttons allow your client or patient to make or retrieve an online appointment booking.
The third button allows direct access to your clinicians' User Rooms (a client or patient cannot enter a room unless invited to do so by the clinician).
The fourth button allows connection using a specific room or appointment link.
The fifth button allows for access to your Waiting Area.
---
Steps to configure Customer Connect
Installing Customer Connect and other Apps
If you haven't done so already, you will need to install Customer Connect from our App Marketplace. I recommend you confirm that you have installed the Appointment Bookings App and Schedule Sessions App while you are there. After clicking the App in the Marketplace, follow the prompts to install them.
Back in your Coviu account, click on Configure on the left side menu, then click Customer Connect as shown below.
Configuring Customer Connect and other Modules
Firstly, you can customise the colours and wording of the portal. Click the Configure button in the Appearance menu. You will have the ability to change:

The title and subtitle

Hide the menu option for the Connect Using a Link button

The colour theming

Don't forget to click Save when you are finished in this menu.

Next, you can decide which of the available modules you will activate and configure. To activate a module, click the

button:

Minimum appointment duration

Appointment Types, duration and any associated costs

Practitioners who will offer the service and their specific settings

Booking options including patient information

Confirmation emails

Sharing the portal to an existing website

Don't forget to click Save when done.

The Bookings module allows you to create Appointment Types and gives your clients and patients the ability to book an appointment via the portal. If you have a compatible practice management system, you can also integrate bookings using this feature. Features you can set within the Bookings module:
The Connect to a Provider module adds the option for your clients or patients to connect directly with one of your providers. If you choose to add this option, you will be able to set the following features:

Title of the button e.g. "Connect to a Psychologist" or "Connect to a Doctor"
Access Controls e.g. a time-based code required by a client or patient to access the clinician's room. This code expires after the time has lapsed. Or, you can set a pre-set code. This code remains the same all time and provides less security than time-based codes.
Filtering allows you to choose which of your meeting rooms and clinician rooms will be displayed in the portal.
Don't forget to click Save when done.

Lastly, the Waiting Area module. This module adds a button to your portal to allow your clients or patients to access your virtual front door, your Waiting Area. Choosing to display this option depends on your preferred clinic workflow so take that into account prior to activating this module. Features you can set within this module:

Title of the button e.g. "Connect to the Waiting Area"
Access Controls e.g. a time-based code required by a client or patient to access the Waiting Area. This code expires after the time has lapsed. Or, you can set a pre-set code. This code remains the same all time and provides less security than time-based codes.
Don't forget to click Save when done.

Publishing your Portal. Once you have customised all the relevant settings, it is time to publish your portal. Keep in mind that if you Publish the portal, it will go live immediately however no one will know it is there until you start advertising that you now offer this feature. To publish your portal, tick the button under Published on the Customer Connect configure menu.
---
Linking your Customer Connect portal to your website
We recommend organisations have a section dedicated to Telehealth on their website. The page can provide information about telehealth in general, what services your clinic or practice can or can't offer via telehealth or, any costs associated with telehealth appointments. You can also link your portal on the same web page.
So engage your web designer to create a page that leads your patient through relevant information until they reach the link to your portal. For a cleaner design, have your designer add a button to your website with the portal URL behind it.
To find your portal URL, go to the Customer Connect menu on the left side menu and click the View Application button as shown below. This will open your portal. I recommend you bookmark it straight away.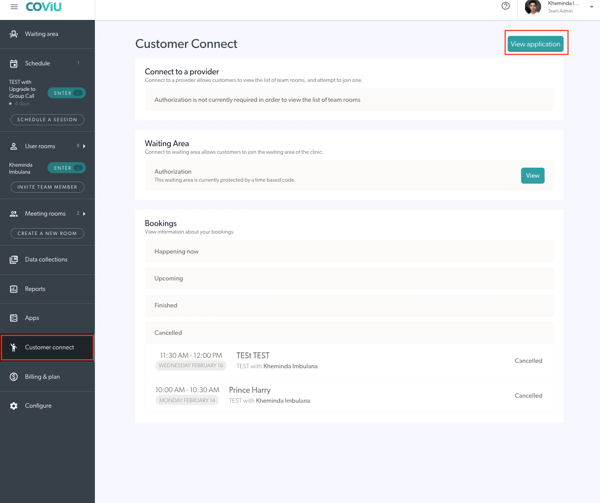 You could name the button "Connect to your video visit" or something similar.
Here's an example button: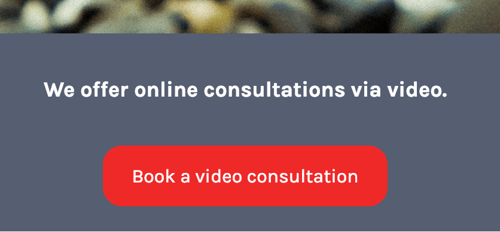 You should now have a functioning Customer Connect portal.
---
More support options
You have completed another Coviu help article. You now know how to set up Customer Connect.
If this is not what you were looking for, explore our knowledge base and search for another article from here.
If you still require any assistance, please do not hesitate to get in touch with our friendly Customer Success team using any of the contact methods available here.