This article explains our Scheduled Sessions feature and how you can use it for simple call scheduling and management.
Last Updated: April 2022
NOTE: If you are on a custom Enterprise plan, please speak to your Coviu account representative about having this tool added to your account.
NOTE: To add this tool to your Coviu account, you must be a Coviu account administrator.
---
On this page:
---
Introduction and features
The Scheduled Sessions feature provides another workflow option for holding calls with your clients or patients. By adding Scheduled Sessions to your Coviu account, you will have the ability to schedule calls for your team.
Calls held in a Scheduled Session are similar to holding a call in your User Room or Meeting Room however you now have the option to schedule them. Plus, the link to access a Scheduled Session is unique for each session, providing an extra layer of security.
What are the main features?
Unique call scheduling
Scheduled calls can be configured to occur at a given time and duration for a set of configured host and guest participants. Each participant receives their own, unique entry URL so the only people that will have access to the call will be the invited participants - which makes it great for conducting scheduled consultations.
Bookings Calendar
Scheduled Sessions provide an easy to use calendar that allows you to see your upcoming sessions, and to schedule new sessions with a minimum of fuss.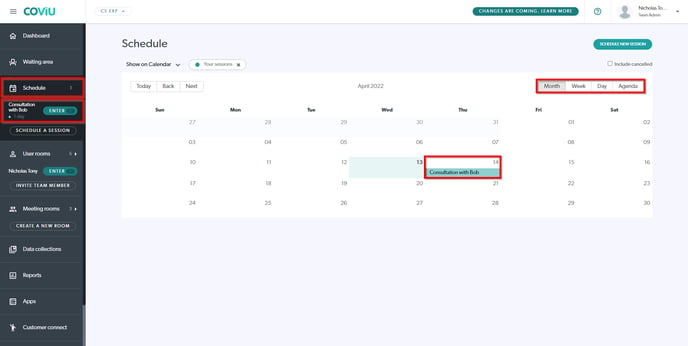 Taking payments
When coupled with the Client Payments app, you can easily charge for your consultations. Simply add a fee to a participant when scheduling the session, and the client will be required to make the payment before being able to join the call. They can pay in advance of the consultation, or at any time prior to the call.
Being paid for your consultations has never been easier!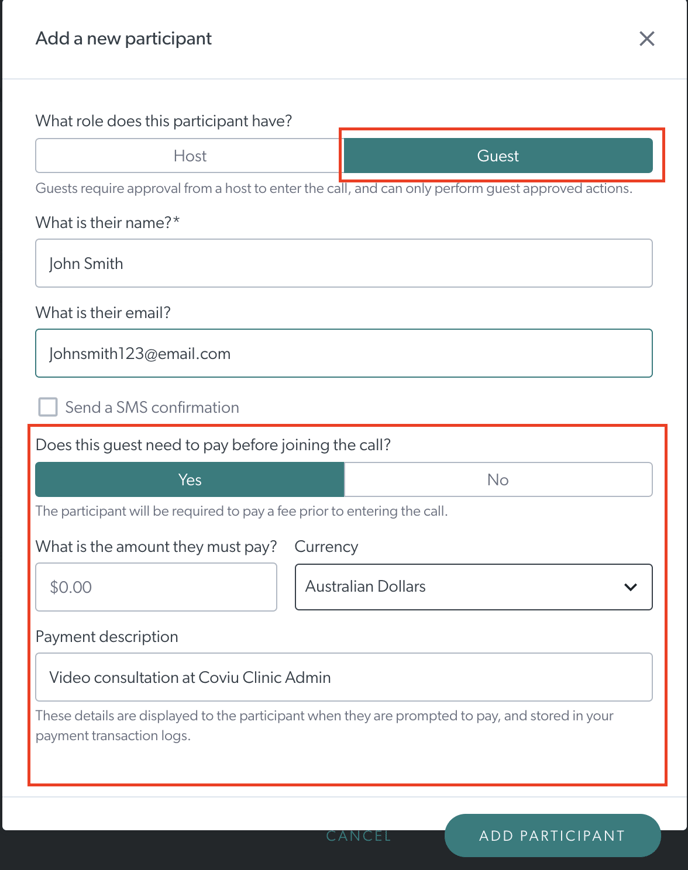 ---
How do I install Scheduled Sessions
Log in to your Coviu account as you normally would. If you do not yet have an account, you can sign up here.
Click Apps in the left side menu (if you cannot see the Apps menu, then you are not the Administrator for your account)

Then, click the Find Apps button. This will take you to Coviu's App Marketplace. Alternatively, you can click here to be taken directly to the app.

Once in the App Marketplace, scroll down to find the Scheduled Sessions app and follow the prompts to install it.
Return to your Coviu account to start scheduling sessions.
---
How do I schedule a session?
Log into Coviu as you normally would.
In the left side menu, click the Schedule A Session button.
In the form that opens, fill out the required details of the consultation including:

A subject line or title (e.g. Consultation with Dr. Jill Smith).
Add your participants, this includes the Host (the healthcare provider) and your Guests (your client or patient).
When entering the Guest details ensure you:

Enter the Guest's email address.
Enter the Guest's mobile phone number if you would like them to receive an SMS confirmation.
If you have enabled Stripe pre-payments, then choose if your guest needs to pay prior to entering the consultation.

The date and start time.
The duration.
Remember to click Schedule Session when you are done.
---
How do I view my upcoming Scheduled Sessions appointments?
In the left side menu beside Schedule, you will see a number right next to an arrow.

This number indicates how many upcoming Scheduled Sessions appointments that you have, and you can click on the arrow to display more of your upcoming appointments. You can then click on any of your upcoming appointments to view its details.

Alternatively, you can also click on Schedule in the left side menu to bring up the full calendar to view your upcoming appointments.

---
What if I need to uninstall it?
Follow these instructions if you wish to uninstall the Scheduled Sessions app.
NOTE: If you have sessions scheduled into the future, you will lose those appointment details!
Log into you Coviu account as you normally would.
Click Apps option in the left side menu (if you can't see the Apps menu, then you are not the account administrator)
Scroll down to find the Scheduled Sessions app in the list
Click the Details button.
Click the red Uninstall button.
Click the second Uninstall button to confirm the action.
---
FAQs
What if I am running late to join my client or patient? Does the unique session link timeout?

The unique session link remains accessible and can be used for the duration of the Scheduled Session. It only expires once the duration is over.

What if my consultation is running overtime? Does the session timeout?

No. As long as you stay connected in session, it will continue for as long as you need it to.

Can my patient or client join a Scheduled Session early?

A client or patient can join a Scheduled Session link up to 5 minutes before the session start time.

Can I reuse a Scheduled Session link?

No. One of the main features of Scheduled Sessions is that the access link is unique for each session. If you would like a workflow that has a permanent room link for each consult, consider using your User Room link.

Can I schedule recurring appointments for my client?

You can schedule as many appointments as you like for your client or patient as far into the future as you need to go, however, we do not currently have an option for a "one-touch" recurring appointment maker. This is on our list for future development.

Can I send an SMS Invitation to my Client?

Yes! You can send an SMS invitation to your clients, please refer to the How do I schedule a session information above.
---
More support options
You have completed another Coviu help article. You now know how to install the Scheduled Sessions app.
If this is not what you were looking for, explore our knowledge base and search for another article from here.
If you still require any assistance, please do not hesitate to get in touch with our friendly Customer Success team using any of the contact methods available here.