This article explains how to update your Coviu user profile including your name, login email, mobile number, password, username and authorised application integrations.
Last Updated: November 2022
Note:
Your chosen username will be used to create your personalised User Room link.
Each user should have their own unique login email address. An email address should not

be shared across multiple users.

Any authorised applications listed can be revoked from your profile. This does not apply to customers on an Enterprise plan.
On this page:
---
How to update your profile
Follow these steps to make changes to your Coviu user profile:
Log in to Coviu as you normally would.
Click the downward arrow beside your profile picture found in the top right corner of the Dashboard. The dropdown menu will then expand.


Click

Edit Your Profile to make changes to your user profile.
From the profile page, you can make changes to the following items:


Your profile photo by clicking Change Picture (it should be at least 300px by 300px).
Your displayed name (i.e. your first name and last name).
Your login email address.
Your mobile number for SMS confirmations and/or reminders.
Click Update Profile when done.
Your login password. You will need to enter your current password first before entering your new one.
Click Update Password when done.
Your username that is used to create your personalised User Room link.
Click Save when done.
You can also manage permissions with other applications that have been authorised with your Coviu account.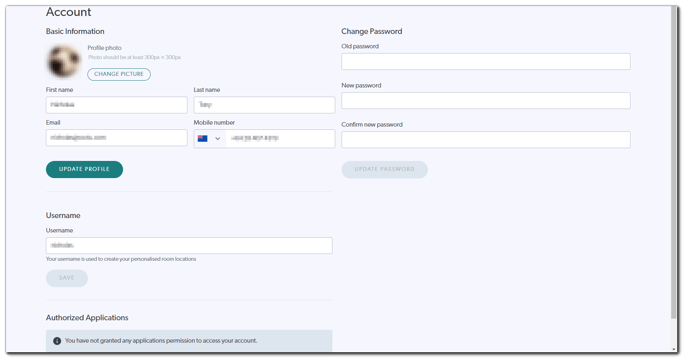 ---
More support options
You have completed another Coviu help article and now know how to update your user profile.
If this is not what you were looking for, explore our knowledge base and search for another article from here.
If you still require any assistance, please do not hesitate to get in touch with our friendly Customer Success team using any of the contact methods available here.