This article describes our premier feature, the virtual Waiting Area.
Last Updated: Nov 2021
TIPS:
The Waiting Area feature is available to customers subscribed to these plans:

Our 2-week free Trial plan
Premium
Older Clinic plans
Enterprise Plans

Note sure what plan you are on? Click here to find out.
When you are in your free, 2-week trial, you will also have access to trial the Waiting Area.
The Waiting Area feature is different from our Waiting Room. Click here to find out the difference.
On this page:
---
What is the Waiting Area?
Think of the Waiting Area as the reception area in a brick and mortar clinic.
Your patient or client can come into the Waiting Area at the time of their appointment. A receptionist or admin person can join them in the call to greet them, identify them or triage them.
They can then be left in the Waiting Area with a range of our music playing while they wait for the healthcare provider to join them. You can message them during this time to update them on time frames or other matters.
The Waiting Area is flexible in that it enables multiple parties to connect into a call if required.
When a consultation is over, the provider can leave the client or patient in the call, still in the Waiting Area, for reception to pick them back up to finalise the visit. This could be for payment, recall or other matters.
This screen capture shows the Waiting Area dashboard in the Premium plan and two clients/patients. Joe is being seen by his provider whereas Jill is waiting for their provider to join them.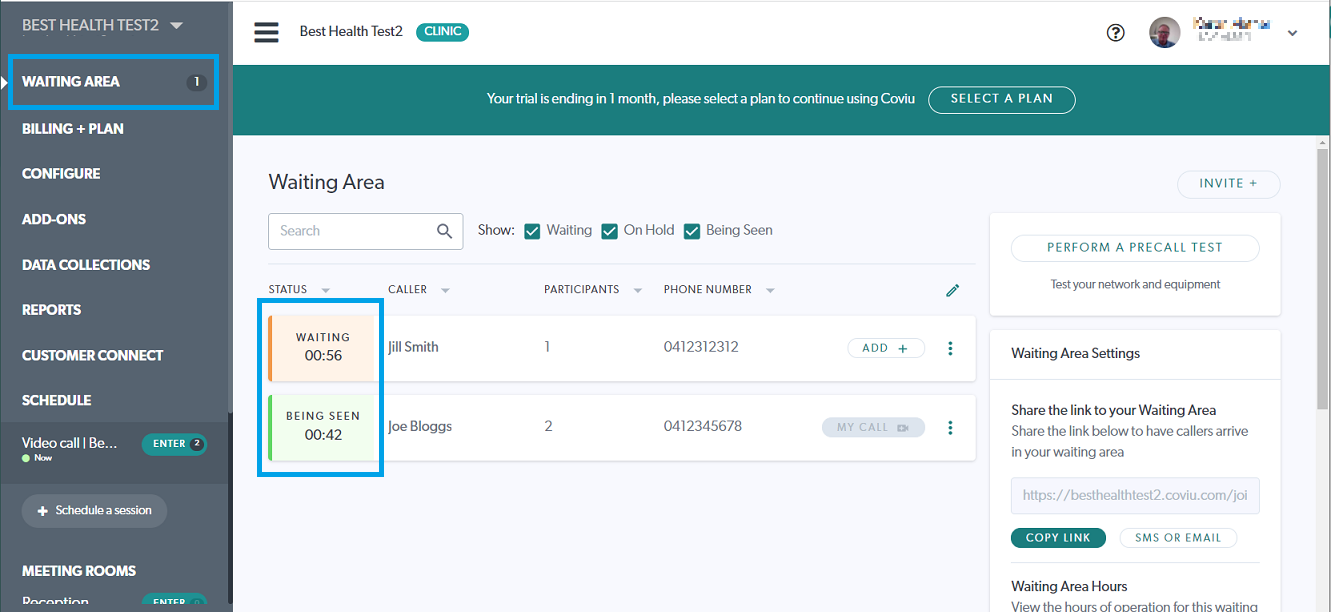 ---
Who Would Use the Waiting Area?
Any provider or practice can use the Waiting Area but we would generally recommend it for organisations with a high patient/client flow and multiple clinicians.
Coviu has a number of workflow options built into it which you can shape to suit your workflows and processes. Other workflows include the use of:
Meeting Rooms and;
Scheduled Sessions
You might also like to check out our pricing page to compare the features between our three plans.
---
FAQs
Which plans include the Waiting Area?

The Premium, older Clinic plans and Enterprise plans.
Our free, 2-week trial is based on the Premium plan so you will have access to it during that time.

Can I set the hours that my Waiting Area operates?

Yes. Click here to find out more.
---
More Support Options
You have completed another Coviu help article. You now know about our Waiting Area.
If this is not what you were looking for, explore our knowledge base and search for another article from here.
If you still require any assistance, please do not hesitate to get in touch with our friendly Customer Success team using any of the contact methods available here.