This article describes how you can configure supporting information for your guest/client/patient as they are entering the call.
TIPS:
This article applies to Customers on these plans:

2-week free trial
Premium Plans
Enterprise plans.

Not sure what plan you are on? Click here to find out more.
Last Updated: May 2022
On This Page:
---
What is "Supporting Information"?
In the Supporting Information configuration options, you can add the following optional items:
A support blurb for your client or patient.
A link to your Privacy Policy if you have one.
A link to your own Terms document if you have one.
A link to a Help page if you have created one.
These links or information snippets will appear at specific points on the screen when your client or patient is joining you in a call.
The information can be useful for your client or patient to seek advice if they are having trouble joining you in a call or want information about your Privacy Policy.
---
How do I access the Supporting Information menu?
Sign into Coviu as you normally would.
Select the Clinic you want to add the information to.
Click the Configure menu on the left hand side of the screen (if you cannot see the Configuration menu, then you are not the Administrator for your clinic).
Click the Waiting Area tab.
Click the drop down arrow next to Supporting Information for Callers to reveal the fields you can configure.

---
What are the fields you can configure?
There are four fields you can update. See the below screen capture for an example:
A Support Message e.g. If you need help joining your call or would like to change your appointment time, please call us on xx xxxx xxxx or visit our website at www.example.com.
Add your Privacy Policy; If your organisation has a Privacy Policy available on your website, add the URL to the relevant field.
Add your Terms of Service; If your organisation has a Terms of Service document outlining how or what services you provide by telehealth, add the URL to the relevant field.
A Help URL; if your organisation has added a page to your website outlining information about Telehealth and perhaps any supporting information e.g. the best way to get the most out of your Telehealth consultation, add the URL to the relevant field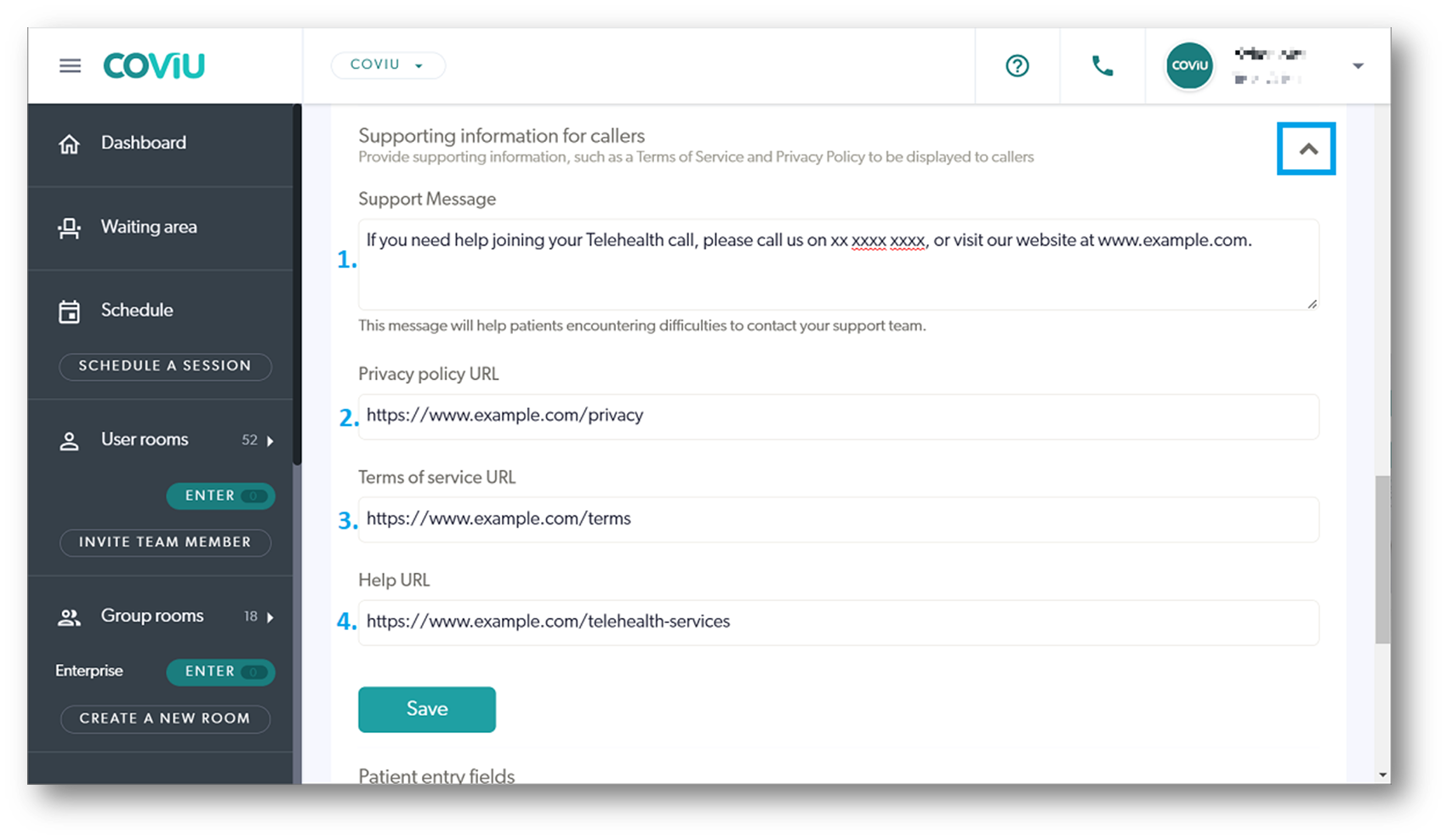 ---
Where do these links show up?
Your Support message is added to the the second call join screen:
Your Privacy Policy and Terms of Service Links show up on the following Informed Consent screen:
Your Help URL shows up on the first screen of when joining a call.

Note: This URL only renders for calls being joined in the Waiting Area and not User Rooms or Scheduled Sessions.
---
More Support Options
You have completed another Coviu help article. You now know about the various configuration options in your Clinic.
If this is not what you were looking for, explore our knowledge base and search for another article from here.
If you still require any assistance, please do not hesitate to get in touch with our friendly Customer Success team using any of the contact methods available here.