This article will explain how to use the Coviu Waiting Area based on your workflow requirements.
Last Updated: June 2022
Our

Waiting Area

feature is available on the following plans:

Our 2-week free Trial Plan
Premium Plan
Enterprise Plan
Not sure what plan you are on? Click here to find out.
If you are on a custom Enterprise plan, you can click here to find out how to get this feature set up.
Tip: make sure that you run a Coviu Precall Test before you host a consultation to detect any software, hardware or bandwidth issues beforehand.
On this page:
---
Step 1: Book patient appointments in your practice management software, as per usual
You can take your appointment bookings as per usual, whether is it via an online booking button, phone or email. Enter them into your practice management software, as normal.
---
Step 2: The patient enters your online Waiting Area at the appointment time
Whilst configuring your waiting area, you will be asked to share your waiting area to patients via a link, a button on your website or embed it into a page.
This is your 'front door', where your patients can enter your clinic and wait to be seen.
---
Step 3: The patient arrives in the Waiting Area
Once the patient enters the waiting area, they will appear in your dashboard and you can message, triage and accept their calls from there.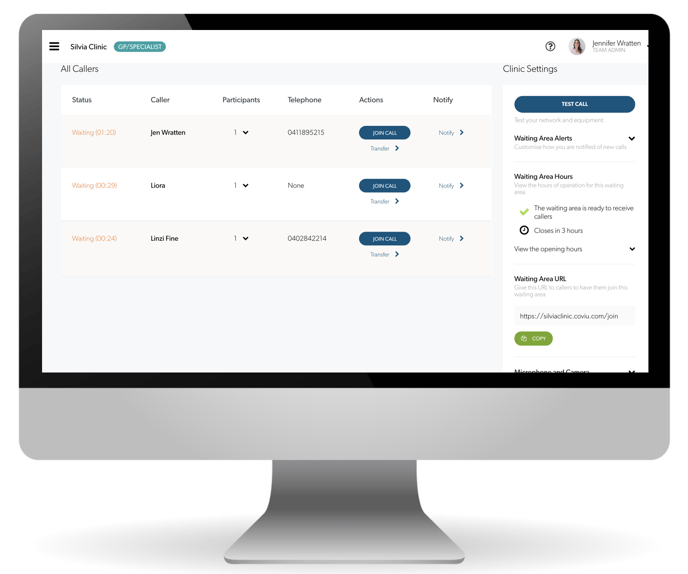 ---
Step 4: Users/Team members receive SMS, desktop and email notifications upon patient entry
Team members who are subscribed to notifications will receive them once a patient enters the waiting area. This ensures incoming patients are attended to in a timely manner.
---
Step 5: Send notifications to patients who are waiting
Click Notify on the patient you want to message. You can then write a brief sentence such as "We are running 5 minutes late" or "Please have your credit card details ready".
This message will appear on the patient's screen whilst they are waiting to be picked up.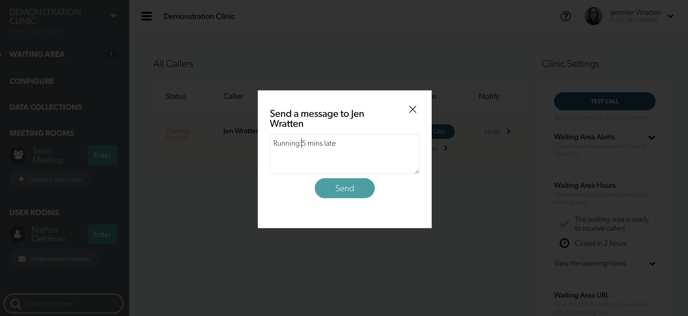 ---
Step 6: Reception picks up the patient for triage, payment, intake forms, etc.
Reception staff can pick up a waiting caller by clicking Join in the Waiting Area. The patient will automatically be marked as Being Seen when they are speaking with reception.
---
Step 7: Reception allows the patient to return to the Waiting Area
Once they have finished with the payment, intake forms or whatever else they may need to do, they will put the caller back in the waiting area.
This is done by clicking the red Hang Up button followed by Leave call.
The patient will then be marked On Hold, as they are waiting to be picked up by the clinician.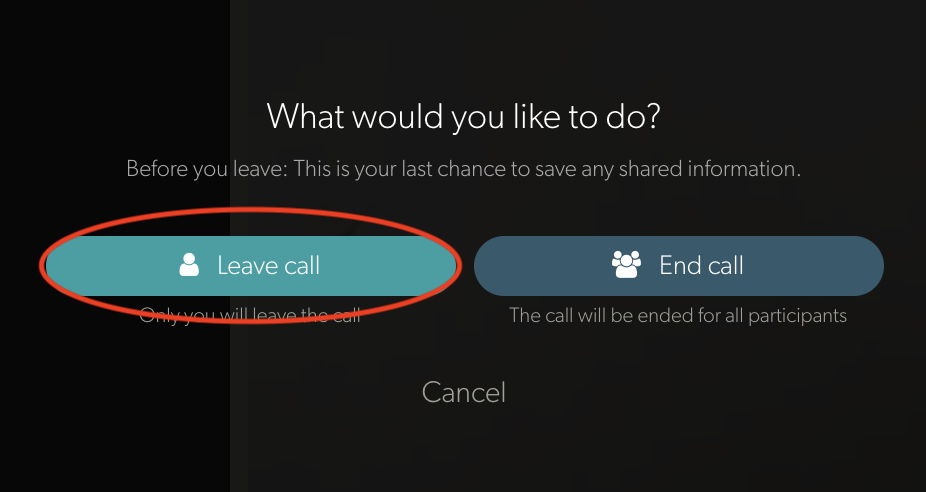 Note: clicking on End call will end the call for all participants and the clinician will not be able to retrieve this patient from the Waiting Area.
---
Step 8: Practitioner picks up the call when ready
After the patient has been seen by reception, the practitioner will be notified that they are ready. The practitioner can then pick their patient up from the Waiting Area by also clicking Join.
---
More support options
You have completed another Coviu help article. You now know how to use the Coviu Waiting Area.
If this is not what you were looking for, explore our knowledge base and search for another article from here.
If you still require any assistance, please do not hesitate to get in touch with our friendly Customer Success team using any of the contact methods available here.