Interactive activities for teletherapy sessions designed by speech language pathologists
Last Updated: April 2021
NOTE: This add-on is available to all Coviu plans.
If you are on a custom Enterprise plan, please speak to your organisation Telehealth Coordinator or your Coviu account representative about having this tool added to your account.
NOTE: To add this tool to your Coviu account, you must be a Coviu account administrator.
eLr for Coviu provides more than 14,000 interactive activities covering more than 1,000 separate speech, language and literacy targets.
These materials are designed to assist with the remediation of a wide range of speech and language disorders such as phonological impairment, apraxia, developmental language disorder, aphasia, and reading and spelling problems.
Requirements
Use of this add-on requires a current eLr registration from ELR Software.
For existing eLr subscribers

If you are an existing eLr subscriber, you should just use your current User ID, PIN and Expiry Date to access eLr for Coviu.

For new subscribers

If you are not a current eLr subscriber, you may obtain a Free Trial Code from ELR Software.
How do I install the eLr add-on?
The
eLr for Coviu
add-on is available upon subscription from the
Coviu Marketplace
. Click the eLr tile on the Marketplace and follow the prompts to install it on to your Coviu account.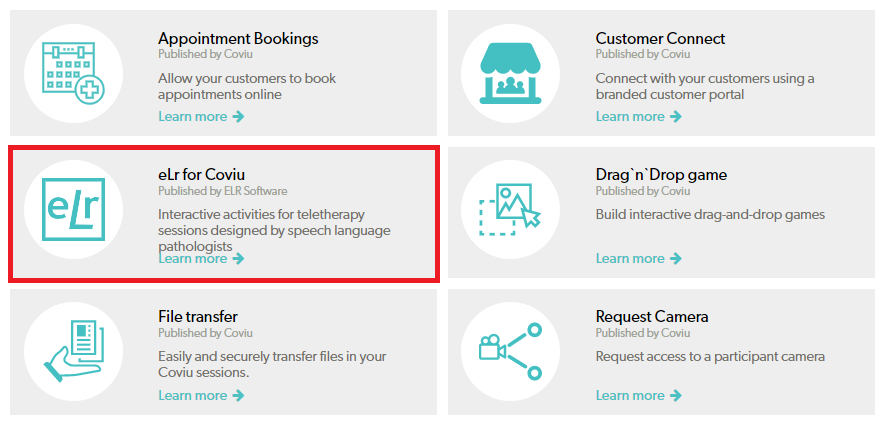 Where can I get support for eLr?
If you need support installing or configuring the eLr for Coviu add-on, please get in touch with us via one of the options available here.
If you need help navigating eLr or want to know more about the available resources, please contact ELR Software for further details.