If you are using a device running macOS Catalina or a later version, you may need to make changes under System Preferences to allow screen sharing with your non-Safari web browser.
Last Updated: August 2022
Note:
Our web browser recommendations for macOS devices are found here

.

If you are using the Apple Safari web browser, these changes are not required.

You can learn more about screen sharing in a call from here

.
On this page:
---
Why should I enable screen sharing on macOS devices?
For security and privacy reasons, macOS defaults to deny permissions for non-Apple web browsers like Google Chrome or Microsoft Edge to screen record/share without explicit user permission.
This means that Safari does not require additional changes however it has limited screen sharing capabilities. You can learn more about screen sharing on Coviu here.
Permissions can be easily allocated as per the instructions below and is a one-time change:
---
How to enable screen sharing on macOS devices
If you are using a macOS device and looking to screen share for the first time using a web browser that is not Safari please follow the steps listed here:
Go to the Apple menu () from the top left corner of your screen and select System Preferences from the drop-down menu.

Head to the Security & Privacy section where you may be first taken to the General tab.
Click on the Privacy tab section and select Screen Recording from the options listed on the left side menu. You will then note any applications with a tick symbol if they have been granted permission to screen record or share from the application list that is presented on the right side.
If you are not seeing your web browser listed here already, click the + symbol to add it to the list. You may also require to click the padlock icon on the bottom left of the window to authenticate this change by entering your password or fingerprint.

Once you have made the changes, Quit and Reopen your web browser to start screen sharing!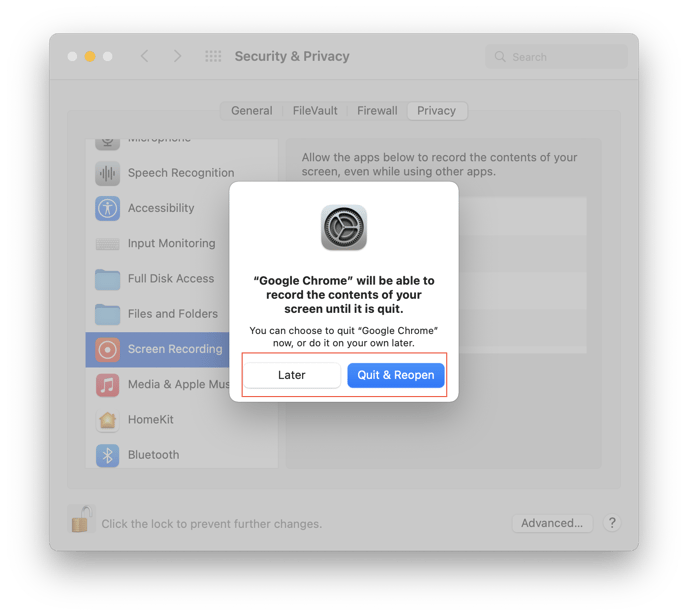 ---
More support options
You have completed another Coviu help article. You now know how to enable screen sharing for your chosen web browser on macOS.
If this is not what you were looking for, explore our knowledge base and search for another article from here.
If you still require any assistance, please do not hesitate to get in touch with our friendly Customer Success team using any of the contact methods available here.