Determine your role and platform capabilities here
As a large organisation that offers video consultations, we understand that many different people with varied roles will be accessing your enterprise platform.
To help you better understand the structure of the enterprise platform, your specific role and what help articles are relevant to you, we've created this simple list. Each help article will specify the roles that have certain permissions on the platform.
Read this first to determine who you should speak to if you need something changed.

Structure of Enterprise Platform:
1. The Organisation(s) : eg. private practice or hospital department
These are the overarching organisation(s) of the enterprise platform. They are generally comprised of multiple clinics that each have their own waiting areas and meeting rooms.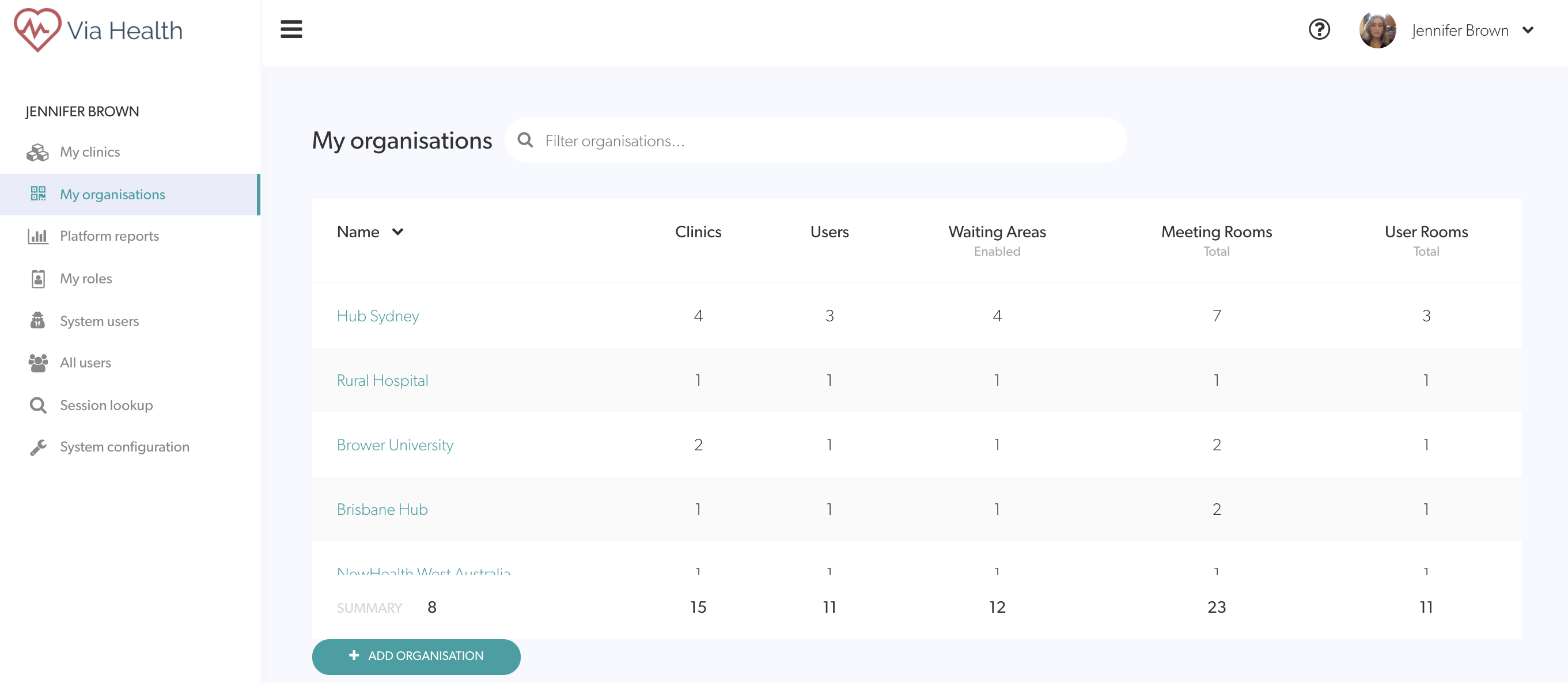 An example of a platform view at the organisation level.

2. Clinic(s): eg. orthopaedics, dermatology OR clinic location 1, clinic location 2

A clinic is found underneath an organisation, and is comprised of a single waiting area and meeting room(s). An organisation may have multiple clinics based on a specific function, or they may be separated based on location. Clinics can also be administrative units, such as a collection of meeting rooms.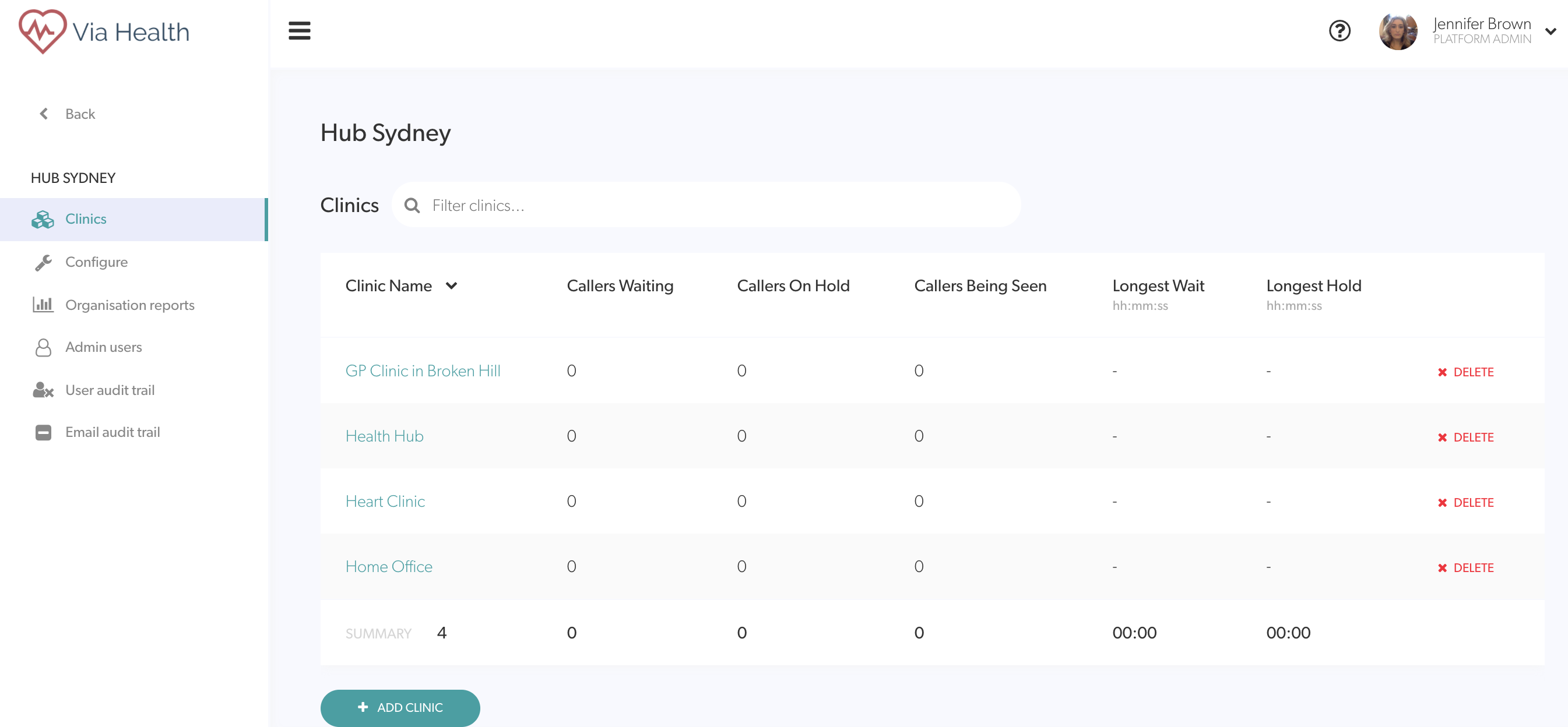 An example of the platform view at the clinic level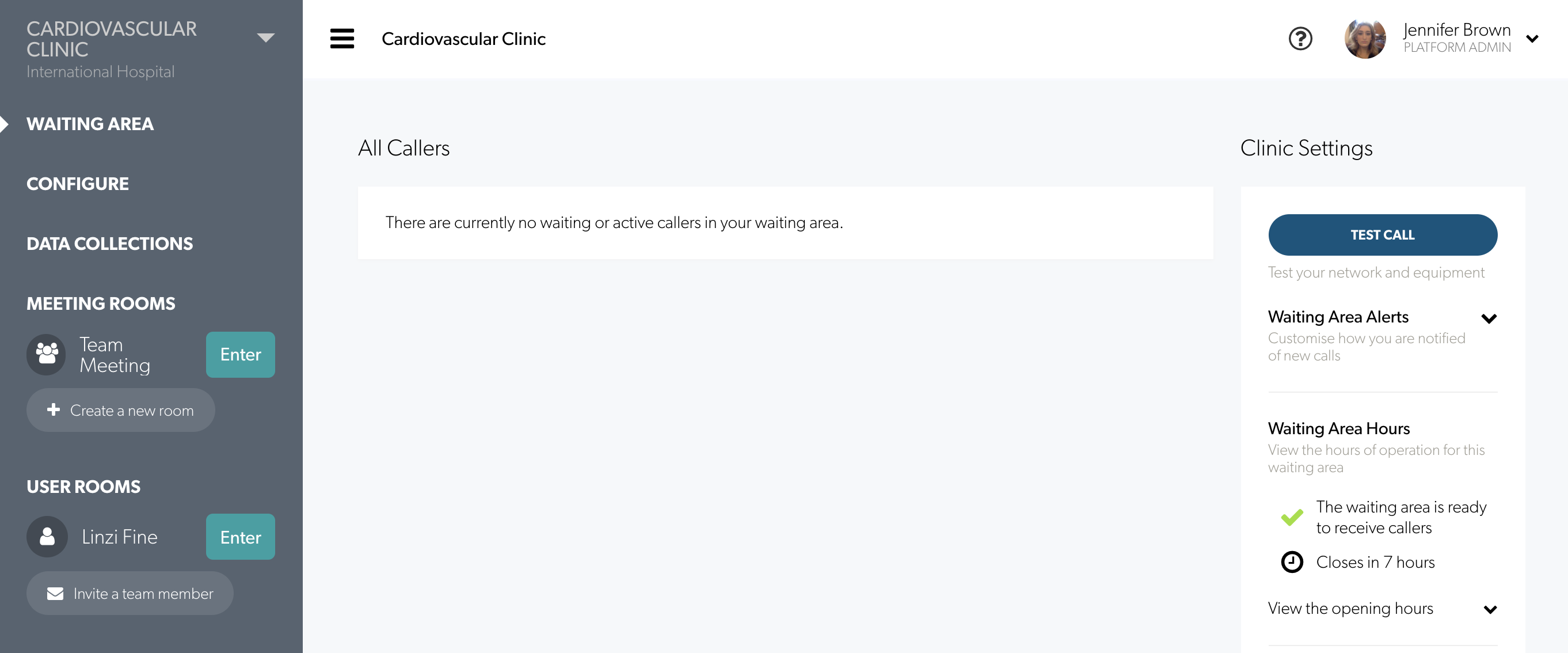 An example of an individual clinic
3. Waiting Area: 1 per clinic
A waiting area is designed to mimic a brick and mortar waiting room. Patients enter the room by clicking the link they are sent when booking an appointment. They will be put on hold in this waiting area in the order they arrived, until admin staff or the practitioner joins the call.

An example of the waiting area with a caller in it
4. Meeting room(s)
Meeting rooms are located inside a clinic are accessible on the left hand side of the dashboard. They are permanent video rooms that providers or admin staff can use to interact with each other. Some uses include providing patient updates to other practitioners or end-of-day team meetings.
Specific Roles and Permissions:
Organisation Administrators:
eg. Telehealth Manager or Digital Health Lead have the highest level of access. They can see all organisations they are a part of and all the clinics of the organisations and manage all the users in the organisations and clinics. They can also see and modify roles and permissions within each clinic. Organisation administrators are generally responsible for the administrative tasks such as adding and managing users, managing waiting rooms and configuring individual clinics.
Administrators:
eg. Telehealth Administrator or Telehealth Coordinator can view and edit their own permissions and the users of the clinics they are administrators of. They also have permissions to configure individual clinics such as waiting rooms and add-ons.
Team Members:
eg Clinicians or Specialists have the least permissions. They will only be able to view the clinics and roles they are associated with. They will need to contact a team or organisation administrator if they desire changes to their permissions or their clinic configuration.
To view your role as an administrator, click 'My Roles' on the left hand side of the first page after signing in.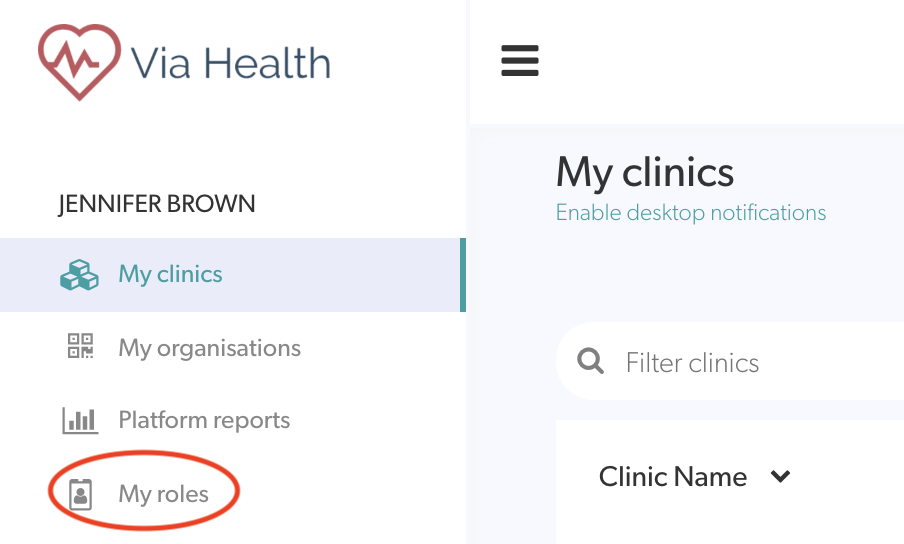 You will see a summary of each organisation and clinic you have access to, followed by the role and permissions granted to you.