This article describes the various system roles and capabilities in your Coviu platform.
Last Updated: Nov 2021
NOTE:
This article applies to customers on our customisable Enterprise plan.
The article is aimed at project implementation teams and platform administrators so they know what roles and capabilities are available in the platform.
On This Page:
---
Overview of the Platform Structure
As a large organisation that offers video consultations, we understand that many different people with varied roles will be accessing your enterprise platform.
The Enterprise platform is built around three levels and would looks similar to an organisation chart when implemented:
The platform can be structured to replicate your physical organisation. The overarching platform can have multiple organisations. Each organisation can have multiple clinics comprising numerous team members. The organisations and clinics can be built around your services or your locations.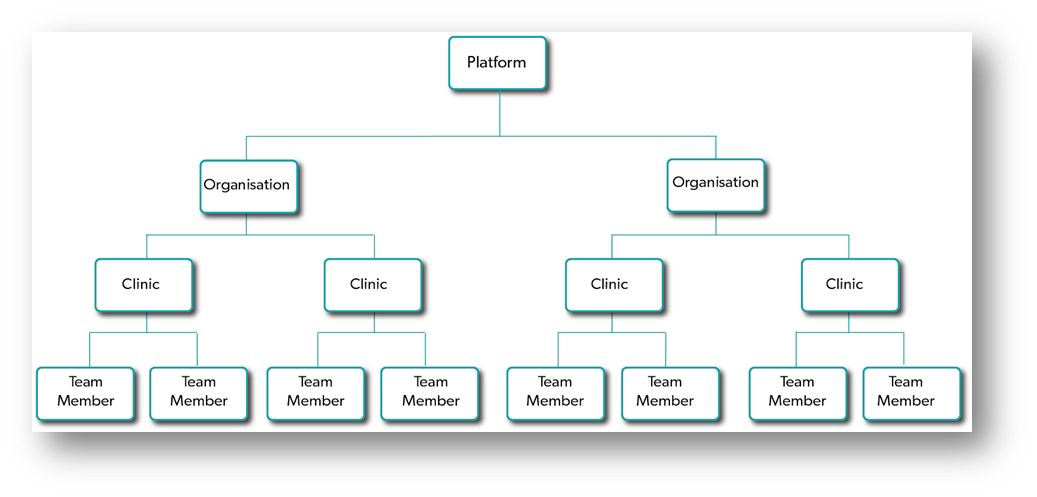 ---
What are the System Roles?
The platform comprises of 4 role types, each with a differing level of access. You are not limited to how many individuals you can have in each role however, it makes sense to limit the number of people you have in administrator roles.
Read on to learn more:
---
Team Member
e.g. Your healthcare providers, clinicians, practitioners, counsellors and so on.
A Team Member's primary role is to provide telehealth consultations to your clients or patients. They will only be able to view the clinics and roles they are associated with. They will need to contact an Organisation Administrator or Clinic Administrator if they wish to make changes to their permissions or their clinic configuration.
---
Clinic Administrator
e.g. a Telehealth Coordinator or a Digital Health Officer
A Clinic Administrator has the ability to make configuration changes to the clinic they are a part of.
A common task for a Clinic Administrator would be to add and remove Team Members from their clinic.
A Clinic Administrator can be the administrator for multiple clinics on the platform.
Technical capability required? Minimal. Simple click and play menu options.
---
Organisation Administrator
eg. a Telehealth Manager or a Digital Health Officer
An Organisation Administrator has the same abilities as a Clinic Administrator plus the ability to create new Clinics under their organisation.
They can make configuration changes to all the Organisations they are a part of, and all of the Clinics and Users in those Organisations and Clinics.
They can also see and modify roles and permissions within each clinic. Organisation administrators can be responsible for administrative tasks such as adding and managing users, and configuring individual clinics.
Technical capability required? Minimal. Simple click and play menu options.
---
Platform Administrator
eg. a System Administrator or Application Owner/Administrator
The Platform Administrator has the highest access level. They can view and edit their own permissions and the users of the clinics they are administrators of. They also have permissions to add more Organisations and Clinics and Users to those Organisations.
The Platform Administrator also has the ability configure advanced technical options such as Single Sign-On (SSO) and reporting tags.
Technical capability required? Depending on extent of some tasks. Generally the advanced tasks are set at the implementation phase. Other tasks are simple click and play menu options.
---
More Support Options
You have completed another Coviu help article. You now know what the different roles are for the Enterprise platform.
If this is not what you were looking for, explore our knowledge base and search for another article from here.
If you still require any assistance, please do not hesitate to get in touch with our friendly Customer Success team using any of the contact methods available here.