This article describes the Coviu call interface.
Last Updated: March 2022
---
On this page:
---
What is the Coviu call interface?

The Coviu call interface is the screen you are in when conducting a consultation with a client.
Regardless of whether a call is being hosted in a User Room, Meeting Room, a Scheduled Session or a Waiting Area, the call interface includes a standard set of buttons and menus.
You may have added extra Apps to your account which may give you some extra buttons.
---
Overview of the call interface
The diagram below illustrates the basic call interface elements or buttons and their functions.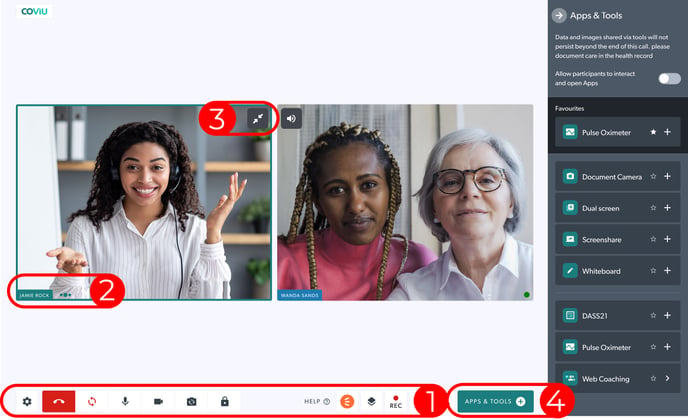 From left to right:

Settings - allows you to select camera, select microphone, select speaker, select video quality and change language.
Hang up - prompts you to either end the call for all participants or only you leave the call.
Refresh connections - refreshes the video.
Mute audio - mutes/unmutes your audio.
Disable/enable video - disables/enables your video feed.
Switch camera - switches between your camera devices.
Lock/unlock call - lock calls so only invited participants can enter the call (currently for Waiting Area rooms only).
Help - prompts you to either receive help by searching our knowledge base or contacting Coviu Support.
Open chat - opens the chat box.
Open call manager - allows you to hang up, end the call for other participants, invite participants, invite another person to the current call via email or text message, transfer call, transfer the patient to another Waiting Area (only visible if available).
Some other Apps that you install may appear down there for easy access.

Your full name and a speech indicator. The speech indicator will animate when you are speaking to show that your microphone is working.
Shrink your video - minimises your video feed to the bottom left hand side of the call interface. You can click on the double-arrows beside the minimised video feed to expand it back to normal size.
Apps & Tools + - allows you to share an image or PDF, start a screen share, add a whiteboard, share a document camera, add a grid view (2 panes), add a grid view (3 panes), share a file, request a camera and more.
---
How to video - Introduction to the call interface
This short getting started video runs through the basic call interface elements or buttons.
---
More Support Options
You have completed another Coviu help article. You now know your way around the Coviu Call Interface.
If this is not what you were looking for, explore our knowledge base and search for another article from here.
If you still require any assistance, please do not hesitate to get in touch with our friendly Customer Success team using any of the contact methods available here.