This article describes how to use the Whiteboard when in a call.
Last Updated: Sept 2023
Note: You can 'Make tools view-only for guests' when ticked if you do not wish to share in-call tools with your clients or patients. More information regarding this is available here.
On this page:
---
How to use the Whiteboard tool
When you are in your call, click on the APPS & TOOLS toward the bottom right corner of the screen. You will be shown a list of available tools that can be used in call.

Click on Add a whiteboard.

The Whiteboard will now open in the shared resource area and be visible to both you and your guest.
There are a number of options available when using the Whiteboard. These will come up on the top of your whiteboard in the annotations toolbar bar. If you don't see the bar just move your cursor to to top of the screen until it appears. Features available are as follows:

Point & move
Stickers - tick, cross, smiley emoji, star, hand and question
Draw
Highlighter
Text
Sign
Erase
Undo
Clear all
Zoom in and out
Rotate left and right
Toggle to full screen
Download
To use these, simply click on the feature you'd like to use - and use it by clicking on the whiteboard with your mouse.
When you click on the feature you would like to use, a drop down box with colour choices will appear for you to select the colour you would like to use for the Whiteboard.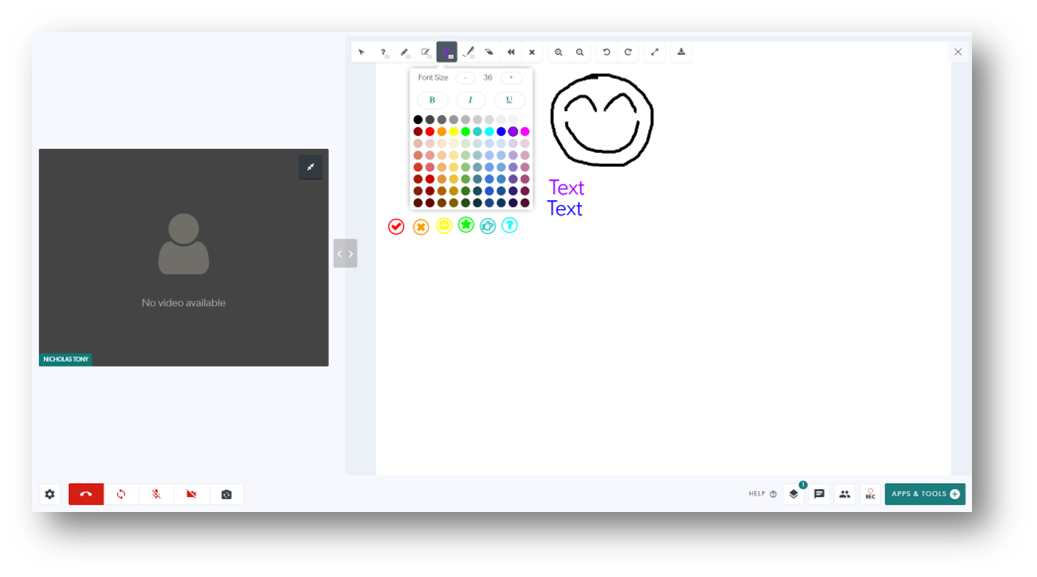 The colours can be changed on the following features:
Stickers
Draw
Highlighter
Text
Sign
To undo something you have done on the Whiteboard, simply click on the Undo feature.
---
More support options
You have completed another Coviu help article. You now know how to access and use the Whiteboard Tool from within a Coviu call.
If this is not what you were looking for, explore our knowledge base and search for another article from here.
If you still require any assistance, please do not hesitate to get in touch with our friendly Customer Success team using any of the contact methods available here.