This article provides advice on suitable cameras, microphones and speaker devices for use with telehealth.
Last Updated: Dec 2021
---
TIP: Click here to learn more about recommended browsers.
Incompatible Devices
Samsung A7 Lite - we have been made aware that limitations in the Samsung A7 Lite restrict usage of Coviu. At this stage, we do not recommend this device for use with Coviu. We are investigating to see what can be done to rectify this. (Dec 2021)
Samsung A12 - we have been made aware that limitations in the Samsung A12 restrict usage of Coviu. At this stage, we do not recommend this device for use with Coviu. We are investigating to see what can be done to rectify this. (Dec 2021)
On This Page:
---
General Advice
In this article, we discuss a number of hardware devices suitable for conducting a Telehealth consultation.
We don't set out to recommend any specific brands and the options below have been shared with us from existing customers or general testing we have conducted.
We try to maintain up to date information on the devices below but some changes may occur which we don't catch e.g. a camera listed below may no longer work if Microsoft updates Windows to version 11 for instance. You should do your homework to check a device works with your operating system.
For this article, we will focus on the desktop or laptop use of Coviu however, you can use a tablet or a mobile device like an iPad or an Android phone to access Coviu calls.
Let's touch on some basics:
A basic Coviu call works with standard Web video conferencing hardware such as a Webcam and computer speakers or headphones.
Some of these devices may be built-in to your device or you may need to be external versions of the device.
While we love a bluetooth device e.g. bluetooth headphones, we find they are less reliable in video calls than their USB connected counterparts.
Keep an eye out for USB-C connected devices versus USB 2 or 3. USB-C appears to be the way all connections are heading. Click here to learn more.
---
Desktop computer or Laptop?
All modern laptops come with a built-in video camera, microphone and speakers and are thus able to hold Coviu calls.
Desktop computers  may require the addition of an external webcam, microphone and speakers. We recommend using a modern HD (high definition) Webcam such as the affordable and high quality Logitech C920, which comes with a built-in microphone.
---
Standard Webcams
There is a range of suitable external webcams available. We recommend High Definition (HD) 1080p cameras. Usually connected by USB. E.g:
---
Wide-angle Webcams
Wide angle cameras are great for scenarios where you might have two or more people to be included in the view of the call. E.g:
Logitech C930e with 90 degrees rather than 78; Genius Widecam F100 with 120 degrees.
| | |
| --- | --- |
| Wide Angle Camera - 90 degree field | Wide Angle Camera - 120 degree field |
---
Speakers
As for speakers, it's best not to rely on the built-in speakers of a desktop computer. They often sound metallic, don't have a high frequency range and offer a limited dynamic range. Any pair of external speakers, even the cheaper computer speakers , are a better choice. There's no need to go beyond stereo, because most WebRTC calls only provide 2 audio channels.
USB powered speakers.
---
Headphones
An alternative to speakers, headphones or a headset will work too. These are likely to be less distracting to your colleagues in a busy work setting, and give you more sound isolation in a noisy environment. Choose Bluetooth or a cabled headset at your preference.
---
Meeting Rooms and Conference Rooms
In a larger room setting, make sure to use a camera with a wider angle and a microphone that captures the sound of all participants equally. We've used the portable Logitech C3000e conference set — an affordable all in one solution from Logitech.
Cameras and packages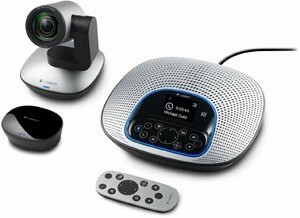 There's now also a version for smaller rooms, the Logitech ConferenceCam Connect, also with a 90 degree view but a different form factor.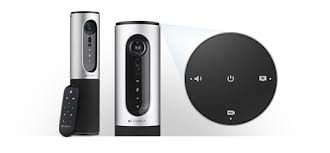 Logitech ConferenceCam Connect
Microphones
A particularly useful type of conference microphone are boundary microphones which use a large table surface to better capture sound, such as the MXL AC-404 USB Conference Microphone from MXL Unified Communications.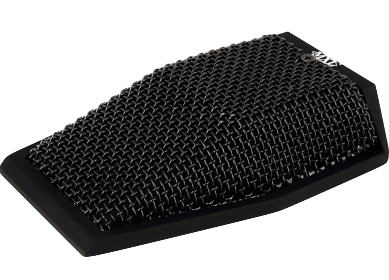 MXL AC-404 Boundary Microphone
If you're after a way to improve audio input and output in a meeting room setting, the round USB speakerphone from Jabra is really portable. The Jabra Speak 510 works via Bluetooth as well as USB, so you can even avoid ugly cables in your meeting room.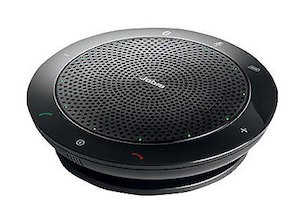 These devices will be more than sufficient for your basic Coviu desktop or conference room calls.
---
Adding a Second (or third) Screen
If you do a lot of video calls and do some really intensive cooperative remote work, we recommend adding a second (or third) screen to your computer. This allows you to continue working on private notes while Coviu is running on the second screen.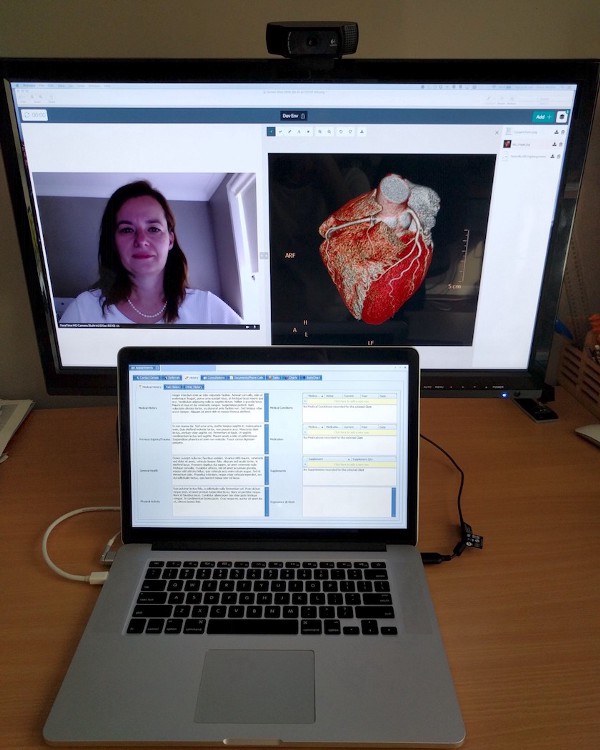 Medical note taking while on a Coviu call (the laptop drives both screens).
---
Document Cameras
You might want to share a book with a client or paper documents with your peers, particularly when brainstorming on paper, or digitising notes, or filling in and signing a form. Companies like IPEVO and ELMO have a range of document cameras to suit all requirements. Many of their cameras will even double as a webcam with the easy flip of the camera.
For information on how to use a document camera in Coviu, click here.
---
Medical Device Cameras
If you are a health professional, you might find that some medical devices are actually just USB video cameras and can be used in Coviu without further change. Plug your camera into your computer via the USB port. Then use the Tools+ button and select the Share document camera feature to bring the medical device video into your conversation. This feature is only available on the Coviu Clinic plan.
---
Summary
It is really simple to get started with Coviu -   just set yourself up with a computer that has a:
Camera
Microphone and;
Speakers.
Don't hesitate to experiment with other video and audio devices . You might be surprised how much will just work and how powerful the features of Coviu are when working with shared devices.
If you've managed to set up something special, don't hesitate to drop us a line. We're always keen to find out about the awesome things our customers do with Coviu.
---
More Support Options
You have completed another Coviu help article.
If this is not what you were looking for, explore our knowledge base and search for another article from here.
If you still require any assistance, please do not hesitate to get in touch with our friendly Customer Success team using any of the contact methods available here.
Author: KM