This articles describes at a high level, the technical and marketing prerequisites required for creating and implementing an Enterprise platform.
Last updated: Aug 2022
NOTES:
This article is aimed at implementation project managers.
This article should be shared with any IT system administrators who will be assisting with the implementation in your organisation.
The IT activities performed in this article would be by someone with access / admin permissions to perform DNS entries to the domain you provide to Coviu.
Coviu is a SaaS platform, you will not need to provide any server hosting infrastructure.
On This Page:
---
What is this article about?
This article describes at a high level, the shared process for creating your Coviu Enterprise Platform. The main items we look at when creating an Enterprise platform are:
Your project team.
Your custom URL for hosting the platform.
An email address for sending patient/client invitations on your behalf.
Single Sign-On requirements (if chosen).
White-labelling and branding customisation.
A Support blurb for your log in page.
As a SaaS platform, we host the platform on your behalf, so there will be no requirement for you to provide server infrastructure however, our engineers will need access to your engineers to achieve the platform implementation.
LET'S GET STARTED! ✔️
---
Bring your Project Team together!
To make our joint work together as smooth as possible, we'll ask you for the names and contact details of the following contacts. We'll provide you a spreadsheet for this activity, but in the meantime, have a think about who you would like to have on your project team. We acknowledge that it might not be a different person for each of these roles.
Signatory

The person who signs the contract and makes further financial or contractual decisions (if needed) as the contract progresses.

Project manager

The person who runs the project and makes decisions such as what Web domain (custom URL) your users will log in under, how to replicate your organisational structure in Coviu etc.

Project Manager (IT)

A representative from your IT team who can coordinate the range of IT activities required to create the platform e.g. admin access to edit DNS entries for the custom URL and sending email address, enable SSO, firewall checks for ports etc.
We'll ask you to connect us with your IT staff member(s) who manage web domains, email domains and SSO activities.
Do you need to put a ticket into your IT team for these activities?
Accounts Payable contact (the person who we send the bills to)

Note: if you require a Purchase Order, please let us know

Implementation contact e.g. your Telehealth Coordinator

The person who will train your practitioners in the use of the Coviu system; they will likely need to be involved in decisions on how to replicate your organisational structure in Coviu as well.

No IT experience needed for this role.

Sustained support contact

The person or team e.g. your IT Service Desk, who will be the ongoing support contact for your practitioners as the system is being used

Web developer

(If required) The person who will add the patient entry information to your Website.
---
Creating your custom URL!
What is this?
This is the process where we jointly create and configure the URL where your practitioners will log into Coviu and on which we host your platform e.g. telehealth.companyname.com.au/login.
Click here for an example - https://telehealth.oncoviu.com/
What do we need from you? (Project Team)
The project team will usually decide on a URL to host your application. The sub-domain name will form part of the consultation link that you send to your clients or patients e.g. telehealth.companyname.com.au/drjillsclinic
You should engage one of your IT staff members to provide assistance with this decision.
*IT should not create any DNS entries yet! Just ensure the URL is available.
Engage your IT team to connect with us as we go through this process.
What will we do once we have the domain details? (Sys Admin)
We will raise an SSL certificate for the account.

We will provide DNS entries for the following purposes:

A CNAME record to verify a HTTPS certificate we provide using the AWS certificate manager service. This will be used by us to ensure secure connections to the platform.
Two CNAME records to redirect traffic for the domain to the Coviu platform. This will be the URL chosen above along with a wildcard record.
❌ Do not create any DNS entries until we have provided you with the necessary configuration items.
FAQs for IT Admin:
Can I use a root domain?
The use of a root domain depends on your DNS provider. If you are using Route53, or a provider who supports it, you can use an ALIAS record, which does work on the root domain.

What if our DNS provider doesn't support wildcard entries?
Let us know, it may not be required or we can create individual DNS records for each clinic.
---
Creating your sending email address
When an invitation is sent from the platform to a client or patient for them to join a consultation, the email can be sent from your chosen email address. This keeps your marketing and branding on-point for your clients. The default is to send it from our domain e.g. invitations@coviu.com, which may not suit your marketing and branding.
What do we need from you? (Project Team)
The project team will usually decide on a suitable email address. We recommend a do-not-reply email address unless you have a managed group address that can be used.
You should engage one of your IT staff members to provide assistance with this decision.
The IT team can create the email address at any time. It does not have to have an inbox associated with it.
Engage your IT team to connect with us as we go through this process.
What will we do once we have the email address details? (Sys Admin)
Our engineers commence configuration from our end and engage your system administrator. Coviu will provide them with:

a DNS TXT record for DKIM. This is required in order to authorise us to send emails on your behalf.
You may need to update your SPF record. We will provide the details, just let us know if you have any questions or concerns.
---
Connecting with Single Sign-On (SSO)?
Your Coviu platform can be integrated with your SSO (Azure and on-prem).
Integration with Azure is a self-help process performed in the platform. We recommend providing your SSO system administrator with administrator rights to your Coviu platform for this process. Access can be temporary. This article covers adding Users to your account.
This article outlines the process for integrating with SSO.
---
Checking your Firewall Ports and Domains (for Sys Admins)
If your organisation has tight firewall rules, you should have your IT Network Administrator or Cyber Security Manager, check that the required ports and domains are open.
For US and Canadian customers, click here.
For other countries, including Australia, click here.
---
White-labelling options for your Platform
There are a number of branding items on your platform that can be customised, a few of the Clinic-level items can be done by you, but most of the customisation will be done by us at the time of configuration.
The branding assets mentioned in the section below are what we will use to customise your platform.
The project team should engage their Marketing team to provide these assets.
This article outlines which parts of the platform can be customised.
What do we need from you?
Your custom logo & favicon for your Coviu platform.

Preferred size for logo image - 240px wide (best as a rectangle)
Preferred favicon size - 16 x 16px

Your corporate colour palette (PDF) for the login page to match your company colours.

Click here for a document showing what items can be white-labelled within Coviu
See screen capture below for white-labelling options on the log-in page
An SMS sender name / short code
Invitations can be sent via SMS from within the platform. You do not need to provide a mobile or cell phone number. We provision that as part of the platform creation and our contractual agreements.
You can provide a custom SMS short code/sender name
Maximum 11 characters
We recommend using your company name or an abbreviation thereof
---
Adding a support blurb to your login page
This might be a short paragraph advising your staff of who to contact in the event they arrive at the log-in page but do not have an account on your platform. The message could be pointing them at your IT Service Desk or an Application Owner if someone has been appointed to that role.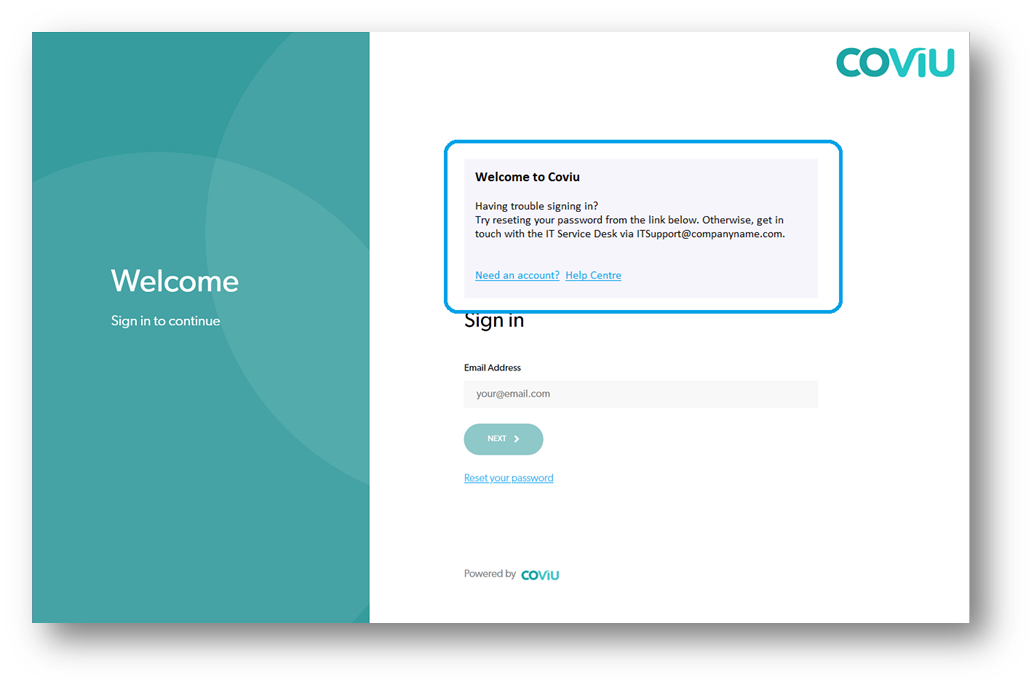 ---
How do I get these items to Coviu?
We acknowledge it can take time to coordinate all of the items listed above. While it would be great to get them all in one email, that's not always possible. But, we recommend you get them through to your Coviu Implementation Manager as soon as you can. The sooner we have them, the sooner we can create your platform and get your clinicians providing services.
A wrap-up of what we need:
Your chosen sub-domain and the contact details of the person who would undertake that activity.
Your chosen sending email address and the contact details of the person who would undertake that activity.
Your logo, favicon and colour palette.
Your SMS short code.
Your log-in page Support blurb.
---
More Support Options
You have completed another Coviu help article. You now know the process for customising and configuring your Enterprise platform.
If this is not what you were looking for, explore our knowledge base and search for another article from here.
If you still require any assistance, please do not hesitate to get in touch with our friendly Customer Success team using any of the contact methods available here.
Author: KM