This article describes the traffic light bandwidth indicator on the Call-Interface and how to read the information it provides.
Last updated: Dec 2021
TIP: This feature is a great way to determine if your client or patient is on an internet connection that is sufficient to hold a telehealth call.
---
On This Page:
---
What is our Traffic Light system?
Once you enter into the video call, you will see a small coloured dot at the bottom right corner ofyour clients video feed. The dot represents our bandwidth traffic light system. The traffic light feature indicates the quality of your internet connection to them:
Green is good
Yellow is ok
Red is bad
---
What information does it reveal?
Clicking the coloured dot will reveal the actual bandwidth available within the connection.
Upload refers to the amount of bits that they are sending out and download is the amount of bits they are receiving. A minimum of 350Kbps is required for both upload and download in a video call – anything below this will lead to drop-outs.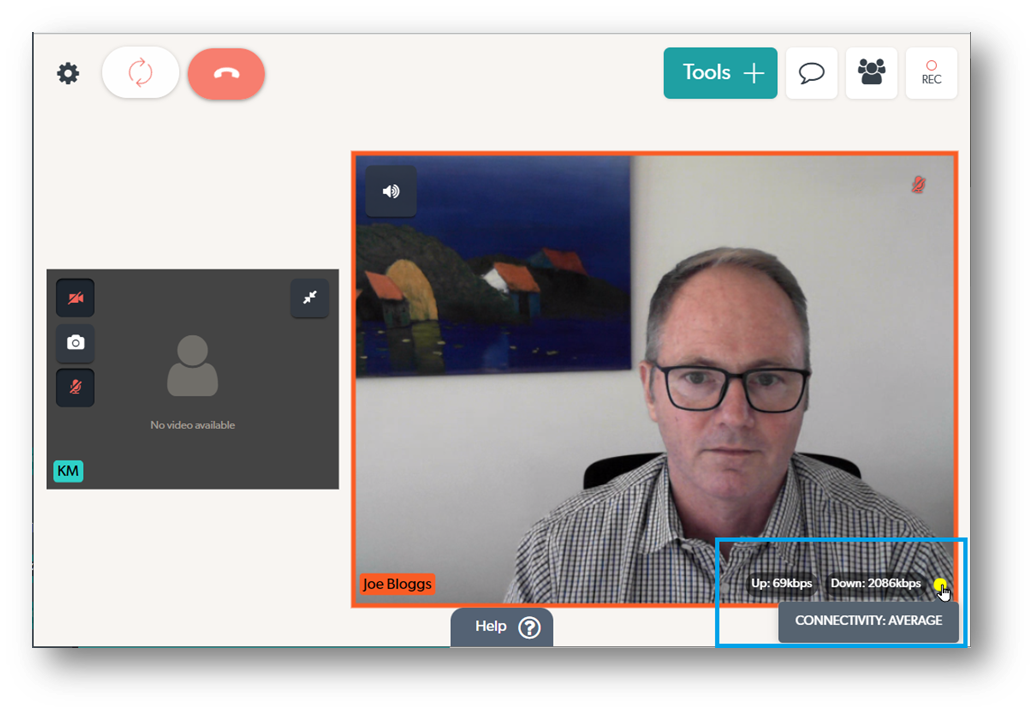 ---
What can I do to troubleshoot?
This feature offers a quick way for users to check whether the bandwidth is sufficient or not. If a yellow or red dot is showing, you and your client might be able to take some action that could remedy the situation. There are a number of items you can check with your client:
If they are at home on a WIFI network, are there any other streaming services running which might impact the quality of the call such as Netflix, Youtube or online gaming activities.
Can they switch to a different network e.g. to a WIFI network or 4G/5G or vice versa?
Can they moving to a better location?
Reducing the video quality to maintain a stable audio connection
There are options your Coviu system administrator can take undertake at a whole-of-organisation level. Have a chat to them and see if these are an option.
---
Run our pre-call test!
You can also check your own device and bandwidth before holding a Coviu call, this page includes instructions on how to do it.
---
More Support Options
You have completed another Coviu help article. You now know how to check your client or patients connectivity when in a call.
If this is not what you were looking for, explore our knowledge base and search for another article from here.
If you still require any assistance, please do not hesitate to get in touch with our friendly Customer Success team using any of the contact methods available here.
Author: KM