Preparing for your First Call
How to set up your Stripe account with Coviu
How to set up a stripe account and link it with Coviu
Coviu uses the payment gateway Stripe. In order to facilitate payments through Coviu the user will need to set up their unique Stripe account by signing up to Stripe.
Once you have set up your Stripe account simply log into your Coviu account here.
Click on Configure ->client payments

Stripe is the only option so please click the Select Button.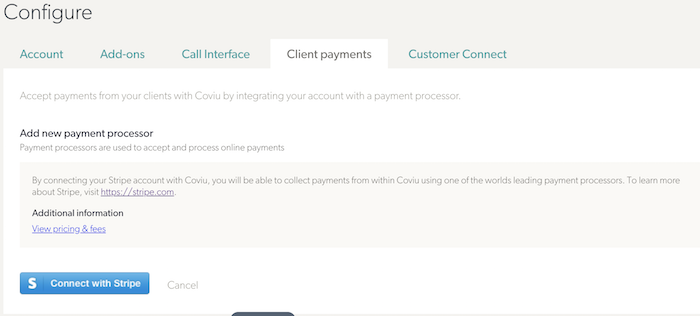 Simply click Connect with Stripe.
Payments processed using the Client Payments add-on are subject to applicable Stripe fees and a Coviu processing fee of 2.5% for the Starter Plan and 1.5% for Professional and Clinic Plans.