Healthcare professionals can now add a Coviu Waiting Area or Room link to their Telehealth appointments through MyHealth1st, for seamless bookings.
This integration allows practices to connect their Coviu telehealth functionality with their existing Practice Management System and standard bookings workflow, including online appointments.
Through the MyHealth1st and Coviu integration, patients booking online for telehealth consults will automatically be provided with a practice's Coviu Rooms link, reducing administrative effort for the practice and reducing no-shows for appointments.
Adding a room link is simple:

Practitioners can copy and paste their Coviu room link into their Telehealth Setup in MyHealth1st. Once this has been done, patients will be able to book telehealth appointments through MyHealth1st.
Please Note: For telehealth bookings to be activated, practices must be subscribed to MyHealth1st OnlineAppointments.

Step 1: Sign in to your MyHealth1st account

Step 2: Sign in to your Coviu Account

Step 3: Copy your preferred Coviu link. Depending on the Coviu plan to which you have subscribed as well as your preferred practice workflow, you will either be using your own personal User Room, the Reception Room, or a Waiting Area.
If you have subscribed to a Starter or Professional plan with Coviu, your Coviu room links may be found on the left-hand side of the dashboard. Click here for instructions showing how to tell what plan you're on.
Select the appropriate room, e.g. Reception, and click on the word 'Reception', not the Enter button. When the Reception room opens, you will be able to Copy the Link as shown below.
If you have opted for a Clinic plan, your Waiting Area link will be located on the bottom right-hand side of the dashboard.
Step 4: Paste the link into your MyHealth1st account. Navigate into your Practice Admin page. Click on the "Settings" button in the navigation bar. This will take you to the Practice Settings page. Alternatively, you can click on the "Action" button and choose "Edit" from the drop-down menu to navigate to the settings page.
On the left side of the page, click on Telehealth Appointments. In this section, under the Practice-manager telehealth details section, you can add your Coviu Link.
If you cannot see the field labelled Practice-managed telehealth details set the toggle labelled Enable MyHealth1st EasyTelehealth appointments to the off position.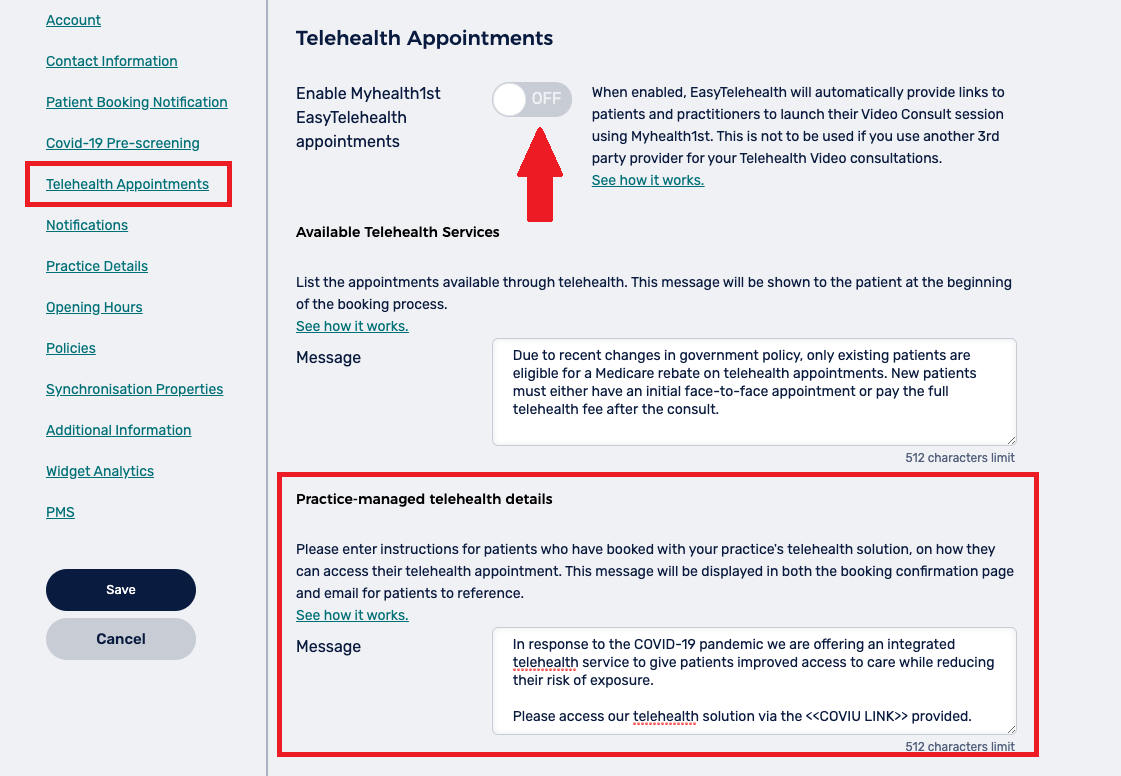 And that's it! Now, when a patient books a telehealth appointment through the MyHealth1st marketplace or a MyHealth1st booking button, the patient will then automatically be sent a link to the room or waiting area in their confirmation email.