This article describes how you can set up the Microsoft Exchange integration with Customer Connect.
Last Updated: July 2022
Note:
If you are on a custom Enterprise plan, please speak to your organisation's Telehealth Coordinator or your Coviu account representative about having this feature set up.
Not sure what plan you are on? Click here to find out.
To set up this feature, you need:

To set up this feature, you need:

To be the Coviu account Owner or Administrator.
Have your organisation's Microsoft Exchange Administrator on hand. They will need to sign in to Microsoft Exchange at the relevant points below.
Your organisation must be subscribed to a corporate-level Microsoft Exchange / Microsoft Office 365 Global Administrator account.
On this page:
---
What is the feature of this integration?
With this integration, you will be able to view the busy times from your Microsoft Exchange on the Coviu calendar (under Schedule on the left side menu of the Dashboard) for multiple practitioners and/or your own sessions.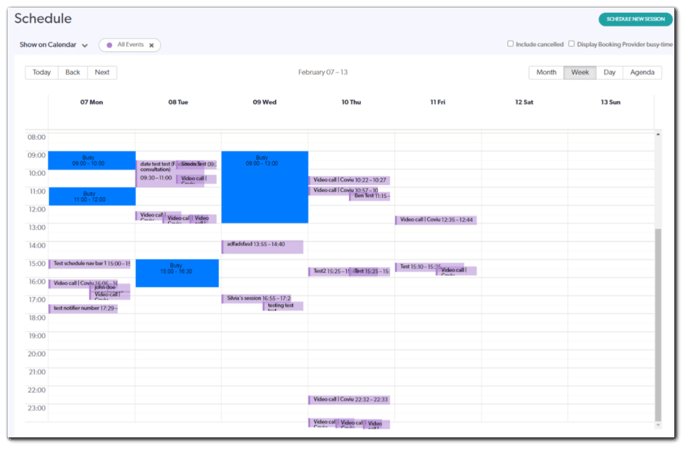 Once you have set up the integration (as shown below), you will just need to click Display Booking Provider busy times on the top right corner of the Coviu calendar to view the busy times from your Microsoft Exchange.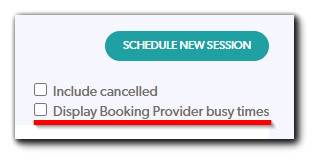 ---
Is my Microsoft account suitable?
This feature can only be integrated with a corporate-level Microsoft Office 365 Global Administrator account. If you use a free Microsoft/Hotmail account, it is unlikely to allow the integration.
If you attempt to sign in and get the below message, that is telling you one of two things:
You may not be the global Microsoft Exchange Administrator for your organisation.
Your account may not be a corporate-level Microsoft Exchange subscription.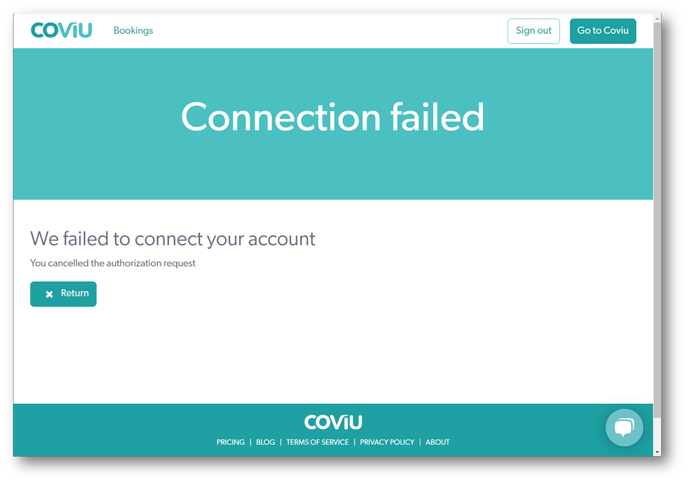 ---
How to integrate Microsoft Exchange with Customer Connect via Appointment Bookings
Organise to have your Exchange Administrator on-hand to sign in at the appropriate time or, create an Admin account for them on your Coviu platform so they can perform steps 2 to 8 below.

Note: Adding your Exchange Administrator to your account may impact your monthly subscription costs. We recommend having your Exchange Administrator on hand and if not, add them to your Coviu account and then remove them immediately after the below tasks are completed.

Log into your Coviu account as you normally would.
Download the Appointment Bookings, Customer Connect and Scheduled Sessions Apps from our App Marketplace if you have not done so.
Go back to your Coviu account and click Configure on the left side menu of the Dashboard.
Click the Appointment Bookings tab.
Enable Bookings and select Microsoft Exchange.

Click Connect to Exchange to connect your Microsoft Exchange with Coviu.

This sign-in window is where your organisation's Microsoft Exchange Administrator needs to sign in with their global admin account credentials. Click Next.

You will be redirected back to your Coviu account. It should say "You've successfully connected your Exchange account" under the Exchange Consent module.

Please follow the next 5 easy steps to set up the online bookings feature.
---
Step 1: Appointment Types
Add all the types of appointments that you want to offer to patients by clicking the
+ Add appointment type button (e.g. Standard Consultation, Mental Health Appointment, Travel Vaccines, etc.)


Now, you can provide details for the appointment, including a name, description, duration and cost.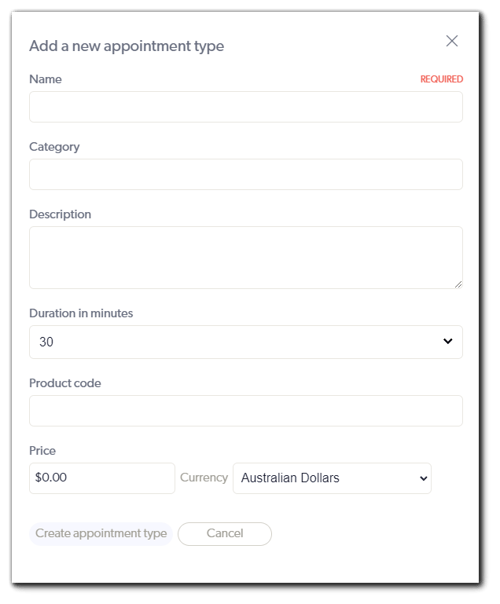 You can add as many appointment types as you wish. Simply repeat the above step to add more appointment types.
---
Step 2: Practitioners
Add all the practitioners from your clinic for whom you want to offer online bookings. Practitioners must be existing users of your account. Click the + Add practitioner button.

Now select your practitioner and click Save.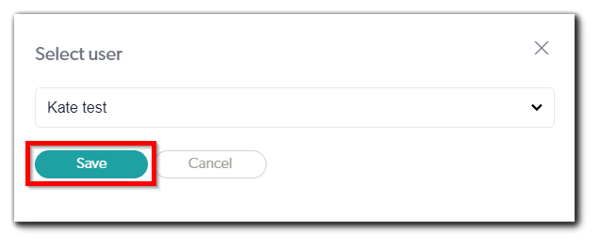 This will automatically ask you to confirm if this user is a practitioner and a calendar needs to be set up for them. Click Save.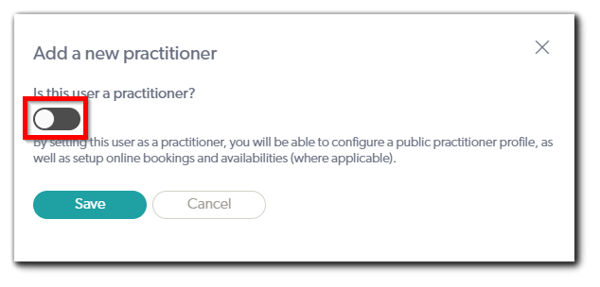 The next part is very important as it requires you to provide more details about the practitioner and lists the services they provide. Then, fill in the details.
Please ensure that you enter your Microsoft Exchange email under the Email field. You will see the "Email address verified in your appointment management provider" message directly underneath if you have entered your email correctly.
Once you have these details filled in, enable Allow online bookings for the practitioner.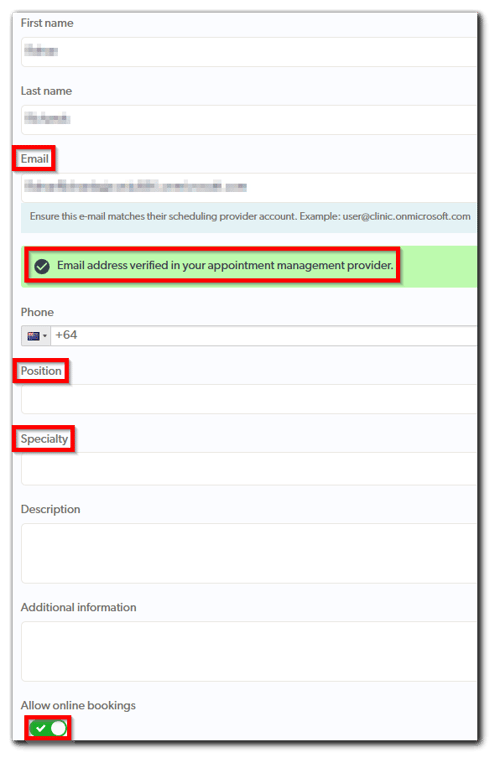 Finally, you will need to select from the Services provided section to indicate which of the appointment types that you defined earlier this practitioner is offering.
You can select all or some of the appointment types. Use Command + mouse click on a Mac or Ctrl + left mouse click on a PC to select multiple options. Then, click Save.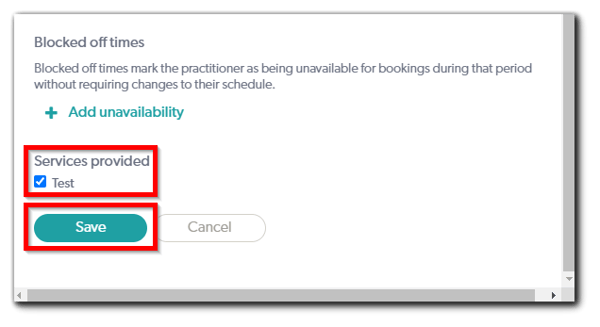 Repeat the above steps to add more practitioners.
Well done! You have now set up the types of service you want to provide, the duration, the cost and the practitioner providing the service.
Now, let's set up the details that a client has to provide when making a booking. This is the patient intake form.
---
Step 3: Booking options
First, there are a couple of setup steps:
The lead time says how much notification time a practitioner gets for a booking (i.e. 15 minutes lead time means that a client can't book a consultation 15 minutes before the consultation starts).
The service labelling gives you a chance to give the appointment type a different name (e.g. it could be a 'Service', 'Consultation' or 'Treatment').
Then, you can set up a notice for when there are no available appointments prompt for a day or time that a patient may select. For example, you can provide a phone number they can call.
Finally, you can add or remove custom fields for the patient intake form that you want them to provide (e.g. what company they work for, where that company is located, etc.)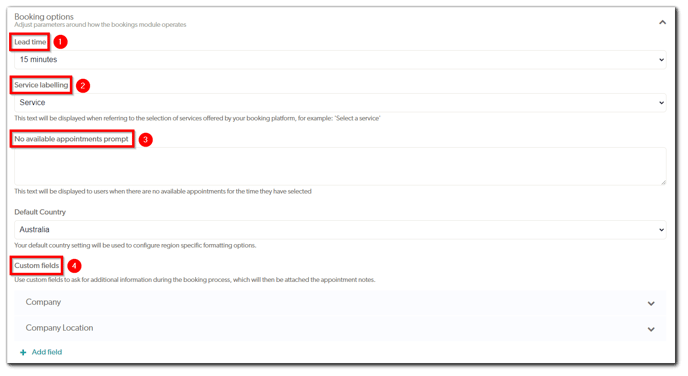 The patient intake form might end up looking something like this: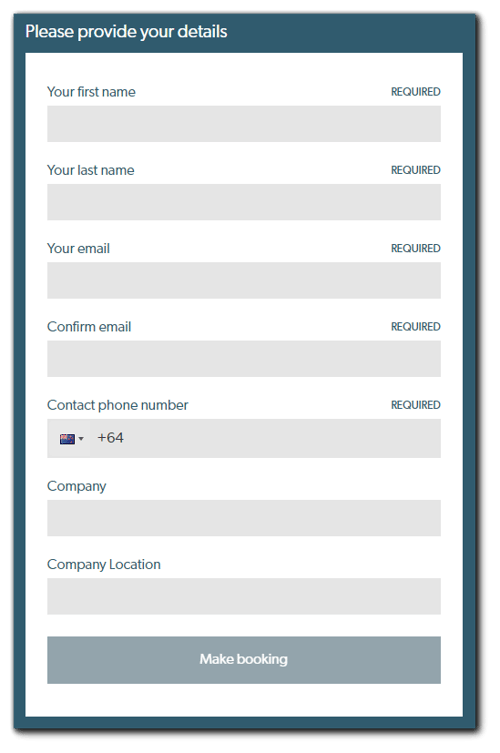 ---
Step 4: Confirmation Email
In this section, you can customise the email received by your clients after they book the service.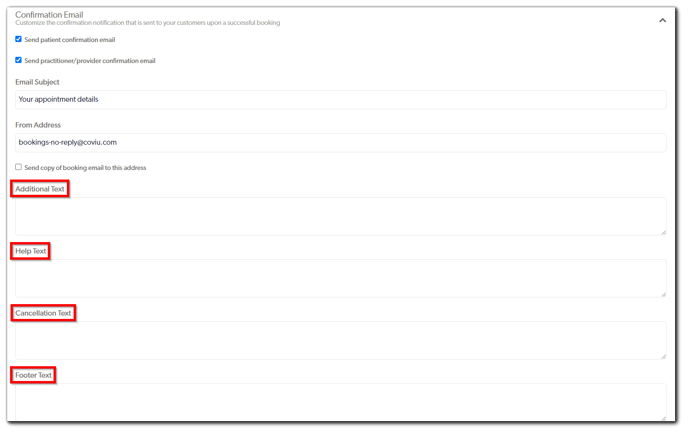 Here's an example (draft) email that you can use as a guide in filling the text fields in the above form (note where the different additional text pieces can be added):

---
Step 5: Sharing
You have finished all the setup! Congratulations!
Now, all you need to do is put a booking button on your website. It might be worth engaging your Web Designer to create a Telehealth page advising your clients of your new telehealth offering, what they can expect from this, how it will differ from an in-person consult, where to go for support, etc. The button can be added there as well as on your homepage.
You can do this either through the Sharing option here or through Customer Connect. Customer Connect includes the link to online bookings.
This is where you format the booking button for your website. You can edit the text on the button, button colour and text colour.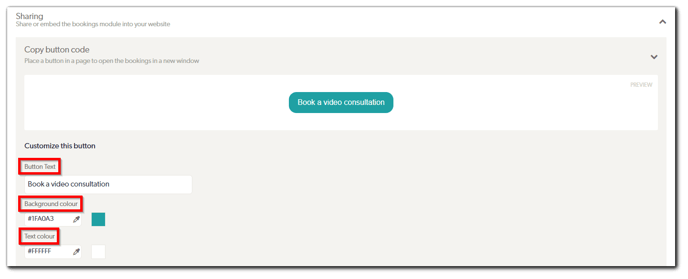 Then, to embed the button on your website, simply copy and paste the code from the How to use the button section. Again, this might be a task you give to your Web Designer.


Do not forget to press Save!
Tip: you can test the booking functionality at: https://[your_account_subdomain].coviu.com/app/book/appointment.
---
More support options
You have completed another Coviu help article. You now know how to set up the Microsoft Exchange integration with Customer Connect.
If this is not what you were looking for, explore our knowledge base and search for another article from here.
If you still require any assistance, please do not hesitate to get in touch with our friendly Customer Success team using any of the contact methods available here.