This article describes how you can place your client or patient on hold when undertaking a call in your User Room, Meeting Room or the centralised Waiting Area.
Last Updated: July 2022
Note:
The Waiting Area feature is available to customers who are on these plans only:


Standard (also our Trial plan)

Premium

Enterprise
Not sure what plan you are on? Click here to find out.
On this page:
---
When would I place a client or patient on hold?
These instructions describe how to place a client on-hold during a multi-party call. Examples are marriage counselling, custody disputes or perhaps share-care planning meetings which include a patient and allied health providers.
Currently, placing a party on hold is referred to as "transferring to the Waiting Room", but stay tuned for some changes in this space.
This functionality is only available when holding such calls in your User Room or Meeting Room.
---
How do I place a caller on hold in a User Room or Meeting Room?
Once you have all the participants in your Room and you have determined you need to place one of them on hold:
Click the Call Manager button (see screenshot below).
Click the Transfer

button under the guest you wish to put

on-hold.

Click

The Waiting Room or another Meeting Room



Click Confirm Transfer




When you are ready to accept the guest back into your

room

, click

Accept
Follow the same procedure to Transfer the other guest to the Waiting Room if needed.
Note: While your client is waiting on hold, their device will show a screen similar to the below. It will also give them an option to play hold music while they wait. Just like when they originally entered the call.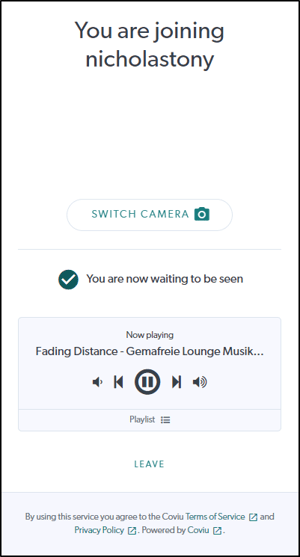 ---
Placing a guest on hold in a Waiting Area call
If you are on a Premium plan or an Enterprise plan customer, you will have access to a Waiting Area.
When you join a call with a client or patient in the Waiting Area, the process for placing them 'on hold' is slightly different. This is a really efficient way to host a call with multiple participants where you would like the ability to place one on hold, and speak to the other participant in confidence (i.e. Mediation Sessions).
Click the Call Manager button (see screenshot below).
Scroll down until you find your clients name under Current Participants and you will see an On-Hold button.

Once you have selected to place the participant On-Hold you will then be prompted to confirm this choice - see below screen capture.
The Client is now On-Hold in a virtual Waiting Room. You can bring them back into the call at any stage by clicking Accept against their name in the Call Manager.

If there is only one participant in the session, you as the Host can simply leave the call and this will also place them on-hold in the Waiting Area. This can be helpful if you need to make another call, etc., you can re-join them from the Waiting Area at any stage.
Your client now appears as On Hold in the Waiting Area. You, or another staff member, can re-join the client or patient in the Waiting Area. This can be helpful if the client is required to make payment post consultation.


To Re-join the Client, simply click the Join button.
---
More support options
You have completed another Coviu help article. You now know how to put someone on-old in your User Room, Meeting Room or Waiting Area.
If this is not what you were looking for, explore our knowledge base and search for another article from here.
If you still require any assistance, please do not hesitate to get in touch with our friendly Customer Success team using any of the contact methods available here.