This article describes how you can place your guest/client/patient "on-hold" when undertaking a multi-party call in your User Room or Meeting Room.
Last Updated: Feb 2021
These instructions describe how you can place a guest on-hold during a multi-party call. Examples that have previously been given include marriage counselling, custody disputes or perhaps share-care planning meetings which include a patient and allied health providers.
Currently, placing a party on-hold is referred to as "transferring to the Waiting Room", but stay tuned for some changes in this space.
This functionality is only available when holding such calls in your User Room or Meeting Room. It is not available for a call you have joined in the Waiting Area.
Transferring a Caller to the Waiting Room (On Hold)
Once you have all the participants in your Room and you have determined you need to place one of them on hold:
Click the Call Manager button (see screen capture below).
Click the Transfer

button under the guest you wish to put

on-hold.

Click

The Waiting Room



Click Confirm Transfer


When you are ready to accept the guest back into your

room

, click

Accept
Follow the same procedure to Transfer the other guest to the Waiting Room if needed.
Note: While your guest is waiting on hold, their device will show a screen similar to the below. It will also give them an option to play hold music while they wait.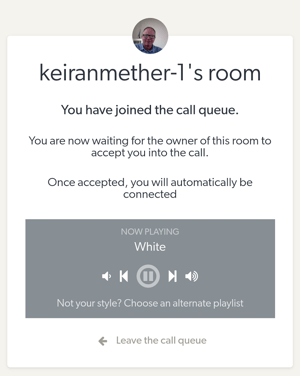 Author: KM