This article describes the Blurred Backgrounds app, and how to install and use it.
Last Updated: June 2022
Note:
Performance can vary with older devices.

This capability is

not supported on mobile devices

such as Android devices, iPhones or iPads.
On this page:
---
What is the Blurred Backgrounds App?
The Blurred Backgrounds App allows you to apply a background blur effect to your camera view that can assist to obscure your physical location from view, to provide greater visual privacy within your call experience.
Effectively, to your client, guest or patient, everything but your face will be blurred within the camera view as shown in the screen capture below: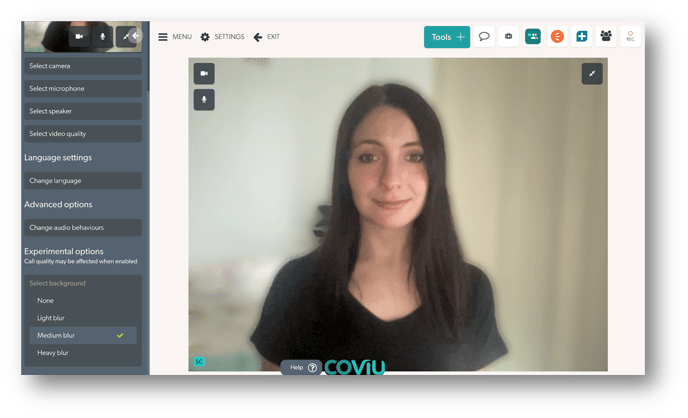 ---
How do I install the Blurred Backgrounds App?
For customers on the Essentials, Standards and Premium plans, you can install the Blurred Backgrounds App from our App Marketplace. Simply click the Blurred Backgrounds tile and follow the installation prompts from there.
For our Enterprise customers, you will need to request access to an App through your Telehealth Coordinator and your Coviu Account Manager.
Once the App has been added to your Marketplace, you can then follow the below process to access it:

Log into the Coviu account to which you would like to add the App.
Click Apps on the left side menu (if you cannot see the Apps menu, then you are not the Administrator for your clinic).
Click the Find Apps button on the top right corner.
Click the relevant App from the marketplace.
Click Install and follow the prompts from there.
Return to your account. (You may need to reload your page.)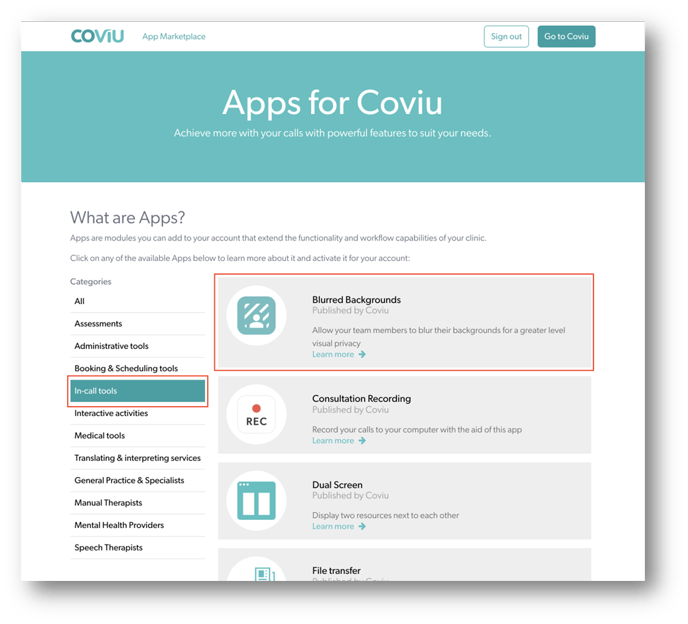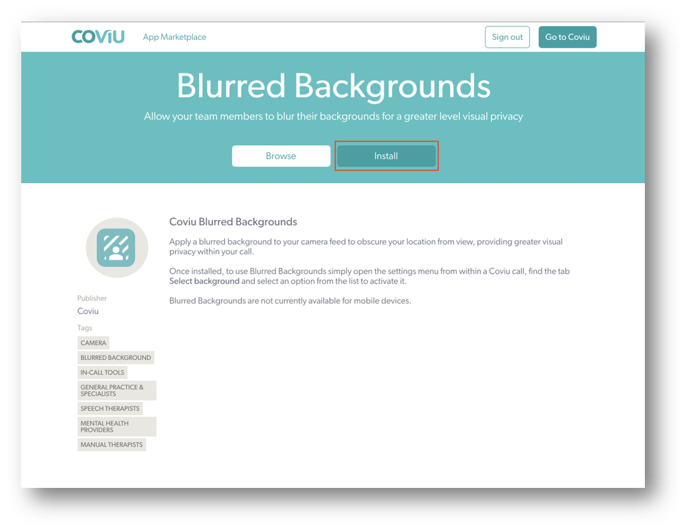 ---
How do I use the Blurred Backgrounds App?
Once successfully installed, you can turn on the Blurred Backgrounds at any time. You can also preview the effect when you are not connected to a call. To enable the feature, follow these instructions:
Enter your Coviu account as you normally would.
Enter your User Room by clicking on your name in the left-side menu.

If you don't have a User Room, then you may need to do it the next time you are in a Waiting Area call. You could also do a test call with a colleague to set it up prior to meeting with a client.

Click the Settings button on the bottom left corner of the call interface.

Scroll down and click Select background.
From the background options, you can choose between 3 options:


Light blur
Medium blur
Heavy blur


Once you have made your choice, click the Settings button again to exit the menu.

You should now have Blurred Backgrounds configured for your account. The setting should remain the same moving forward and should carry across to any consultations you join.
---
More support options
You have completed another Coviu help article. You now know how to install and use the Blurred Backgrounds App.
If this is not what you were looking for, explore our knowledge base and search for another article from here.
If you still require any assistance, please do not hesitate to get in touch with our friendly Customer Success team using any of the contact methods available here.