This article describes how to test that your hardware is ready to make a successful telehealth call. The activities in this article can be undertaken by healthcare providers and their patient or client.
Last Updated: Dec 2021


---
On This Page:
---
The Coviu Pre-call Test
The Coviu Pre-call test provides healthcare providers and clients/patients with an option to test their devices prior to entering a call. You do not need to be logged into Coviu to use the test as it can be conducted independently.
The test will also be present at various points when you are joining a call. See the below screen capture showing a client/patient joining a call on an Android phone. You will be presented with similar options for other devices.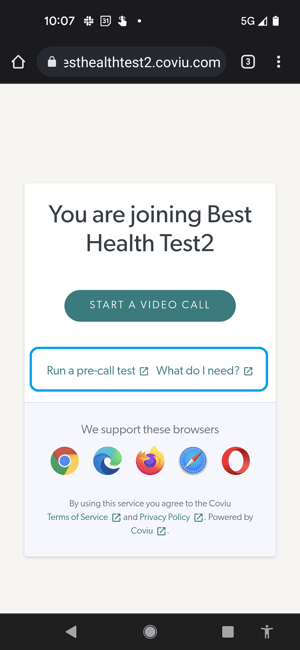 In the Premium and Enterprise plans, you will have access to a Perform Pre-call Test button toward the top right corner of the Waiting Area view.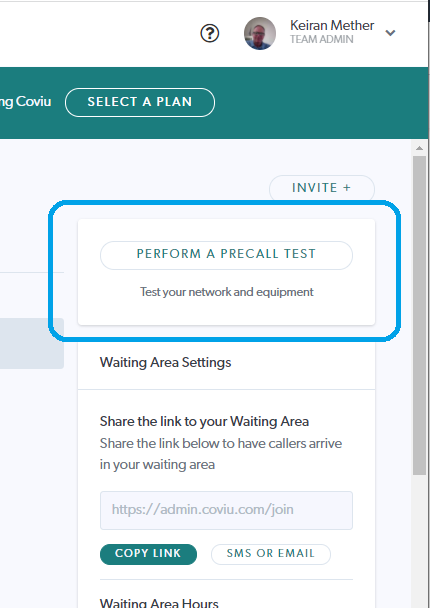 ---
Hardware Options
Most modern computing devices will be capable of making a Telehealth call. We recommend any device that includes a camera, microphone and speakers.
Ensure your web browser is one of our recommended options and always keep it up to date.
If you are not sure what to use, visit this page to view a few hardware recommendations.
For hardware troubleshooting options, visit this page.
---
More Support Options
You have completed another Coviu help article. You now know how to perform a pre-call test.
If this is not what you were looking for, explore our knowledge base and search for another article from here.
If you still require any assistance, please do not hesitate to get in touch with our friendly Customer Success team using any of the contact methods available here.
Author: KB