This article describes how to access and use the capabilities of your Coviu Dashboard.
Last Updated: March 2022
NOTE:
This article covers the Dashboard for all Plans.
The shortcuts and summaries displayed across your Welcome Dashboard within your account may be different and is based on the Plan type your organisation has chosen to use.
Click here, if you are not sure what Plan you are on.
---
On this page:
---
1. What is the Dashboard?
The Dashboard is meant to serve as a personal and centralised location for all your video consultation capabilities that are hosted on Coviu. It is embedded with shortcuts to access your consultation workflows across the platform, whilst also providing you with an overview of your active and also upcoming consultations using summaries of your daily
Schedule
or callers that are active in your
Waiting Area.

---
2. How do I access the Dashboard?

The Dashboard is where you will be taken to when you sign-in to your Coviu account. If instead you are already browsing another section of your account, you can still access the Dashboard by heading to the top section of the left-side menu.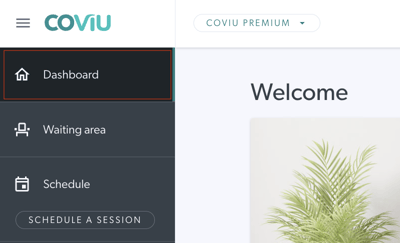 ---
3. What are the shortcuts presented on the Dashboard?
The following shortcuts are presented on the Dashboard to operate your video consultations with ease:
Get started in Coviu - In this section, you can toggle between your User Room or Waiting Area, to either share a link or send an invitation to clients or patients.


Start a Consultation - In this section, you can gain access to options like, your User Room, Schedule Sessions, or Waiting Area.

Help & Tricks - In this section, Explore our library of video tutorials or search our Knowledge Base from this section if you are interested to learn more and enhance your video consultation experience.

---
4. What are the summaries presented on the Dashboard?
The following summaries are presented on your Dashboard to assist you manage your daily scheduled Sessions or active Waiting Area callers.
Your Schedule - You are shown a daily list of Scheduled Sessions to engage in this section.

Callers in your Waiting Area - View the status of the caller activity that is ongoing in your Waiting Area. The callers will be flagged as per their status as; Waiting, On-hold, or Being Seen.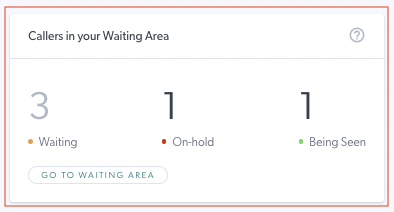 ---

More support options?

You have completed another Coviu help article. You now know how to use the Coviu Dashboard.

If this is not what you were looking for, explore our knowledge base and search for another article from here.

If you still require any assistance, please do not hesitate to get in touch with our friendly Customer Success team using any of the contact methods available here.
Author: KI