This article describes how to install, configure and use the Consultation Recording add-on to record your calls.
Last Updated: Sept 2021
NOTE:
If you are on our Enterprise plan, please consult your Telehealth Coordinator or contact your Coviu Account Manager at the first instance.
FAQs:
Can I record video or is it audio only?

Yes, you can record video as well as audio.

How do I get consent from my client or patient?

Consent is built into the feature. Your client or patient will need to provide consent prior to starting the recording.

What Format is the recording saved in?

Recordings are provided in .webm format.

What is the best Media player to view the recordings?

VLC is a free and open-source cross-platform multimedia player which can be used for playback.

Will the recording include my shared resources such as the whiteboard or Pearson assessments?

No. The video recording feature can only capture the video feed of the host and any guests in the call.
You should download any shared resources you create prior to ending the call.
On this page:
---
How do I install the Consultation Recording feature?
To record your calls in Coviu, your account administrator must first install the Consultation Recording add-on from our Marketplace.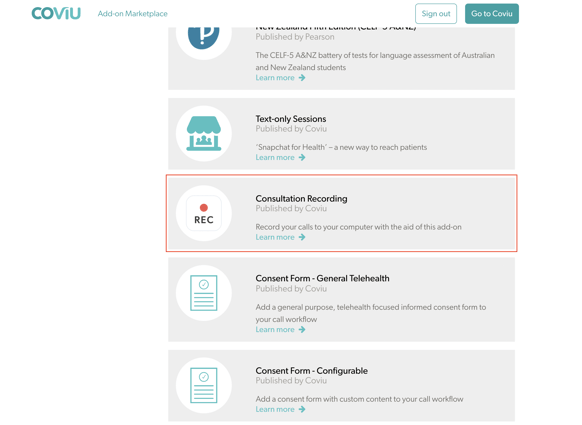 ---
What are the Configuration options?
To make changes to the configuration options:
You will need to be an Account Administrator to access the configuration options for Consultation Recording.
If you are an Administrator, you will see the Add-Ons menu option in the left-hand menu. Click Add-Ons.


Scroll down to find Consultation Recording and click the Details button on the right-hand side. Click the Configure section from the pop-up menu. You have a number of configuration options to choose from which are explained in the menu.




Once you have made any selections that you would like to have enabled, make sure to Save your changes.
---
How do I use the Video Recording feature?


Commence your call or consult as you normally would.
When you are ready, click the Rec button on the top right of the call screen.


You will then be presented with the option to choose your recording type: Audio or Video. Click Continue to confirm your selection.




You will then be presented with the option to Request Consent from any active call participants.


The following message will appear from the right side of the call screen for all participants. It will show up as "______ wants to record: Do you consent to video/audio being recorded?". They can either accept or deny the consent request.


Once all participants have consented, you will be notified and at which time, you can click Start Recording.


Once the recording has started, the Rec button will actively blink throughout the recording duration to signal to all participants that they are being recorded.


When you are finished with the call or would like to end the recording, click Stop Recording. The recording will then be made available to download to your local device.

Once a recording has ended, you can re-select your recording type from the same menu to start a new recording.
---
How do I download the recording?
NOTE:
Automatic Cloud Storage applies to audio-only recordings if enabled by your Coviu account administrator.
Video recordings will be stored only on your local device.
To download the recording, for example, to add to a patient file, click the download button. In the picture below, it is the button closest to the text 'call_recording...'.
Once it is downloaded to your local device, you can choose to save it in an appropriate spot or, add it to a patient file.




---
What if I still need help?
Use the Help chat bubble on this page to get in touch.

Check out our other Contact options on this page
You have completed another Coviu help article. You now know how to Install and use the Consultation Recording Feature.
If this is not what you were looking for, explore our knowledge base and search for another article from here.