This help article describes the customisation options available for your Coviu call interface.
Last Updated: July 2022
Note:
The feature is available to customers who are on these plans only:


Standard (also the Trial plan)
Premium
Enterprise
Not sure what plan you are on? Click here to find out.
If you are on a custom Enterprise plan, you can click here to find out how to get this feature set up.
FAQ:
Can I add a logo to my Coviu Clinic?

You can add a logo to the Call Interface (see item 3 in the below screen capture).

Can I add a logo to the Waiting Room? (The Waiting Room is the step before you accept your client or patient into a call with you.)

No.

Can I include a logo in my invitation emails?

No.
On this page:
---
How can I customise the call interface?
Follow the instructions below and the numbered items to make changes to your call loading and interface:
Enter your Coviu account as you normally would.
Click Configure from the left-side menu.
Click the Call Interface tab.
Make sure to click Save to have any changes you make take effect.
---
What are the items I can customise?
Note:
Changes made to the primary and secondary button colours may not be available just yet.
The following items can be configured as follows:
The primary and secondary button colours.
The Call Interface background colour.

Note: you can pick between three colour choices for the background as per accessibility standards.

The default video feed size: to be seen as maximised, minimised or collapsed as per your preference.


Note: call participants can still manage their own video size by clicking on the dynamic arrows shown on the top right section of their video feed.

Upload your logo. This will be displayed at the bottom of the Call Interface next to the Help button.

Note: logos are best displayed in a non-square/rectangular format.

Upload splash image. The splash image will be shown briefly to the client, guest or patient and healthcare provider while the call is loading.

Note: we recommended image size of 3800 x 2290.

Support settings.

Note: we recommend you leave this enabled so that all call participants can access our support services during a video consultation.

Make sure to click Save to have any changes take effect.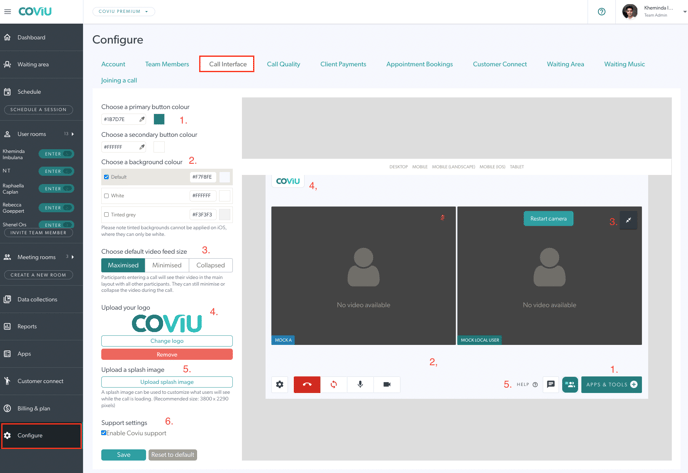 ---
More support options
You have completed another Coviu help article. You now know how to customise your call loading screen and interface.
If this is not what you were looking for, explore our knowledge base and search for another article from here.
If you still require any assistance, please do not hesitate to get in touch with our friendly Customer Success team using any of the contact methods available here.