For all users
At first glance, you may be slightly overwhelmed by your video call screen and how to navigate your way around it. But don't worry, after reading this article and a little practice, you will be able to use every tool and button available to you.
Lets start with a brief overview of your video call screen and controls:
Once you join a video call, it will open up an in a new browser window. This is what you will see: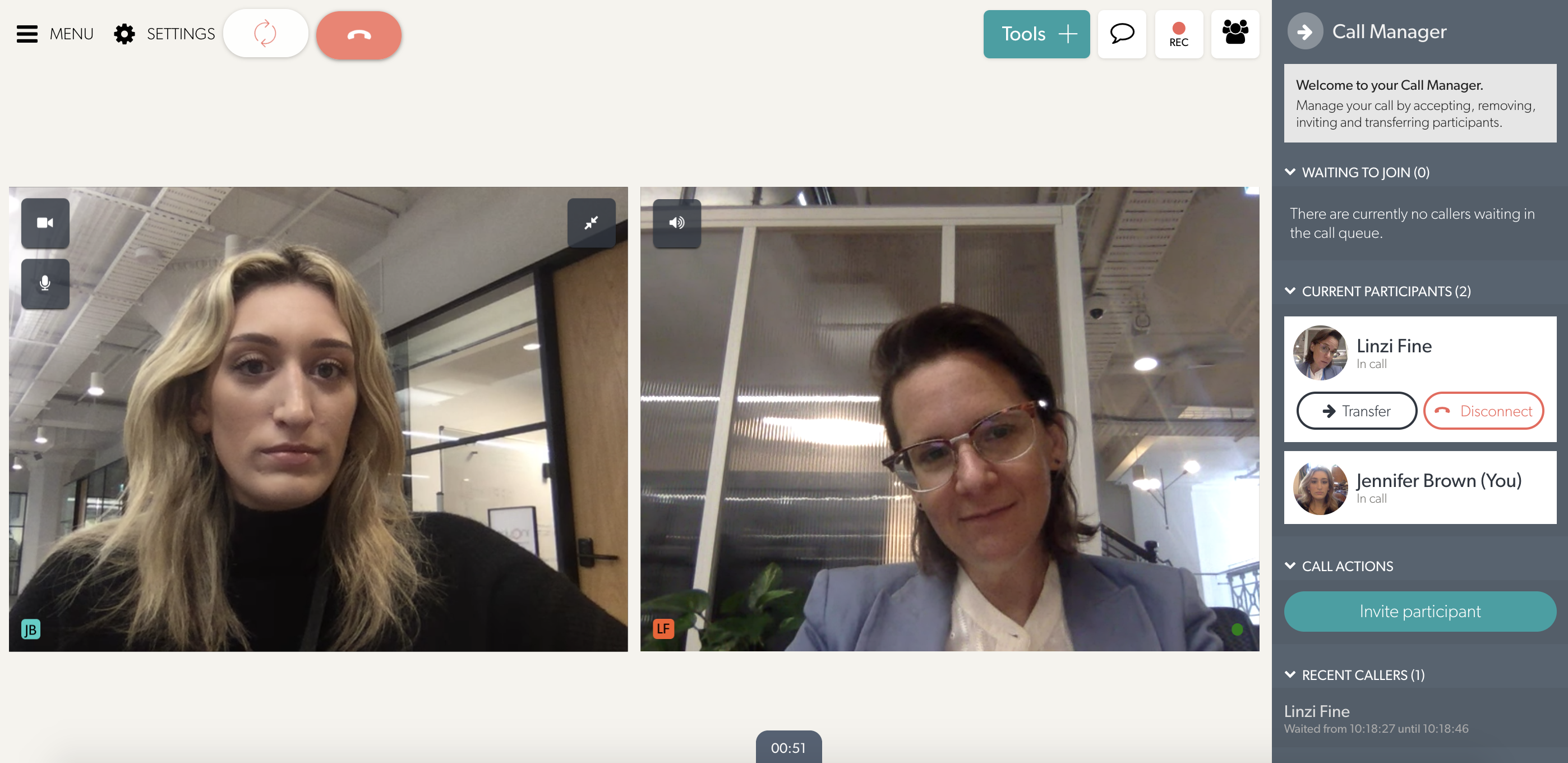 Some of the key elements of this screen (starting from the left) are:
Settings - change your device settings such as which camera or microphone to use, as well as changing your video quality or language.
Refresh button - refresh the page if you are experiencing technical difficulties.
End call button - end call for all participants or only leave the call yourself.
'Tools+' button - access your in-call tools here.
Chat button - Send text chat messages to other call participants.
Record button - Record the video session (after receiving permission from the call participants).
Call Manager - Hang up, Invite other participants to the call, or transfer a call.
Tools during a video call:

Click the the 'Tools+' button on the top right of the screen. This will open the 'Available tools' section and display all your in-call tools. Some of the tools are configurable so the options may be slightly different for you, depending on what your admin team has organised.
Please note that any data shared via these calls during a video call session will NOT be stored. You will need to download and save any data you want to record before the end of the call.
Watch our video tutorial to help you understand our In-tools call:
Click the 'Share an image or PDF' button and you will be automatically prompted to select an image to upload.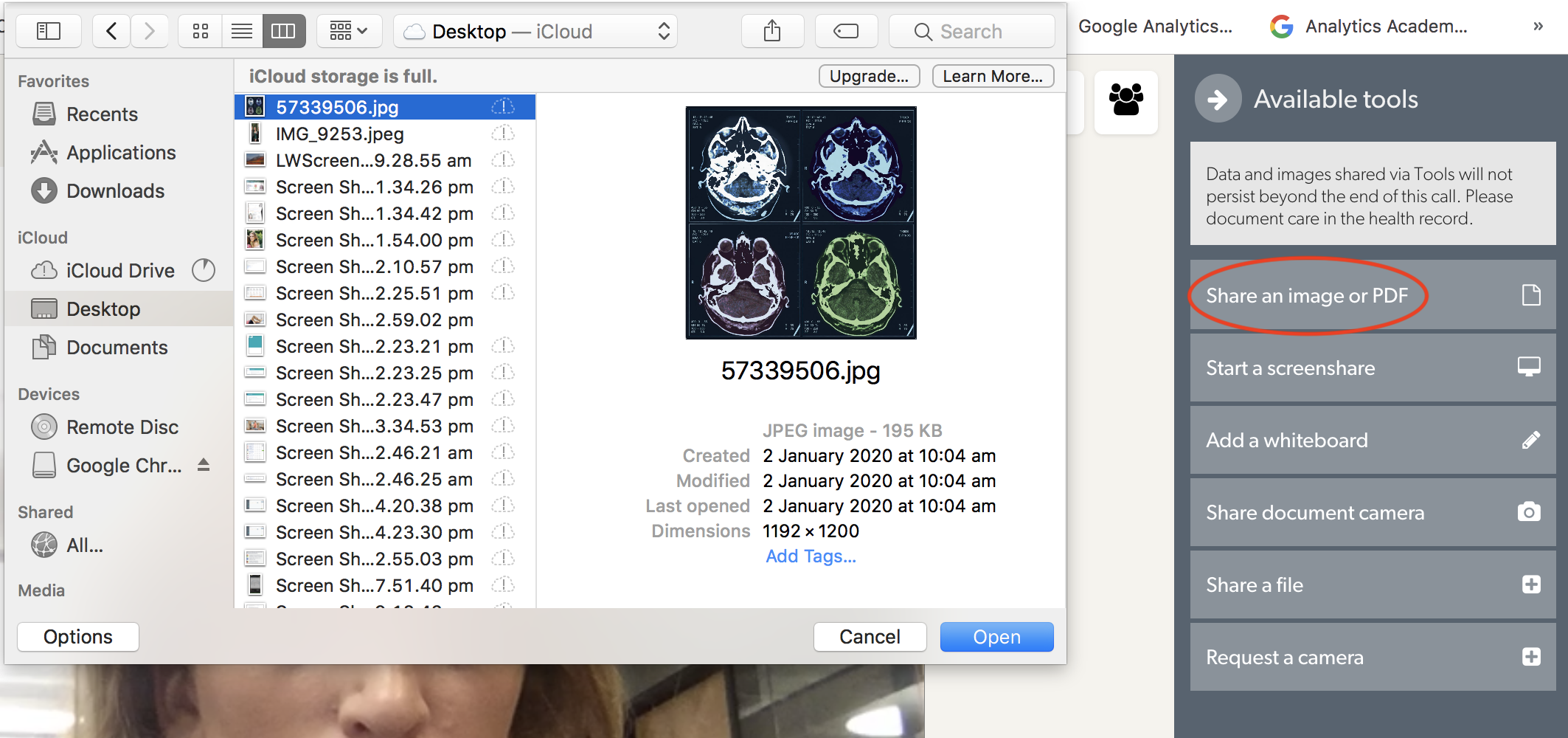 The image you select will then be displayed in the video call. You can annotate the image, write text over it and more.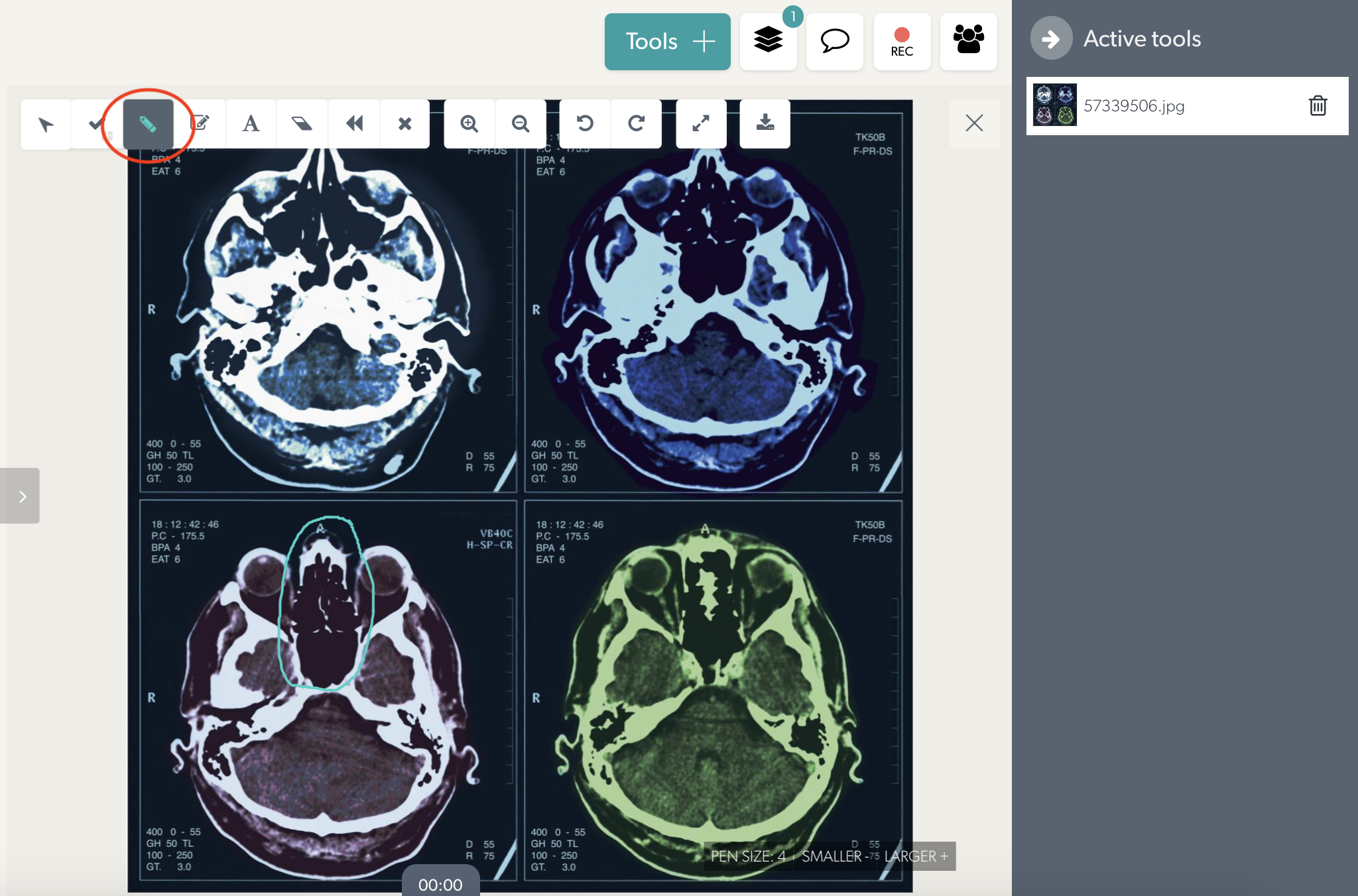 Click 'Start a screenshare' and you will be asked to select either sharing your entire screen, an application or a tab you would like to share.
Your screenshare will begin, allowing you to guide the call participant/s through a web page or application.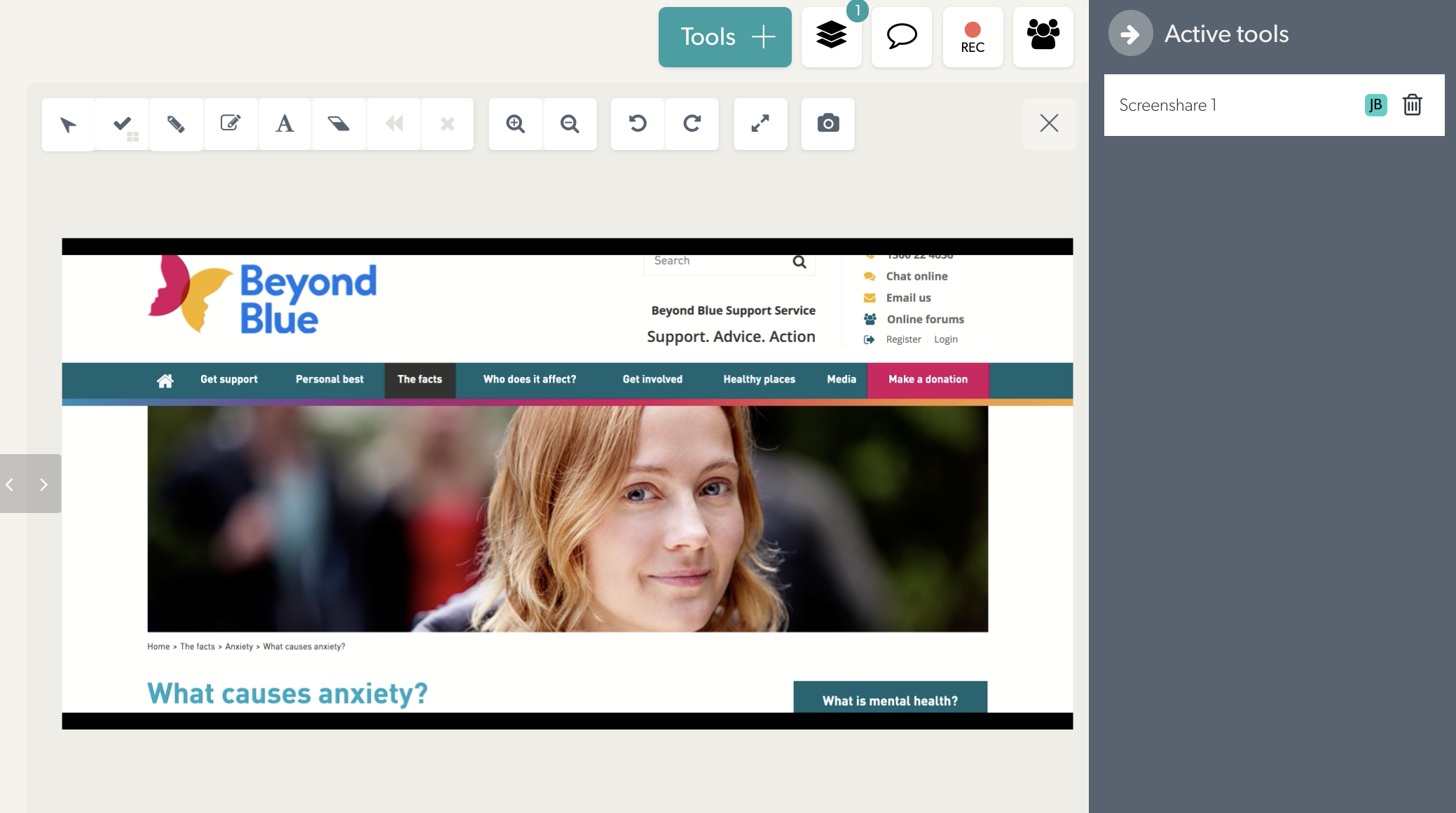 Click the 'Add a whiteboard' button, and a whiteboard will launch immediately. You can use this for writing down notes to patients, drawing diagrams and more. You can either use the write text option, or use the draw option.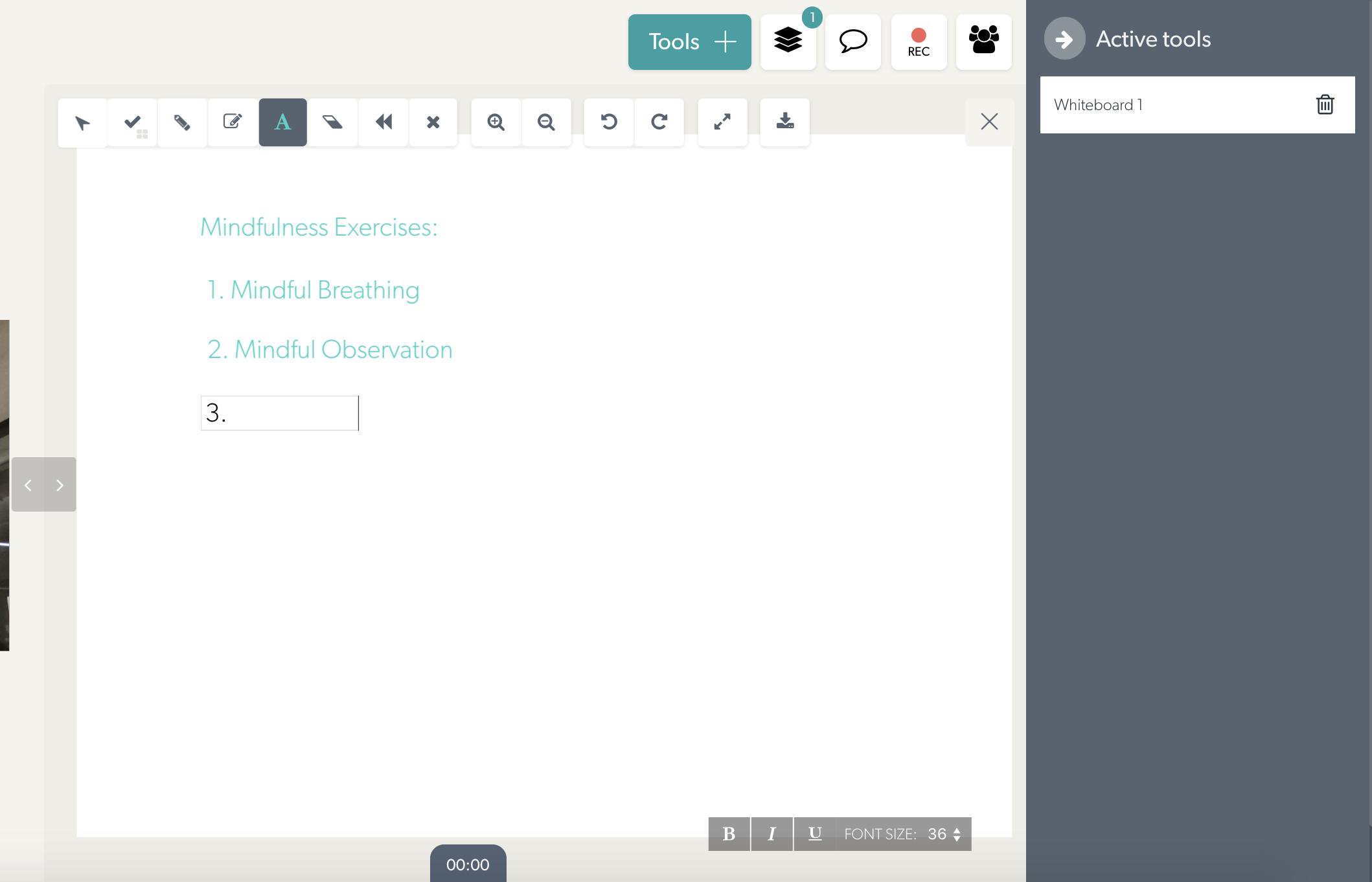 If you prefer to use physical documents with your patients, you can use a document camera on your end, and display that camera in the call. Simply connect the camera to your device, click 'Share document camera' and select the camera you want to share.
You can request another camera from a participant in the call, if required. For example a patient and a clinician in one location calling another specialist via Video Call. The specialist could request a scope camera she or he knows is available at the other end. Once shared, you can snapshot the remote camera and even annotate it.
Click 'Share a file' and you will be asked to select the file you would like to share with the call participant/s. For example, if you want to share pages of information, or a computer data file, this is the tool you would use. The call participant can then download the file onto their device.